One of the most active promotion companies in the industry, International Allstars got a new project vehicles, 2008 Scion xB.
We borrowed it and had a photo shoot of this new Scion xB with Gravis-I.
Here are some images from the shoot.
Very simple exteria,
and not simple interia!!
The car is under development to be displayed at International CES in Las Vegas, January 7 - 10, 2008.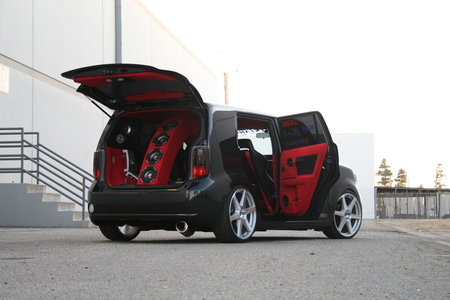 20x8.5 +38 fits perfectly with FALKEN FK-452 235/35-20 on this small box car.
(see the gap between the tire and fender arch!)
Actually, the rear fenders need to be rolled.... Tires slightly touch rear inner fender arches when the car hits the bumps after the audio systems and the Sprint lowering spring were installed, said Clifton of International Allstars - owner of this car.
This is the side view of the car.
ProRacer A-Spec muffler on the car is a prototype.
For more information about International Allstars,
visit http://www.teamallstars.com/