08:53
ウィークエンドサンシャイン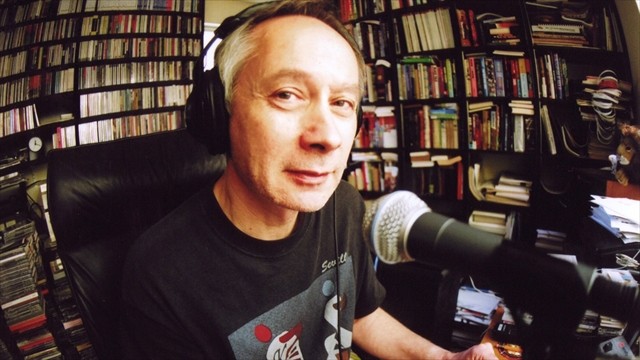 ブロードキャスター、ピーター・バラカンのナビゲートで送るウィークエンド・ミュージックマガジン。独特の嗅覚とこだわりの哲学でセレクトしたグッド・サウンドと、ワールドワイドな音楽情報を伝える。
http://www4.nhk.or.jp/sunshine/
放送日: 2016年 6月25日(土)
放送時間: 午前7:20〜午前9:00(100分)
特集 T Bone Burnett その1
THIS WEEK'S PLAYLIST
http://www4.nhk.or.jp/sunshine/66/
(曲名 / アーティスト名 // アルバム名)
01. It Takes A Lot To Laugh, It Takes A Train To Cry / Bob Dylan & The Rolling Thunder Review // Live 1975 - The Rolling Thunder Revue (Bootleg Series Vol. 5)
02. The People's Limousine / The Coward Brothers // Out Of Our Idiot
03. Brilliant Mistake / The Costello Show Feat. The Attractions & Confederates // King Of America
04. Don't Worry Baby / Los Lobos // How Will The Wolf Survive?
05. "B" Movie Box Car Blues / Delbert & Glen // The Delbert & Glen Sessions 1972-1973
06. Good Advice / Willie Dixon // Hidden Charms
07. Sitting On Top Of The World / B.B. King // One Kind Favor
08. Please Accept My Love / Gregg Allman // Low Country Blues
09. Segue 1 / Robert Randolph & The Family Band // We Walk This Road
10. Traveling Shoes / Robert Randolph & The Family Band // We Walk This Road
11. Segue 2 / Robert Randolph & The Family Band // We Walk This Road
12. Dead Flowers / Townes Van Zandt // The Big Lebowski
13. I Am A Man Of Constant Sorrow / The Soggy Bottom Boys // O Brother Where Art Thou
14. Keeping Out Of Mischief Now / Taj Mahal // Divine Secrets of the Ya-Ya Sisterhood
15. The Scarlet Tide / Alison Krauss // Cold Mountain
16. Fallin' & Flyin' / Jeff Bridges // Crazy Heart: Original Motion Picture Soundtrack
17. Hang Me, Oh Hang Me / Oscar Isaac // Inside Llewyn Davis Original Soundtrack
18. In Wonder / Punch Brothers // The Wireless
19. People Are Strange / 矢野顕子 // akiko
20. I Wanna Be Your Man / Sam Phillips // Crossing Jordan
世界の快適音楽セレクション
"快適音楽"を求めるギターデュオのゴンチチによる、ノンジャンル・ミュージック番組。
http://www4.nhk.or.jp/kaiteki/
放送日: 2016年 6月25日(土)
放送時間: 午前9:00〜午前11:00(120分)
渡辺亨
− 二人っきりの音楽 −
楽曲
「見知らぬ人」
(2分47秒)
「スターダスト」
ロブ・ワッサーマン、アーロン・ネヴィル
(4分36秒)
「たぶん終わりはないだろう」
サルガン&デ・リオ
(3分20秒)
<WARNER MUSIC WPCR-19054>
「パール・オブ・ザ・クォーター」
(3分15秒)
(2分32秒)
<EL REC. ACMEM298CD>
「ユー・ステップド・アウト・オブ・ア・ドリーム(夢から醒めても)」
シンガーズ・インク
(2分22秒)
<VALIANT WPCR-16998>
「フリーダム・アンド・イッツ・オーナー」
キング・オブ・コンヴィニエンス
(3分20秒)
<VIRGIN V3062>
「ホンダ、サンパ」
パウロ・モウラ&ハファエル・ハベーロ
(5分37秒)
<SONY MUSIC KCD112>
「アローン・トゥゲザー」
アル・ヴィオラ
(2分45秒)
<V.S.O.P.REC. #70CD>
「スロー・イット・アウェイ」
(4分06秒)
<PIROUET REC. RPOP-10016>
「エスプレッソ2222」
ヴァレッサ・モレーノ&フィ・マロスティカ
(3分05秒)
<大洋レコード TAIYO0029>
ディス・ビター・アース+オン・ザ・ネイチャー・オブ・デイライト」
ダイナ・ワシントン、マックス・リヒター
(6分13秒)
<RHINO 8122-79831-9>
「セッチ・エストレラス」
ギンガ&マリア・ジョアン
(4分09秒)
<ACOUSTIC MUSIC 31915462>
「ザ・ハネムーン・ソング」
(1分35秒)
「ペルフーメ・デ・ガーデニア(くちなしの香り)」
(6分47秒)
<MARSALIS MUSIC MARS0016>
「ニーニャ」
ヤマ
(4分06秒)
<M・A REC. M070A>
「ジャスト・イン・タイム」
(2分18秒)
<SONY MUSIC JAPAN SICP1152>
「シンギング・イン・ザ・ドーン」
スモークド・サーモン・レイルウェイ・マシン
(1分37秒)
<IN THE GARDEN XNHL18001>
「ザ・ヴィジター」
カドヤ・ボネイ
(5分05秒)
<HEADCOUNT REC. HC032>
「ア・ポートレイト・オブ・トレイシー」
(2分19秒)
<EPIC AL33949>
「ア・ポートレイト・オブ・トレイシー」
カドヤ・ボネイ
(2分18秒)
<HEADCOUNT REC. HC032>
「ソウル・アイズ」
キャンディス・スプリングス
(3分23秒)
<UNIVERSAL UCCQ-1063>
Another Country with Ricky Ross
Ricky Ross enters the landscape of Americana and alternative country. Expect to hear both classic and future classics, with Ricky taking a close look at the stories behind the songs
http://www.bbc.co.uk/programmes/b00hh26l
Ricky's All-Star Country Jukebox
Tue 21 Jun 2016
21:00
http://www.bbc.co.uk/programmes/b07grl9j
Hear the favourite country songs of Little Big Town, Shawn Colvin, Chuck Prophet, Ashley Monroe, Miranda Lambert, Nils Lofgren, Gretchen Peters, Allison Moorer, Kacey Musgraves, Rhiannon Giddens, Darrell Scott and many more. They each pick a record for Ricky's Country Jukebox and describe what makes the song so special.
Covering Bluegrass, Country Pop and Americana, this hand-picked selection of music showcases brilliant song-writing and talented artists across six decades.
Music Played
01. Hey Sheriff
Rusty & Doug Kershaw
The Grand Ole Opry Show
Proper Records
02. Wichita Lineman
Glen Campbell
Country Moods (Various Artists)
Polygram Tv
03. Lodi
Dan Penn
Nobody's Fool
Repertoire
04. Strawberry Wine
Deana Carter
Did I Shave My Legs for This?
Capitol Records Nashville
05. Desperados Waiting For The Train
Guy Clark
Old No.1 & Texas Cookin'
Camden
06. A Poor Man's Roses (Or A Rich Man's Gold)
Patsy Cline
Definitive Collection
MCA Nashville
07. Nothing Sure Looked Good On You
Gene Watson
Ultimate Collection
Hip-O Records
08. She Still Comes Around (To Love What's Left Of Me)
Jerry Lee Lewis
She Still Comes Around
Smash Records
09. Blue Eyes Crying In The Rain
Willie Nelson
Legend: The Best Of Willie Nelson
10. Wild And Blue
John Anderson
Wild & Blue
Warner Bros. Records
11. Love Hurts
Emmylou Harris & Gram Parsons
The No.1 Country Album (Various)
Polygram Tv
12. Wildwood Flower
The Carter Family
Best Of The Carter Family
Platinum Music
13. When I Stop Dreaming
The Louvin Brothers
My Baby's Gone: The Essential Louvin Brothers 1955-1964
Raven Records
14. No Place To Fall
Townes Van Zandt
The Nashville Sessions
Charly
15. Long White Line
Charlie Moore & Bill Napier
Truckin' With Grass
16. When I Call Your Name
Vince Gill
Souvenirs
MCA Nashville
17. Pageant Material
Kacey Musgraves
Pageant Material
Mercury Nashville
18. Southern Nights
Glen Campbell
That's Country (Various Artists)
19. Crazy Arms
Ray Price
For the Good Times
Columbia
20. Dark Turn Of Mind
Gillian Welch
The Harrow And The Harvest
WEA
21. The Night The Lights Went Out In Georgia
Reba McEntire
For My Broken Heart
MCA Records
22. It All Comes Down To Love
Tim O'Brien & Darrell Scott
Memories and Moments
Full Skies Records
23. Good Ole Boys Like Me
Don Williams
Portrait
24. Lost Highway
Hank Williams
20 Greatest Hits
Grand Canyon
25. Down To The River To Pray
Alison Krauss
O Brother Where Art Thou?
Mercury
26. Choices
George Jones
50 Years of Hits
Bandit Records
27. If I Should Fall Behind
We Ran
Elektra
Jazz records from across the genre, played in special sequences to highlight the wonders of jazz history. All pieces have been specifically requested by Radio 3 listeners
http://www.bbc.co.uk/programmes/b006tnn9
Sat 25 Jun 2016
16:00
BBC Radio 3
http://www.bbc.co.uk/programmes/b07h15d0
Few pianists had such an encyclopaedic grasp of early jazz styles as the stride specialist Ralph Sutton. Alyn Shipton's selection from listener's requests for all styles of jazz features an example of Sutton's most dazzling.
Music Played
01. Look For The Silver Lining
Jake Hanna
Composers: DaSylva/ Kern
Performers: Jack Sheldon, t, v; John Allred, tb; Tommy Newson, ts; Ross Tompkins, p; David Stone, b; Jake Hanna, d.
July 1997
Joint is Jumpin'
Arbors Tr.6
02. Dinah
Ralph Sutton
Composers: Akst/ Lewis/ Young
Performer: Ralph Sutton, p.
1992
At St. Georges Church
Arbors Tr.6
03. Exactly Like You
Acker Bilk & Cuff Billett
Composers: Fields/ McHugh
Performers: Cuff Billett, t, v; Acker Bilk, cl; Dave Collett, p; Cass Caswell, b; Ray Ball, d.
2004
Acker & Cuff
04. Jazz Battle
Tuba Skinny
Composer: Smith
Performers: Shaye Cohn, c; Craig Flory, cl; Barnabus Jones, tb; Jason Lawrence, bj; Todd Burdick, tu; Robin Rapuzzi, washboard.
Miss Fisher's Murder Mysteries, Music From Series 2
Every Cloud Tr.15
05. Stolen Moments
Composer: Oliver Nelson
Broadway the Hard Way
Zappa Records CD14 Tr.11
06. Wrap Your Troubles In Dreams
Composers: Barris/ Koehler/ Moll
Performers: Harold Land, ts; Hampton Hawes, p; Scott LaFaro, b; Frank Butler, d.
17 March 1958
For Real!
Essential Jazz Classics EJC 55557 Tr.2
07. Sophisticated Lady
Joe Temperley
Composer: Ellington
Performers: Joe Temperley, bs; Jimmy Knepper, tb; Derek Smith, p; Michael Moore, b; Billy Hart, d.
1976
Special Relationship
Hep 2012 Tr.6
08. Yada Yada
Julian Argüelles
Composer: Argüelles
Performers: Julian Argüelles, reeds; Kit Downes. p; Sam Lasserson, b; James Maddren, d.
Tetra
Whirlwind Tr.1
09. My Ship
Composer: Weill, arr Evans
Performers: Miles Davis, t; with the Gil Evans Orchestra and George Gruntz Concert Jazz Band
8 July 1991
Live at Montreux
Qwest 9362452212 Tr.7
10. Hymn To Freedom
Composer: Peterson
Performers: Oscar Peterson, p; Ray Brown, b; Ed Thigpen, d.
Dec 1962
Night Train
Verve Tr.11
Private Passions
Guests from all walks of life discuss their musical loves and hates.
http://www.bbc.co.uk/programmes/b006tnv3
Glenda Jackson
Sun 26 Jun 2016
12:00
BBC Radio 3
http://www.bbc.co.uk/programmes/b07h67w9
For three decades Glenda Jackson was one of our most acclaimed actors, winning BAFTAs, Golden Globes and Emmys, and two Oscars - for Women in Love and for A Touch of Class. And alongside her film career were ground-breaking stage performances for directors such as Peter Brook and Peter Hall, and a television career which included an astonishing portrayal of Elizabeth I - a performance few of us will forget.
But in 1992 she gave it all up to become the Labour MP for Hampstead and Highgate, eventually becoming a Junior Transport Minister. She stepped down as an MP last year, two days before her 79th birthday, and now, after a 24-year gap, she's back on stage this autumn playing King Lear at the Old Vic.
Glenda talks to Michael Berkeley about researching Elizabeth I, arguing with Ken Russell about Shostakovich, and how she turned down tickets to the Proms, prefering to listen on the radio at home.
Her love of 20th-century music shines through with pieces by Stravinsky, Vaughan Williams, John Adams, Steve Reich and Stevie Wonder.
Producer: Jane Greenwood
A Loftus production for BBC Radio 3
Music Played
00:05
Symphony of Psalms (3rd mvt: Alleluja)
Choir: Simon Joly Chorale
Orchestra: Philharmonia Orchestra
Conductor: Robert Craft
00:15
A London Symphony (1st mvt: Lento)
Orchestra: Royal Liverpool Philharmonic Orchestra
Conductor: Andrew Manze
00:22
Dmitri Shostakovich
Symphony no.5 in D minor, Op.47 (1st mvt: Moderato)
Orchestra: Royal Liverpool Philharmonic Orchestra
Conductor: Vasily Petrenko
00:31
John Adams
The Chairman Dances
Orchestra: San Francisco Symphony
Conductor: Edo de Waart
00:40
You Haven't Done Nothing
00:45
Clapping Music
Performer: Russell Hartenberger
00:54
Love for Sale
Singer: Ella Fitzgerald
Words and Music
A sequence of music interspersed with well-loved and less familiar poems and prose read by leading actors
http://www.bbc.co.uk/programmes/b006x35f
Infidelity
Sun 26 May 2016
17:30
BBC Radio 3
http://www.bbc.co.uk/programmes/b07h68m6
Fenella Woolgar and Timothy Watson explore infidelity from Tristan and Iseult to Anthony Blunt with texts from Dante, the Earl of Rochester, Robert Browning, Dorothy Parker, W.H. Auden, Hugo Williams and Jackie Kay, accompanied by music from Purcell, Mozart, Diego Ortiz, Rachmaninoff, Schoenberg, Pinho Vargas and Nina Simone
Producer's Notes
You will not need Sir David Attenborough to tell you that fidelity is a rare phenomenon in the animal kingdom. In fact there are only about eight species that mate for life: they include swans, elephants, angel fish, gibbons and, curiously, termites; and it seems, if the seventh commandment is anything to go by, that human beings are expected to be included in this select group. Yet, who knows if an elephant, or even a termite, has not occasionally strayed from the path of strict monogamy? Human beings certainly have, and their erring ways have been the source of great misery, and a great deal of creativity as well. Infidelity is a worldwide phenomenon that occurs with remarkable regularity across cultures and has inspired much great literature and music. In this programme I've focused mainly on romantic betrayal, but also included are examples of infidelity to friends, causes and beliefs.
We start with one of Schoenberg's 6 Little Piano Pieces, composed in 1911 by which time he had abandoned tonality but not yet developed his twelve note system. In a letter to Ferruccio Busoni two years previously he explained that he wanted to discard protracted scores and write short, lean pieces. He hoped the result was "without stylized and sterilized drawn-out sentiment. That is not how man feels; it is impossible to feel only one emotion." What he wanted to express in his music was the "multi-coloured, polymorphic, illogical nature of our feelings... Now I have said it, and they may burn me." Schoenberg's insight into the complex way our emotions work may be an explanation of why fidelity to our partners, our friends or our beliefs sometimes comes hard to us. Marital infidelity played a central role in Schoenberg's life: he was devastated by his wife Mathilde's affair with their mutual close friend, the painter Gerstl. The liaison ended in tragedy when Mathilde was persuaded by Webern to leave Gerstl, with whom she was living, and return to her husband. Soon after Gerstl killed himself. Mathilde visited his grave every year for the rest of her life. The Schoenbergs attempted to repair their marriage but according to friends their relationship had been damaged irrevocably.
Most of the texts I've chosen are self-explanatory. There's Racine's Phèdre, translated by Ted Hughes, detailing how she was love-stricken by Hippolytus – a difficult situation as he was her stepson. And we hear from Francesca da Rimini trapped in Dante's Second Circle of Hell (reserved for the lustful) who explains how she and Paolo fell for each other while reading about Lancelot and Guinevere. A contemporary of Dante Alighieri, Francesca da Rimini had been forcibly married to Lanciotto Malatesta at the age of 15 or 16 for dynastic reasons. She had a long term love affair with her handsome brother in law Paolo. Tragedy ensued when Malatesta surprised the lovers in Francesca's bedroom and killed them both. Several composers were inspired by the story, including Tchaikovsky. I have used an extract from Rachmaninoff's opera Francesca Da Rimini to accompany the reading.
I was intrigued to come across two letters from John Wilmot, the Earl of Rochester, to his mistress, the actress Elizabeth Barry. Rochester is famous for his erotic poetry and promiscuous behaviour, but clearly in 1678 when he wrote these letters, the tables were turned and Barry was rejecting him, despite having borne him a child.
In The Untouchable, John Banville writes a fictionalised account of the Cambridge spy Anthony Blunt. The novel is narrated in the first person and is a fascinating account of the state of mind of a man who lived a long term double life. He confessed to being a spy in 1964, but was not publically unmasked until 1979.
Perhaps the most chilling text I discovered is a letter written by Augusta Fullam to her doctor-lover Henry Clark in 1911. The notorious Agra Double Murder Case became the talk of British India over tea and tiffin. At the time of Augusta's letter she and her lover were in the process of attempting to poison their respective spouses. Clark regularly posted packets of arsenic marked 'Tonic Powders' to Mrs Fullam. She succeeded in killing her husband in 1911, but when her lover failed in his attempts to kill his spouse he hired assassins to murder her. Unwisely, Augusta kept a trunk of all her incriminating letters to Clark under her bed. The couple were tried jointly at Allahabad in 1913 and found guilty. Clark was hanged but Augusta's sentence was commuted to life imprisonment as she was pregnant with Clark's child. She died of heatstroke in Naini prison in 1914.
In terms of music, I chose Chopin's Variations on Mozart's La ci darem la mano to follow on from Hugo Williams' poem near the start of the programme. Don Giovanni sings the famous aria while naughtily attempting to seduce Zerlina only minutes after promising to hold a wedding reception for her and her fiancé at his castle. One could forgive her for yielding to him in response to the charm of the melody but luckily Donna Elvira arrives in the nick of time and interrupts the seduction.
Janáček's String Quartet No. 1, The Kreutzer Sonata, was inspired by Tolstoy's 1889 controversial novella of the same name. In the story an unhappily married woman meets a violinist at a soirée during which Beethoven's Kreutzer Violin Sonata (No. 9, Op. 47) is performed and the pair are mutually attracted. The husband, returns from a trip to discover the couple together, possibly quite innocently, and kills his wife, though the violinist escapes. The tale is narrated by the husband, Posdnicheff, who expresses the opinion "many adulteries originate in our society" under the influence of music.
I have chosen two Purcell songs: the beautiful and plaintive song 'Fled is my love' is from his incidental music to D'Urfey's 1688 play 'A Fool's Preferment' and 'I attempt from love's sickness to fly' from his semi-opera The Indian Queen based on a tragedy by John Dryden.
Browning's My Last Duchess is narrated by a 16th century Italian Duke, who has organised the murder of his wife whose eye he felt to be too roving. Browning's Duke is thought to have been inspired by Alfonso II, the fifth duke of Ferrara, who married the fifteen year old Lucrezia de Medici in 1558. She died three years later and there were suspicions she had been poisoned. The controlling and violent behaviour of the outwardly charming Duke towards his wife is perhaps not a million miles away from the character of Rob in The Archers, as portrayed so brilliantly by our reader Timothy Watson.
To follow Browning's murderous duke I have used music from Jean Baptise Lully's ballet Theseus. Theseus was the king who abandoned Ariadne, but was himself betrayed by Phaedra when she fell for his son Hippolytus, as described earlier.
In conclusion it appears a completely monogamous human is quite rare. Men and women are not gibbons or elephants or termites, and perhaps, in the end, it is just as well they are not.
Producer: Philippa Ritchie
Music Played
00:00
Arnold Schoenberg
Six Little Piano Pieces, Op.19 - V: Etwas rasch
Performer: Glenn Gould (piano)
Sony Classical SMK 62 020 Tr.9
00:00
Arnold Schoenberg
Six Little Piano Pieces, Op.19 – VI. Sehr Langsam
Performer: Glenn Gould (piano)
Sony Classical SMK 62 020 Tr.10
Hugo Williams
Prayer read by Timothy Watson
00:01
Fryderyk Chopin
Variations on La" ci darem la mano," Op.2 - Theme
Performer: Garrick Ohlsson (piano)
ARABESQUE Z67022 Tr.2
Dorothy Parker
Unfortunate Coincidence read by Fenella Woolgar
00:03
Fryderyk Chopin
Variations on "La ci darem la mano," Op.2 – Variation 1
Performer: Garrick Ohlsson (piano)
ARABESQUE Z67022 Tr.3
00:04
Henry Purcell
Man is for the Woman Made
Performer: John Shirley-Quirk (Baritone), Martin Isepp (harpsichord)
SAGA XID 5260 (Vinyl) CD1 Tr.1
Racine
Phèdre adapted by Ted Hughes, read by Fenella Woolgar
00:06
Pablo de Sarasate
Carmen Fantasy, Op.25
Performer: Itzhak Perlman (violin) Royal Philharmonic Orchestra, Lawrence Foster (Conductor)
EMI 72435 74765 2 Tr.1
Racine
Phèdre adapted by Ted Hughes, read by Fenella Woolgar
John Donne
Woman's Constancy, read by Timothy Watson
00:11
Lee Hazlewood
These Boots are Made For Walking
Performer: Nancy Sinatra
BR Music– BOX 1001-2 CD1 Tr.13
Jackie Kay
Divorce, read by Fenella Woolgar
00:15
Leos Janacek
String Quartet No.1 after Tolstoy's The Kreutzer Sonata: I Adagio con moto
Performer: Alban Berg Quartett
EMI Classics 7243 5 55457 2 5 Tr.1
Earl of Rochester
Letter from the Earl of Rochester to his mistress the actress Elizabeth Barrie, written in 1678, read by Timothy Watson
00:20
Henry Purcell
A Fool's Preferment or The Three Dukes of Dunstable: Fled is my Love – First Verse
Performer: Rogers Covey Crump, the Academy of Ancient Music, Christopher Hogwood (Conductor)
OISEAU LYRE 4258932 CD5 Tr.16
Earl of Rochester
'Anger, Spleen, Revenge and Shame' - a second letter from Rochester to Elizabeth Barrie, read by Timothy Watson
00:21
Henry Purcell
A Fool's Preferment or The Three Dukes of Dunstable: Fled is my Love – Second Verse
Performer: Rogers Covey Crump, the Academy of Ancient Music, Christopher Hogwood (Conductor)
OISEAU LYRE 4258932 CD5 Tr.16
00:23
Granville Bantock
'I loved thee once, Atthis, long ago' – from Sappho (song cycle)
Performer: Susan Bickley (Mezzo-soprano), Royal Philharmonic, Vernon Handley (Conductor)
HYPERION CDA 66899 Tr.3
Joseph Bedier translated by Hilaire Belloc
The Romance of Tristan and Iseult, read by Fenella Woolgar
00:31
Richard Wagner
Tristan und Isolde, Lieberstod
Performer: Nina Stemme, Orchestra of the Royal Opera House, Antonio Pappano (Conductor)
EMI 5580062 CD3 Tr.12
00:38
Diego Ortiz
Recercada secunda
Choir: Concordia, Mark Levy (Director)
BBC MUSIC Vol.II No.9 Tr.22
Robert Browning
My Last Duchess, read by Timothy Watson
00:40
Arnold Schoenberg
III Sehr Langsame from Six Little Piano Pieces, Op.19
Performer: Glenn Gould (piano)
SONY CLASSICAL SMK62020 Tr.7
Robert Browning
My Last Duchess, read by Timothy Watson
00:41
Les Démons, Air de Ballet de Thésée (Theseus)
Performer: Kenneth Gilbert (harpsichord)
HARMONIA MUNDI HMA 1901267 Tr.10
00:00
Benjamin Britten
Tell Me The Truth About Love
Performer: Della Jones (Mezzo-soprano), Steuart Bedford (piano)
COLLINS CLASSICS 14902 Tr.19
Augusta Fullam
Letter from Augusta Fullam, read by Fenella Woolgar
(real letter from the woman who poisoned her husband in Agra, India in 1912 with the help of her doctor lover who supplied the poison and was poisoning his own wife at the same time.)
00:47
Antonio Pinho Vargas
Judas: Prodotoris finis
Performer: Coro e Orquestra Gulbenkian, Paulo Lourenço (Chorus-master)
NAXOS 8 573277 Tr.14
John Banville
The Untouchable, read by Timothy Watson
00:53
Gustav Holst
I Vow To Thee, My Country (Jupiter)
Performer: Choir of King's College, Cambridge
EMI 2289440 CD2 Tr.3
Dante, translated by Clive James
The Inferno, Volume I, Canto v, read by Timothy Watson & Fenella Woolgar
00:55
Sergei Rachmaninov
Francesca da Rimini, The fair Guinevere
Performer: Svetla Vassileva, Misha Didyk, BBC Philharmonic, Gianandrea Noseda (Conductor)
CHANDOS CHAN 10442 Tr.9
00:57
Sergei Rachmaninov
Francesca da Rimini, Epilogue
Performer: Svetla Vassileva, Misha Didyk, BBC Philharmonic, Gianandrea Noseda (Conductor)
CHANDOS CHAN 10442 Tr.10
01:01
Anderson/Eno
Performer: Laurie Anderson
Warner Bros. Records ? 9362 45534 2 Tr.10
Stella Gibbons
Deserted Girl, read by Timothy Watson
01:05
Jessie Mae Robinson
The Other Woman
Performer: Nina Simone
ROULETTE CDP 7985842 Tr.4
Linda Chase
Married Woman, read by Fenella Woolgar
01:08
Jean Sibelius
Pelléas et Mélisande, Act II, No. 4 Comodo (Prelude Scene I)
Performer: Turku Philharmonic Orchestra, Leif Segerstam (Conductor)
NAXOS 8 573301 Tr.4
W.H. Auden
Lullaby, read by Timothy Watson and Fenella Woolgar
01:11
Lullaby, Op.49, No.4
Performer: Yo Yo Ma (cello), Kathryn Stott (piano)
SONY 88875103162 Tr.2