09:21
ウィークエンドサンシャイン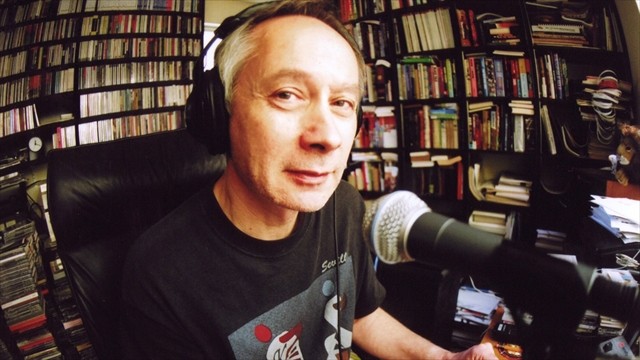 ブロードキャスター、ピーター・バラカンのナビゲートで送るウィークエンド・ミュージックマガジン。独特の嗅覚とこだわりの哲学でセレクトしたグッド・サウンドと、ワールドワイドな音楽情報を伝える。
http://www4.nhk.or.jp/sunshine/
放送日: 2016年11月19日(土)
放送時間: 午前7:20〜午前9:00(100分)
https://www.loc.gov/about/awards-and-honors/gershwin-prize/
THIS WEEK'S PLAYLIST
http://www4.nhk.or.jp/sunshine/66/
(曲名 / アーティスト名 // アルバム名)バム名)
01. Got A Job / The Miracles // The 35th Anniversary Collection
02. Shop Around / The Miracles // The 35th Anniversary Collection
03. Mighty Good Lovin' / The Miracles // The 35th Anniversary Collection
04. You've Really Got A Hold On Me / The Miracles // The 35th Anniversary Collection
05. You Really Got A Hold On Me / The Beatles // With The Beatles
06. Ooh Baby Baby / The Miracles // The 35th Anniversary Collection
07. Going To A Go-Go / The Miracles // The 35th Anniversary Collection
08. The Tracks Of My Tears / The Miracles // The 35th Anniversary Collection
09. Two Lovers / Mary Wells // The Ultimate Collection
10. My Guy / Mary Wells // The Ultimate Collection
11. The Way You Do The Things You Do / The Temptations // The Ultimate Collection
12. My Girl / The Temptations // The Ultimate Collection
13. My Girl / Otis Redding // Otis Blue/Otis Redding Sings Soul
14. It's Growing / The Temptations // The Ultimate Collection
15. Since I Lost My Baby / The Temptations // The Ultimate Collection
16. I'll Be Doggone / Marvin Gaye // Super Hits
17. Ain't That Peculiar / Marvin Gaye // Super Hits
18. First I Look At The Purse / The Contours // Do You Love Me (Now That I Can Dance)
19. First I Look At The Purse / J. Geils Band // The J. Geils Band
20. Don't Mess With Bill / The Marvelettes // The Ultimate Collection
21. The Hunter Gets Captured By The Game / The Marvelettes // The Ultimate Collection
22. I Second That Emotion / The Miracles // The 35th Anniversary Collection
23. The Tears Of A Clown / The Miracles // The 35th Anniversary Collection
24. Tears Of A Clown / The Beat // The Best Of 2 Tone
25. Cruisin' / Smokey Robinson // The 35th Anniversary Collection
世界の快適音楽セレクション
"快適音楽"を求めるギターデュオのゴンチチによる、ノンジャンル・ミュージック番組。
http://www4.nhk.or.jp/kaiteki/
放送日: 2016年11月19日(土)
放送時間: 午前9:00〜午前11:00(120分)
渡辺亨
− 迷う音楽 −
楽曲
「夜のストレンジャー」
(2分52秒)
<ポニーキャニオン PCCA-01792>
「サーカス・タウン」
(4分02秒)
<BMGファンハウス BVCR-1703>
「舞酔い雪」
(4分55秒)
<コロムビア COCP-38525>
「ハニーサックル・ハニー」
コマンダー・コディ&ヒズ・ロスト・プラネット・エアメン
(2分33秒)
「キャント・ファインド・マイ・ウェイ・ホーム」
ジルベルト・ジル
(5分18秒)
<UNIVERSAL UICY-1031>
「ホーンテッド・ハート」
ウォルト・ワイスコフ、ブラッド・メルドー、ジョン・パティトゥッチ、クラレンス・ペン
(7分30秒)
<CRISS CROSS JAZZ 1219CD>
「T.R.O.U.B.L.E.」
ヴィック・ゴダード
(3分04秒)
<EL BENELUX ELT4>
「アドレッセンス」
プリファブ・スプラウト
(3分56秒)
<SONY MUSIC SICP30401>
「ザ・ロスト・チャイルド」
カルロス・バルボサ・リマ
(2分12秒)
<CONCORD CCD-42009>
「ザ・ラン」
ハイエイタス・カイヨーテ
(4分54秒)
<SONY MUSIC ENT. SICP4532>
「トリステーザ・イ・ソリダォン(悲しみと孤独)」
バーデン・パウェル&ヴィニシウス・ヂ・モライス
(4分41秒)
<POLYGRAM PHCA-4205>
「ストレイ」
アズテック・カメラ
(5分34秒)
<WEA WMC5-110>
「ブルース・ウィズアウト・ワーズ」
テディ・バン
(3分07秒)
「ラップ・ユア・トラブルズ・イン・ドリームズ」
レイ・アンソニー&ヒズ・オーケストラ
(2分19秒)
<PHONO PHONO870220>
「ハスタ・ペルデルメ・エン・エル・サパト」
カルロス・カンサニ
(2分40秒)
<POSDATA:AYUI PD2004>
「トラブル」
リズ・ライト
(5分05秒)
<UNIVERSAL MUSIC UCCV-1071>
「ロング・アンド・ワイディング・ロード」
スティーヴ・ドブロゴス
(4分49秒)
<BOMBA REC. BOM23001>
「歩いても歩いても」
(1分18秒)
<ポニーキャニオン PCCA-04105>
「メッシー・ラヴ」
ギャビー・ヘルナンデス
(4分10秒)
<ANALOG BURNERS AB-004>
「ステイ・アホワイル」
ギャビー・ヘルナンデス
(3分39秒)
<ANALOG BURNERS AB-004>
Jazz records from across the genre, played in special sequences to highlight the wonders of jazz history. All pieces have been specifically requested by Radio 3 listeners
http://www.bbc.co.uk/programmes/b006tnn9
Sat 19 Nov 2016
16:00
BBC Radio 3
http://www.bbc.co.uk/programmes/b0831951
In this specially recorded festival edition of the programme, Alyn Shipton is joined by requesters and special guests from the Barbican Freestage in London, plus live music from pianist Nikki Yeoh and saxophonist Rachel Musson.
Music Played
01. I'm Sure This Wasn't The Plan
Nikki Yeoh & Rachel Musson
Composer: Rachel Musson
Performers: Nikki Yeoh, p; Rachel Musson, saxophone
02. Everything Happens To Me
Composers: Adair/ Dennis
Performers: Lee Konitz, as; Billy Bauer, g; Arnold Fishkind, b; Dick Scott, d.
1956
Inside Hi-Fi
Atlantic 1258 Tr.2
03. New York New York
Django Bates
Composers: Bernstein/ Comden/ Green arr Bates
Performers: Django Bates, kb; Chris Batchelor, Sid Gauld, t; Roland Bates, Richard Henry, tb; Dave Laurence, frh; Sarah Waterhouse, tu; Iain Ballamy, Eddie Parker, Steve Buckley, Mark Lockheart, Barak Schmool, reeds; Stuart Hall, g; Mark Mondesir, b; Martin France, d.
1995
Winter Truce (and Homes Blaze)
JMT 514 023-2 Tr.4
04. I Walk The Line
The Bad Plus
Composer: Cash
Performers: Ethan Iverson, p; Reid Anderson, b; David King, d.
2016
It's Hard
Okeh 88985337142 Tr.4
05. King Porter Stump
Teddy Bunn
Composer: Morton
Performer: Teddy Bunn, g.
28 March 1940
Teddy Bunn 1929-1940
Document 1509-2 Tr.18
06. Nickel In The Slot
Wingy Manone
Composer: Confrey
Performers: Wingy Manone, t, v; Matty Matlock, cl; Eddie Miller, ts; Gil Bowers, p; Nappy Lamare, g; Harry Goodman, b; Ray Bauduc, d.
15 Jan 1935
Nickel In The Slot
Okeh 41573 Side A Tr.1
07. Easy Living
Composers: Robin/ Rainger
Performers: Buck Clayton, t; Buster Bailey, cl; Lester Young, ts; Teddy Wilson, p; Freddie Green, g; Walter Page, b; Jo Jones, d, Billie Holiday, v.
1 June 1937
The Lady Sings
Proper Properbox 26 CD1 Tr.23
08. Fall
Ben Wendel
Composer: Wendel
Performers: Ben Wendel, sax; Gerald Clayton, p; Joe Sanders, b; Henry Cole, d.
2016
What We Bring
Motema Tr.2
09. Soon
Gary Burton, Chick Corea, Pat Metheny, Dave Holland & Roy Haynes
Composer: Gershwin
Performers: Gary Burton, vib; Chick Corea, p; Pat Metheny, g; Dave Holland, b; Roy Haynes, d.
1998
Like Minds
Concord 4803-2 Tr.8
10. Darn That Dream
George Shearing & The Montgomery Brothers
Performers: George Shearing, p; Wes Montgomery, g; Buddy Montgomery, vib; Monk Montgomery, b; Walter Perkins, d.
1961
George Shearing with the Montgomery Brothers
Jazzland JLP 955 Tr.9
11. Pixitotinha
Hermeto Pascoal
Composer: Pascaol
Performer: Hermeto Pascoal, p.
1988
Por Diferentes Caminhos
Som Da Gente SDG 039/88 Tr.1
12. The Dance Of The Two Small Bears
Nikki Yeoh & Rachel Musson
Composer: Nikki Yeoh
Performers: Nikki Yeoh, p; Rachel Musson, saxophone
Geoffrey Smith's Jazz
Geoffrey Smith's Jazz does exactly what it says on the tin: a weekly programme in which Geoffrey Smith shares his love of jazz, through an exploration of its great writers, singers and players, as told from his own individual perspective.
Each programme take us through his personally-selected playlist of tracks. It's loosely-themed; maybe a great artist, a jazz style or something more off-the-wall. But that serves as just the start of a fascinating journey to the heart of the music Geoffrey is so passionate about.
http://www.bbc.co.uk/programmes/b01h5z0s
Sun 20 Nov 2016
00:00
BBC Radio 3
http://www.bbc.co.uk/programmes/b0831bst
Freddie Hubbard (1938-2008) was the trumpet king of the 1960s, whose brilliant tone and technique encompassed bebop, avant-garde and fusion. Geoffrey Smith surveys his classic recordings with Herbie Hancock and Eric Dolphy, as well as his own groups.
Music Played
01. Miss Toni
Performers: Eric Dolphy, Freddie Hubbard, Jackie Byard, Roy Haynes
Outward Bound
New Jazz
02. Open Sesame
Performers: Freddie Hubbard, Tina Brooks, McCoy Tyner, Sam Jones, Clifford Jarvis
Open Sesame
Blue Note
03. Osie Mae
Hub Cap
Blue Note
04. Watermelon Man
Takin' Off
Blue Note
05. Skylark
Art Blakey & The Jazz Messengers
Original Jazz Classics
06. Speak No Evil
Performers: Wayne Shorter, Freddie Hubbard, Herbie Hancock, Ron Carter, Elvin Jones
Speak No Evil
Blue Note
07. Red Clay
CTI Records: The Cool Revolution