11:27
ウィークエンドサンシャイン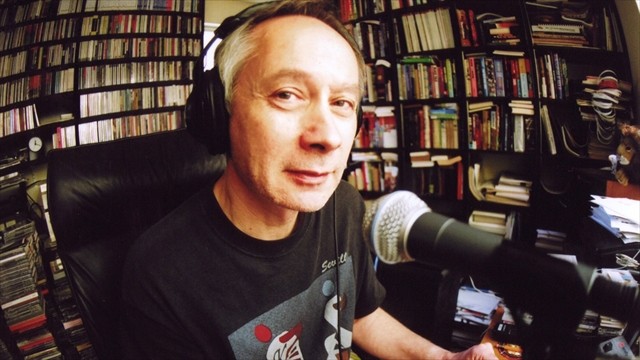 ブロードキャスター、ピーター・バラカンのナビゲートで送るウィークエンド・ミュージックマガジン。独特の嗅覚とこだわりの哲学でセレクトしたグッド・サウンドと、ワールドワイドな音楽情報を伝える。
http://www4.nhk.or.jp/sunshine/
放送日: 2017年 1月21日(土)
放送時間: 午前7:20〜午前9:00(100分)
THIS WEEK'S PLAYLIST
http://www4.nhk.or.jp/sunshine/66/
(曲名 / アーティスト名 // アルバム名)
01. Indian Givers / Neil Young // Peace Trail
02. Action / Mavis Staples // Livin' On A High Note
03. It Ain't Necessarily So / Willie Nelson // Summertime: Willie Nelson Sings Gershwin
04. Traveling Light / Leonard Cohen // You Want It Darker
05. And I Love Her / Brad Mehldau Trio // Blues And Ballads
06. Three Views Of A Secret / Weather Report // The Legendary Live Tapes 1978-1981
07. The Three Of Me / William Bell // This Is Where I Live
08. The Cuckoo / Jim Kweskin & Geoff Muldaur // Penny's Farm
09. You May Stand Mute / Chris Wood // So Much To Defend
10. Dog On A Chain / Emitt Rhodes // Rainbow Ends
11. Orphan Girl (Alternate Version) / Gillian Welch // Boots No. 1: The Official Revival Bootleg
12. Say It Isn't True / Honey Island Swamp Band // Demolition Day
13. Wild Music / Erroll Garner // Ready Take One
14. Transition / Dawda Jobarteh // Transitional Times
15. Summer 15 / Aziza (feat. Dave Holland, Chris Potter, Lionel Loueke, Eric Harland) // Aziza
世界の快適音楽セレクション
"快適音楽"を求めるギターデュオのゴンチチによる、ノンジャンル・ミュージック番組。
http://www4.nhk.or.jp/kaiteki/
放送日: 2017年 1月21日(土)
放送時間: 午前9:00〜午前11:00(120分)
渡辺亨
− 出発の音楽 −
楽曲
01. リーヴ・フロム・ジ・エアポート
(4分33秒)
02. エー!ムンド・ボン・タイー(素敵な世界が待っている)
ジョニー・アルフ
(3分22秒)
<東芝EMI TOCP-66063>
03. イッツ・ア・スタート
(5分06秒)
<ATLANTIC JAZZ 7 82441-2>
04. ブーマーズ・ストーリー(流れ者の物語)
(4分16秒)
<WARNER BROS WPCR-75425>
05. ライク・サムワン・イン・ラヴ
(6分28秒)
<MILESTONE 00025218478328>
06. クレイドル・トゥー・ザ・グレイヴ
(3分20秒)
07. アライヴァル・ビギンズ・ネクスト・デパーチャー
(5分11秒)
<YACCA/INPARTMAINT YAIP-6027>
08. ボンボヤージ波止場
(4分33秒)
<ALFA REC. ALCA-416>
09. パルチーダ(出発)
ドリス・モンテイロ
(3分59秒)
<東芝EMI TOCP-66054>
10. ラ・マキナ・デル・ティエンポ
エドゥアルド・マテオ
(7分33秒)
<AYUI DISCOS PD2003>
11. ヒット・ザ・ロード・ジャック
ザ・ダブル・シックス・オブ・パリ
(2分08秒)
<日本フォノグラム EJD-1028>
12. 世界に放たれて
(4分43秒)
<ボンバ・レコード BOM22013>
13. デパーチャー・アンド・フェアウェル
ヘム
(3分24秒)
<DEEP MUSIC 2332143>
14. シーズ・リーヴィング・ホーム
ハリー・ニルソン
(3分20秒)
15. 出発のほかに何がある
(3分30秒)
<WATANABE WMP-30032>
16. 風の国
(4分04秒)
<IN THE GARDEN XNHL-15004/B>
17. オ・マイス・プロフンド・ア・エィ・ペラ
ローレンス・ヘベッチス
(5分50秒)
<TRATORE 7892860244044>
18. イリャ・ドス・プラセレス
(3分46秒)
19. ノトゥルナ
シルヴァ、マリーザ・モンチ
(2分37秒)
<SLAP 4454-2>
Jazz records from across the genre, played in special sequences to highlight the wonders of jazz history. All pieces have been specifically requested by Radio 3 listeners
http://www.bbc.co.uk/programmes/b006tnn9
Sat 21 Jan 2017
16:00
BBC Radio 3
http://www.bbc.co.uk/programmes/b08bb7qm
This week the recent food and drink-inspired series of jazz tracks continues, as Alyn Shipton's selection from listeners' requests includes Fats Waller's Rump Steak Serenade.
Music Played
01. Rump Steak Serenade
Composers: Kirkeby/ Waller
Performers: Fats Waller, p, v; John Hamilton, Hermn Autrey, Bob Williams, t; George Wilson, Ray Hogan, tb; Jimmy Powell, Dave McRae, Gene Sedric, Bob Carroll, reeds; Al Casey, g; Cedric Wallace, b; Slick Jones, d.
1 July 1941
The Last Years (1940-42)
RCA/Bluebird 9883-2RB CD2 Tr.20
02. Whirly Bird
Composer: Hefti
Performers: Thad Jones, Snooky Young, Wendell Culley, Joe Newman, t; Henry Coker, Al Grey, Benny Powell, tb; Marshal Royal, Frank Wess, Frank Foster, Eddie Lockjaw Davis, Charlie Fowlkes, reeds; Count Basie, p; Freddie Green, g; Eddie Jones, b; Sonny Payne, d.
On The Beatles/ Atomic Mr Basie
Phoenix 131503 Tr.18
03. Just Sittin' And A Rockin'
Composers: Ellington/ Strayhorn/ Gaines
Performers: Oscar Peterson, p; Barney Kessell, g; Ray Brown, b.
Nov 1952
1952 Vol.3
Classics 1426 Tr.12
04. Madagascar
Wilbur De Paris
Composer: De Paris
Performers: Sidney De Paris, t; Wilbur De Paris, tb; Omer Simeon, cl; Sonny White, p; Lee Blair, bj; Wendell Marshall, b; George Foster, d.
April 1955
Wilbur De Paris and his New New Orleans Jazz
London 15024 Side A Tr.1
05. Shake It And Break It
Butch Thompson
Composer: trad
Performers: Cuff Billett, Charlie DeVore, c; Pete Dyer, tb; Teddy Layton, cl; Butch Thompson, p; Mal Horne, bj; Alyn Shipton, b; Dave Evans d.
1988
Butch Thompson's King Oliver Centennial Band
GHB BCD 202 Tr.5
06. Loose Bloose (Alternate Take 2)
Composer: Evans
Performers: Bill Evans, p; Zoot Sims, ts; Jim Hall, g; Ron Carter, b; Philly Joe Jones, d.
August 1962
The Complete Riverside Recordings – Volume 3
Riverside 12RCD0182IL Tr.8
07. The Mighty Two
Gene Krupa & Louis Bellson
Composer: Fred Thompson
Performers: Louie Bellson, Gene Krupa, d; Joe Wilder, Joe Newman, t; Phil Woods, as; Tyree Glenn, tb; Dick Hyman, p; Mary Osborne, g; Milt Hinton, b.
1963
The Mighty Two
Columbia SEG 8333 Tr.1
08. Ride Like The Wind
Composer: Cross
Performers: Freddie Hubbard, Gary Grant, Chuck Findlay, t; Bill Watrous, tb; Vince De Rosa, frh; Tommy Johnson, tu; Bud Shank, Bill Perkins, Bob Tricarico, reeds; Bill Mays, kb; Dan Ferguson, g; Abe Laboriel, b; Bill Maxwekk, d; Joe Percaro, perc.
1982
Ride Like The Wind
Elektra Musician K 52362 Side 1 Tr.4
09. As Seen From Above
Composer: Garbarek
Performers: Jan Garbarek, ss, electronics; Manu Katche, d, electronics
2004
In Praise of Dreams
10. Manteca
Composer: Gillespie
Performers: Quincy Jones Orchestra
1973
You've Got It Bad Girl
A&M Tr.7
11. Bernie's Tune
Composers: Lieber/ Stoller, arr Paich
Performers: Art Pepper, as; Pete Candoli, Al Porcino, Jack Sheldon, t; Dick Nash, Bob Enevoldsen, tb; Vince De Rosa, frh; Bud Shank, Herb Geller, Bill Perkins, Richie Kanuca, Med Flory, reeds; Russ Freeman, p; Joe Mondragon, b; Mel Lewis, d; Marty Paich, dir.
May 1959
Art Pepper plus Eleven – Modern Jazz Clssics
Contemporary Tr.7
12. Sweet Georgia Brown
Anita O'Day
Performers: Anita O'Day, v; Jimmy Jones, p.
1958
Jazz on a Summer's Day
Charly 191 Tr.4
Words and Music
A sequence of music interspersed with well-loved and less familiar poems and prose read by leading actors
http://www.bbc.co.uk/programmes/b006x35f
The Bridge
Sun 22 Jan 2017
17:30
BBC Radio 3
http://www.bbc.co.uk/programmes/b08bbghl
The Bridge - both an exhilarating leap in the dark and a feat of engineering. Bridges shape our world whether they're constructions thrown across a raging torrent or synaptic sparks that convert incomprehension into meaning. The latest RSC Hamlet, Paapa Essiedu and Alice St Clair, the star of William and Catherine: A Royal Romance, take us from West to East on the Galata Bridge in Istanbul; we join them on the fateful Tallahatchie Bridge; and brood on the rainbow bridge that inspired Wagner ; there's time too to peer into the Thames with Wordsworth or wonder at the spectres crossing it with T S Eliot. The path leads between light and dark, gravity and weightlessness and despair and hope .... a hair-raising but all-too-familiar balancing act!
Producer's Notes
You know how the old joke goes – a weary and confused traveller asks a local the way to the big city only to be told - "Well, if I were you, I wouldn't start from here." Bridges are a kind of answer to that kind of question though as often as not we play both the traveller and the local. When we don't know how to get from A to B or from A to Z we devise something - a bridge. It can be made of stone or steel or it can be altogether weightless – one of the rope bridges the mind strings across incomprehension.
This evening's Words and Music, with the actors Paapa Essiedu and Alice St Clair, examines the notion of the bridge and attempts to make one. It begins with a famous musical doodle – Bach's aria from the Goldberg Variations - and leaps from there to Istanbul's Galata Bridge which links Europe with Asia. It's not long before we're waltzing along under the Pont Mirabeau with Léo Ferré, or flowing lugubriously across London Bridge with T. S. Eliot. There's a bit of loitering under the arch of a railway bridge while W. H. Auden cocks an ear to a lover's song; some sighing with Thomas Hood; and a dizzy descent into the mechanical heart of Tower Bridge where Iain Chambers recorded his musique concrete composition – Bascule Chambers. You get the idea…. as E. M. Forster once famously said -- only connect.
Producer: Zahid Warley
Music Played
00:00
"Goldberg Variations" - Aria
Performer: Rosalyn Tureck
Albany TROY007 Tr.1
Geert Mak
First sight of the Galata Bridge, read by Paapa Essiedu
00:05
An American in Paris
Performer: New York Philharmonic, Leonard Bernstein (conductor)
Sony Classical SMK47529 Tr.12
Geert Mak
First sight of the Galata Bridge, read by Paapa Essiedu
Geert Mak
First sight of the Galata Bridge, read by Paapa Essiedu
W. H. Auden
As I walked out one Evening, read by Alice St Clair-Erskine
00:15
Léo Ferré/Apollinaire
Le Pont Mirabeau
Performer: Léo Ferré
Documents 600327 CD1 Tr.4
Thomas Hood
The Bridge of Sighs, read by Paapa Essiedu
00:22
Bobbie Gentry
Ode to Billie Joe
Performer: Bobbie Gentry
CURB 471206 2 Tr.1
Seamus Heaney
Scaffolding, read by Paapa Essiedu
00:26
Benjamin Britten
Variations on a theme of Frank Bridge, Op.10 - Wiener Walzer
Performer: English Chamber Orchestra, Sir Alexander Gibson (conductor)
EMI CD-EMX 2111 Tr.7
Rainer Maria Rilke translated by Leonard Cottrell
Pont du Carrousel, read by Paapa Essiedu
00:29
Iain Chambers
Bascule Chambers
Performer: Docklands Sinfonia
TOUCH TOUCHLINE6 Tr.1
T. S. Eliot
From The Waste Land, The Burial of the Dead, read by Alice St Clair-Erskine
00:43
The Bridge
Performer: Sonny Rollins
BLUEBIRD ND90633 Tr.4
William Wordsworth
Composed upon Westminster Bridge, September 3, 1802, read by Paapa Essiedu
00:50
Sally Beamish
Bridging the Day
Performer: Robert Irvine (Cello), Sally Beamish (Piano)
BIS CD-1171 Tr.5
R. S. Thomas
Ninetieth Birthday, read by Paapa Essiedu
01:03
Richard Wagner
Schwüles Gedünst - aria from Das Rheingold
Performer: Eberhard Wächter, Wiener Philharmoniker, Sir Georg Solti (conductor)
Decca 4780382 CD2 Tr.13
Octavio Paz translated by Eliot Weinberger
The Bridge, read by Alice St Clair-Erskine
01:07
Richard Wagner
Rhine maiden chorus from Das Rheingold
Performer: Oda Balsborg, Hetty Plümacher, Ira Malaniuk, Wiener Philharmoniker, Sir Georg Solti (conductor)
Decca 4780382 CD2 Tr.15
Geert Mak
From The Bridge (Last sight of the Galata Bridge), read by Alice St Clair-Erskine
01:09
Goldberg Variations, BWV 998 - Aria da capo
Performer: Glenn Gould (piano)
SONY SMK 52619 Tr.32