07:49
ウィークエンドサンシャイン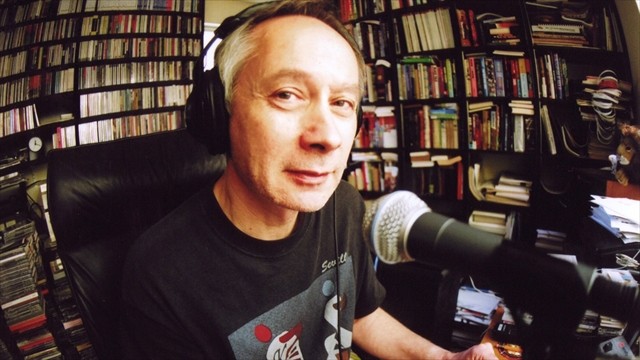 ブロードキャスター、ピーター・バラカンのナビゲートで送るウィークエンド・ミュージックマガジン。独特の嗅覚とこだわりの哲学でセレクトしたグッド・サウンドと、ワールドワイドな音楽情報を伝える。
http://www4.nhk.or.jp/sunshine/
放送日: 2017年 7月 1日(土)
放送時間: 午前7:20〜午前9:00(100分)
THIS WEEK'S PLAYLIST
http://www4.nhk.or.jp/sunshine/66/
(曲名 / アーティスト名 // アルバム名)
01. Good Times / Phoebe Snow // Phoebe Snow
02. So Much Things To Say / Bob Marley & The Wailers // Exodus - Fortieth Anniversary Edition
03. Turn Your Lights Down Low (Exodus 40 Mix) / Bob Marley & The Wailers // Exodus - Fortieth Anniversary Edition
04. Turn Your Lights Down Low / Bob Marley & The Wailers // Exodus - Fortieth Anniversary Edition
05. The Heathen (Exodus 40 Mix) / Bob Marley & The Wailers // Exodus - Fortieth Anniversary Edition
06. The Heathen / Bob Marley & The Wailers // Exodus - Fortieth Anniversary Edition
07. Natural Mystic (Exodus 40 Mix) / Bob Marley & The Wailers // Exodus - Fortieth Anniversary Edition
08. Natural Mystic (Live) / Bob Marley & The Wailers // Exodus - Fortieth Anniversary Edition
09. Guiltiness (Live) / Bob Marley & The Wailers // Exodus - Fortieth Anniversary Edition
10. Exodus (Live) / Bob Marley & The Wailers // Exodus - Fortieth Anniversary Edition
11. 6:00 Bugalu / Jesse Ed Davis // Keep Me Comin'
12. Red Dirt Boogie, Brother / Jesse Ed Davis // Red Dirt Boogie- The Atco Recordings 1970-1972
13. Sue Me, Sue You Blues / Jesse Ed Davis // Red Dirt Boogie- The Atco Recordings 1970-1972
14. Kiowa Teepee (Washita Love Child) / Jesse Ed Davis // Red Dirt Boogie- The Atco Recordings 1970-1972
15. 何から何まで / 藤島晃一 // 立ち止まれば
16. The Great Gig in the Sky / Pink Floyd // The Dark Side of the Moon
世界の快適音楽セレクション
"快適音楽"を求めるギターデュオのゴンチチによる、ノンジャンル・ミュージック番組。
http://www4.nhk.or.jp/kaiteki/
放送日: 2017年 7月 1日(土)
放送時間: 午前9:00〜午前11:00(120分)
藤川パパQ
− 別バージョンの音楽 −
楽曲
バース・オブ・サイ
(3分24秒)
<ポニーキャニオン PCCA-01960>
ザ・マン・ザット・ゴット・アウェイ
(6分26秒)
<SONY MUSIC ENT. CK65965>
ザ・マン・ザット・ゴット・アウェイ
(4分49秒)
<CAPITOL 724352787623>
サンボレロ
(2分50秒)
<BLUE MOON BMCD3059>
サンボレロ
(2分12秒)
<THE VERVE MUSIC PHS600-208>
ザ・パーチド・ホイッスル
ドン・ヴォーゲリ
(2分23秒)
<UNIVERSITY OF WISCONSIN EXTENSION NO NUMBER>
ルルズ・バック・イン・タウン
ライル・リッツ
(3分24秒)
<VERVE REC. VS-6007>
ルルズ・バック・イン・タウン
ライル・リッツ
(2分44秒)
<ROYSAKUMA RSCD5583>
エル・マニセロ
ドン・アスピアス
(3分31秒)
<RHYTHM AND BLUES RANDB009>
(3分10秒)
(作曲)ラヴェル
(2分57秒)
<HARMONIA MUDI HMC901812>
(作曲)ラヴェル
(2分48秒)
<ポリドール FOOL-29045,29046,29047,29048>
アフリカン・クイーン
(9分35秒)
<MUSIC FROM EMI 724359083926>
懐かしのニューオリンズ
(1分44秒)
<GIANTS OF JAZZ GOJCD1025>
懐かしのニューオリンズ
テイク6・フィーチャリング・アーロン・ネヴィル
(2分47秒)
<HEADS UP HUCD3142>
ブルー・イン・グリーン
(4分51秒)
<MUSIC FROM EMI TOCJ-68076>
ブルー・イン・グリーン
(5分36秒)
チルドレンズ・ワルツ
(2分34秒)
チルドレンズ・ワルツ
(4分04秒)
<CONCORD CCD-4400>
バース・オブ・サイ
(3分00秒)
<IN THE GARDEN XNHL-15004/B>
アンドリーニャ
小暮はな
(3分33秒)
<ANDORINHA REC. ARCD-001>
ブエノスアイレスの夏
マウロ・スクイッランテ&サンテ・トゥルジ
(4分10秒)
Jazz records from across the genre, played in special sequences to highlight the wonders of jazz history. All pieces have been specifically requested by Radio 3 listeners
http://www.bbc.co.uk/programmes/b006tnn9
Sat 1 Jul 2017
16:00
BBC Radio 3
http://www.bbc.co.uk/programmes/b08wmz17
From this week's postbag and emails from listeners, Alyn Shipton selects music in all styles and periods of jazz, including a solo feature for the American clarinettist Buddy DeFranco, "Penny Whistle Blues".
Music Played
01. Big Ben
Harry Klein
Composer: Klein
Performers: Jimmy Watson, t; Ken Wray, Keith Christie, tb; Jack Ellery, fl; Dougie Robinson, as; Harry Klein, Benny Green, bs; Derek Smith, p; Sammy Stokes, b; Jim Powell, tu; Allan Ganley, d.
28 Nov 1955
New Sound
Nixa NJE 1009 Side A Tr.1
02. Youkay
Tim Garland
Composer: Garland
Performers: Tim Garland, ss; Jason Rebello, kb; Ant Law, g; Asaf Sirkis, d.
2016
One
Edition 1072 Tr.9
03. Pennywhistle Blues
Buddy DeFranco
Composer: DeFranco
Performers: Buddy DeFranco, cl; Kenny Drew, p; Jimmy Raney, g; Toddy Kotick, b; Art Taylor, d.
3 March 1952
Pennywhistle Blues
MGM 530 Side A
04. One Never Knows
The Modern Jazz Quartet
Composer: Lewis
Performers: John Lewis, p; Milt Jackson, vib; Percy Heath, b; Connie Kay, d.
4 April 1957
No Sun in Venice
Essential Jazz Classics 55424 Tr.9
05. Ablution
Composer: Konitz
Performers: Lee Konitz, as; Ronnie Ball, p; Percy Heath, b; Al Levitt, d.
At Storyville
Black Lion 760901 Tr.8
06. Take Five
Dave Brubeck
Composer: Desmond
Performers: Dave Brubeck, p; Paul Desmond, as; Eugene Wright, b; Joe Moello, d.
1 July 1959
Time Out
Green Corner 100892 CD1 Tr.3
07. Papa's Got A Brand New Bag
Georgie Fame & Harry South Big Band
Composer: Brown
Performers: Georgie Fame, v; Greg Bowen, Derek Watkins, Ian Hamer, Les Condon, Kenny Wheeler, t; Keith Christie, Johnny Marshall, Chris Smith, Gib Wallace, tb; Alan Branscombe, as; Tony Coe, as, fl; Ronnie Scott, Dick Morrissey, ts; Tubby Hayes, ts, fl; Harry Klein, bs; Gordon Beck, p; Phil Bates, b; Bill Eyden, d.
Sound Venture
Polydor Tr.12
08. On A Coconut Island
Barry Martyn
Composer: Alex Anderson
Performers: Cuff Billett, t, v; Pete Dyer, tb; Bill Greenow, as; Graham Patterson, p; John Coles, bj; Terry knight, b; Barry Martyn, d.
Vintage Barry Martyn
GHB Jazzology BCD 75 Tr.9
09. I Can't Escape From You
Bunk Johnson
Composers: Robin/ Whiting
Performers: Bunk Johnson, t; George Lewis, cl; Jim Robinson, tb; Alton Purnell, p; Lawrence Marrero, bj; Slow Drag Pavageau, b; Red Clark, d.
6 Jan 1946
The Complete Deccas, Victors and V Discs
Document DOCD 1001 Tr.13
10. Skylon
Kenny Graham
Composer: Graham
Performers: Jo Hunter, t; Kenny Graham, ts; Ralph Dollimore, p; Roy Plummer, g; Cliff Ball, b; Dickie Devere, d, maracas & conga
Kenny Graham's Afro-Cubists, Mango Walk Vol.1
Esquire Tr.5
Private Passions
Guests from all walks of life discuss their musical loves and hates.
http://www.bbc.co.uk/programmes/b006tnv3
Lindsey Davis
Sun 2 Jul 2017
12:00
BBC Radio 3
http://www.bbc.co.uk/programmes/b08wn0l5
Lindsey Davis is best known for her series of historical crime stories about a laid-back amateur sleuth called Marcus Didius Falco. Set against the turmoil of the 1st-century Roman Empire, the books are witty, gritty and hugely entertaining. She's also written stand-alone novels about Ancient Rome, and about the English Civil War.
The recipient of many awards, including the Crime Writers' Association Diamond Dagger for Lifetime Achievement, Lindsey writes a book a year, but has still found time to be the Chair of the Society of Authors and Honorary President of the Classical Association.
Lindsey talks to Michael Berkeley about her introduction to music as a schoolgirl in Birmingham, her passion for symphonic music and her decision to introduce a new, feisty female protagonist to succeed her beloved Falco.
Her music includes works by Schubert, Tchaikovsky and Dvorak and - appropriately - Berlioz's Roman Carnival Overture.
Producer: Jane Greenwood
A Loftus production for BBC Radio 3
Music Played
00:06
Heidenroslein
Singer: Werner Güra
Performer: Christoph Berner
00:13
Pyotr Ilyich Tchaikovsky
Symphony No.6 in B minor (3rd mvt: Allegro molto vivace)
Orchestra: City of Birmingham Symphony Orchestra
Conductor: Andris Nelsons
00:21
Prelude in C minor, BWV.999
Performer: Julian Bream
00:27
Concerto in E flat major for two pianos and orchestra
Performer: Daniel Barenboim
Performer: Vladimir Ashkenazy
Orchestra: English Chamber Orchestra
00:37
Jean‐Philippe Rameau
Les Sauvages (Les Indes Galantes)
Orchestra: Orchestra of the Eighteenth Century
Conductor: Frans Brüggen
00:43
Antonín Dvořák
Slavonic Dance Op.46 no.3
Orchestra: Czech Philharmonic
Conductor: Jiří Bělohlávek
00:50
Hector Berlioz
Roman Carnival Overture
Orchestra: London Symphony Orchestra
Conductor: Sir Colin Davis