08:35
ウィークエンドサンシャイン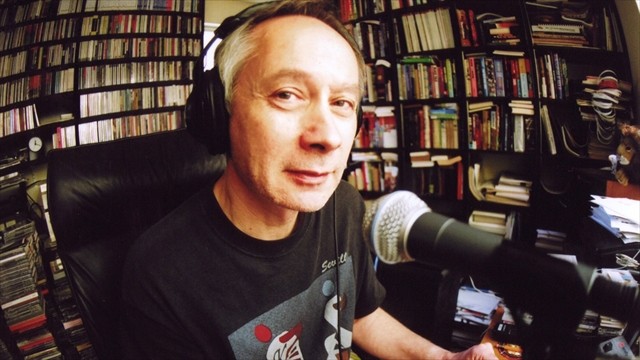 ブロードキャスター、ピーター・バラカンのナビゲートで送るウィークエンド・ミュージックマガジン。独特の嗅覚とこだわりの哲学でセレクトしたグッド・サウンドと、ワールドワイドな音楽情報を伝える。
http://www4.nhk.or.jp/sunshine/
放送日: 2017年 7月15日(土)
放送時間: 午前7:20〜午前9:00(100分)
THIS WEEK'S PLAYLIST
http://www4.nhk.or.jp/sunshine/66/
(曲名 / アーティスト名 // アルバム名)
01. Cool In The Pool / Holger Czukay // Movies
02. Shikako Maru Ten / Can // The Singles
03. Hokey Pokey (The Ice Cream Song) / Richard & Linda Thompson // Hokey Pokey
04. Australia / The Rails // Australia
05. Clevor Trever / Ian Dury // New Boots And Panties!!
06. (I Can't Get No) Satisfaction / The Rolling Stones // Singles Collection: The London Years
07. When The Saints Go Marching In / Dirty Dozen Brass Band // Twenty Dozen
08. Don't Think Twice It's All Right / The Persuasions // Knockin' On Bob's Door
09. I'll Take You There / The Staple Singers // Be Altitude: Respect Yourself
10. Will The Circle Be Unbroken / Mavis Staples, Bonnie Raitt, Taj Mahal, Gregg Allman & Aaron Neville // Mavis Staples: I'll Take You There - An All-Star Concert Celebration
11. Travelin' Shoes / Elvin Bishop // Let It Flow
12. Some Of Shelley's Blues / Nitty Gritty Dirt Band // Uncle Charlie And His Dog Teddy
13. I Don't Care Anymore / Rodney Crowell // Close Ties
14. 大鶴村のサイレン(Solo Ver.) / コージー大内 // X(ばってん)ブルース
15. I Can't Stand The Rain / Cassandra Wilson // Blue Light 'Til Dawn
世界の快適音楽セレクション
"快適音楽"を求めるギターデュオのゴンチチによる、ノンジャンル・ミュージック番組。
http://www4.nhk.or.jp/kaiteki/
放送日: 2017年 7月15日(土)
放送時間: 午前9:00〜午前11:00(120分)
渡辺亨
− 夏バテ緩和の音楽 −
楽曲
01. 汗の国
(3分26秒)
02. ドゥヂヴァーラ
ファロファ・カリオカ
(2分42秒)
<POLYDOR POCP7409>
03. ラ・ニュイ・デ・メテオール
ピエール・ベンスーザン
(4分56秒)
<FAVORED NATIONS FN2440-2>
04. ストップ・トライング・ソー・ハード
ウィー・ウィル・メイク・イット・ライト
(2分25秒)
05. ケ・ソン・ウノ
オーデル・ブラウン&ザ・オルガナイザーズ
(2分34秒)
<UNIVERSAL VICTOR MVCJ-19123>
06. サニー・デイ・アップ
ドン・ヴォーゲリ
(2分18秒)
<UNIVERSITY OF WISCONSIN EXTENSION NO NUMBER>
07. ジャマイカ・スカ
アネット・ファニセロ&フィッシュボーン
(3分35秒)
<COLUMBIA C40892>
(作曲)リスト
(指揮)クラウディオ・アバド
(3分57秒)
<POLYDOR 449719-2>
09. ナイスネス
ニュー・ザイオン・トリオ
(5分42秒)
<WEA REC. VEAL0007>
10. 食料についての歌・豆地獄
盛島貴男
(6分38秒)
<USATRENE REC. UTCD-0011>
11. セイリン
(2分46秒)
<BOARDWALK REC. SW-36880>
12. ディーズ・シングス
(4分56秒)
<TBM REC. TBM-XR-5018>
13. アグァ・ヂ・ベベール(おいしい水)
アクアリウス&ルイス・アントニオ
(4分45秒)
<BMGファンハウス CR10088>
14. ウォーターメロン・マン
マンフレッド・マン
(3分13秒)
<EMI 7894902>
15. リラックス
カシン
(4分20秒)
<P-VINE PCD24631>
16. グラナダ
ラーシュ・ダニエルソン
(6分26秒)
<ACT MUSIC ACT9546-2>
17. スリープ・ウォーム
(4分37秒)
<WARNER MUSIC WPCL-10367>
18. バンブー・チェアー
(4分15秒)
19. ルイーザ
伊藤ゴロー アンサンブル
(3分42秒)
<UNIVERSAL UCCJ-2142>
20. ラ・ジャヴァネーズ
(4分05秒)
<WARNER MUSIC WPCR17692>
Jazz records from across the genre, played in special sequences to highlight the wonders of jazz history. All pieces have been specifically requested by Radio 3 listeners
http://www.bbc.co.uk/programmes/b006tnn9
Sat 15 Jul 2017
16:00
BBC Radio 3
http://www.bbc.co.uk/programmes/b08xyrqg
In this week's selection of music in all styles of jazz, chosen from from listeners' emails and letters, Alyn Shipton plays music by the American singer Maxine Sullivan, accompanied by the John Kirby Sextet.
Music Played
01. Limehouse Blues
John Coltrane & Cannonball Adderley
Composers: Furber/ Braham
Performers: John Coltrane, ts; Cannonball Adderley, as; Wynton Kelly, p; Paul Chambers, b; Jimmy Cobb, d.
3 Feb 1959
Quintet in Chicago
Masterworks 21347 Tr.1
02. Footprints
Composer: Shorter
Performers: Toots Thielemans, g, whistle, hca; Mulgrew Miller, p; Rufus Reid, b; Lewis Nash, d.
Dec 1989
Footprints
Emarcy 846650-2 Tr.1
03. Someone To Watch Over Me
Gene Ammons
Composer: Gershwin
Performers: Gene Ammons, ts; Richard Wyands, p; Doug Watkins, b; J.C. Heard, d.
Rudy Van Gelder Studio, Englewood Cliffs, NJ, 26 Jan 1961
Gene Ammons Story
Prestige P 24079 Tr.1
04. This Can't Be Love
Dinah Washington
Composers: Rodgers/ Hart
Performers: Clark Terry, t; Jimmy Cleveland, tb; Paul Quinichette, ts; Cecil Payne, bs; Wynton Kelly, p; Barry Galbraith, g; Keter Betts, b; Jimmy Cobb, d; Dinah Washington, v; Quincy Jones, arr.
March 1955
For Those In Love
Emarcy 514 073-2 Tr.5
05. Mandy Is Two
Composers: McGrath/ Mercer
Performers: Emmett Berry, t; Jimmy Hamilton, cl; Hymie Schertzer, as; Babe Russin, ts; Teddy Wilson, p; Gene Fields, g; John Williams, b; J C Heard, d; Billie Holiday, v.
10 Feb 1942
The Lady Sings
Proper Properbox 26 CD3 Tr.17
06. Place St Henri
Composer: Peterson
Performers: Oscar Peterson, p; Ray Brown, b; Ed Thigpen, d.
1965
Canadiana Suite
Limelight 86010 Tr.3
07. S'Wonderful
Julie London
Composer: Gershwin
Performers: Julie London, v; Barney Kessell, g; Ray Leatherwood, b.
1955
Julie London Collection
Acrobat 3206 CD1 Tr.6
08. If I Had A Ribbon Bow
Maxine Sullivan
Composer: trad
Performers: Charlie Shavers, t; Russell Procope, as; Buster Bailey, cl; Billy Kyle, p; John Kirby, b; O'Neill Spencer, d; Maxime Sullivan, v.
1940
Maxine Sullivan 1938-1941
Classics 991 Tr.15
09. Rospacz
Zbigniew Namysłowski
Composer: Zbigniew Namyslowski
Performers: Zbigniew Namyslowski, as; Wlodek Gulgowski, p; Tadeusz Wojcik, b; Czesław Bartkowski, d.
1964
Lola
Decca 4644 Side B Tr.1
10. Time After Time
Brian Lemon
Composer: Lauper
Performers: Brian Lemon, p; Dave Green, b; Allan Ganley, d.
2001
My Shining Hour
Zephyr ZECD30 Tr.17
11. Blues My Naughty Sweetie Gives To Me
Gene Krupa's Chicago Jazz Band
Composers: Swanston/ McCarron/ Morgan
Performers: Wild Bill Davison, c; Edmond Hall, cl; Cutty Cutshall, tb; Ernie Caceres, bs; Joe Bushkin, p; Al Hall, b; Gene Kupa, d.
1951
Blues My Naughty Sweetie Gives To Me
RCA 474026 Side A Tr.1
12. Gut Bucket Blues
Composer: Armstrong
Performers: Louis Armstrong, c; Johnny Dodds, cl; Kid Ory, tb; Lil Hardin, p; Johnny St Cyr, bj.
12 Nov 1925
The Okeh, Columbia and Victor Recordings 1925-1933
Sony/Columbia Legacy 886979 45672 CD1 Tr.3
Geoffrey Smith's Jazz
Geoffrey Smith's Jazz does exactly what it says on the tin: a weekly programme in which Geoffrey Smith shares his love of jazz, through an exploration of its great writers, singers and players, as told from his own individual perspective.
Each programme take us through his personally-selected playlist of tracks. It's loosely-themed; maybe a great artist, a jazz style or something more off-the-wall. But that serves as just the start of a fascinating journey to the heart of the music Geoffrey is so passionate about.
http://www.bbc.co.uk/programmes/b01h5z0s
Sun 16 Jul 2017
00:00
BBC Radio 3
http://www.bbc.co.uk/programmes/b08xyvd6
To mark the 50th anniversary of John Coltrane's death in July, 1967, Geoffrey Smith plays live recordings by the tenor saxophone legend, from an early session with Johnny Hodges to his seething, sixteen-minute epic "Chasin' the Trane".
Music Played
01. In A Mellotone
Johnny Hodges
Composer: Duke Ellington
Performers: Johnny Hodges, as; Shorty Baker, t; Lawrence Brown, tb; John Coltrane, ts.
Storyville Masters of Jazz: Johnny Hodges
Storyville 101 8510 Tr.7
02. Two Bass Hit
Composers: J. Gillespie & J. Lewis
Performers: Miles Davis Sextet: Miles Davis, t; Julian 'Cannonball' Adderley, as; John Coltrane, ts; Bill Evans, p; Paul Chambers, b; Jimmy Cobb, d.
Miles & Monk at Newport
Columbia CL 2718
03. Monk's Mood
Thelonius Monk
Composer: Thelonius Monk
Performers: Thelonius Monk, p; John Coltrane, ts; Ahmed Abdul-Malik, b; Shadow Wilson, d.
1957
Thelonius Monk Quartet with John Coltrane at Carnegie Hall
Blue Note 0946 3 35174 2 4 Tr.1
04. Softly as in a Morning Sunrise
Composer: Romberg/ Hammerstein
Performers: John Coltrane, ss; McCoy Turner, p; Reggie Workman, b; Elvin Jones, d.
1961
Live at the Village Vanguard/ The Master Takes
Impulse 051 251-2 Tr.2
05. I Want to Talk about You
Composer: Billy Eckstine
Performers: John Coltrane, ss, ts; McCoy Turner, p; Jimmy Garrison, b; Roy Haynes, d.
1963
My Favourite Things: Coltrane at Newport
Impulse 0602517350540
06. Chasin' the Trane
Composer: John Coltrane
Performers: John Coltrane, ts; Jimmy Garrison, b; Elvin Jones, d.
Live at the Village Vanguard/ The Master Takes
Impulse 051 251-2 Tr.3
Private Passions
Guests from all walks of life discuss their musical loves and hates.
http://www.bbc.co.uk/programmes/b006tnv3
Shirley Hughes
Sun 16 Jul 2017
12:00
BBC Radio 3
http://www.bbc.co.uk/programmes/b08xyvdg
On her 90th birthday, Shirley Hughes, the creator of many of our best-loved and most enduring children's books, talks to Michael Berkeley about her musical passions.
In a career spanning nearly seventy years Shirley has written as many books and has illustrated nearly two hundred. She was the first winner of the Book Trust Lifetime Achievement Award, has twice won the Kate Greenaway Medal, and was recently awarded a CBE for services to literature.
Her picture books have an enduring appeal with their sympathetic but unsentimental depiction of the small dramas and joys of family life. One of her most loved, Dogger, the tale of a beloved toy dog lost and found, has its 40th anniversary this year. The winner of numerous awards, she recently received a CBE for services to literature.
Shirley chooses music by Scriabin, Mozart, Beethoven and the Beatles - who remind her of her roots in Liverpool and share her love of storytelling.
Producer: Jane Greenwood
A Loftus production for BBC Radio 3
Music Played
00:05
Alexander Scriabin
Piano Sonata no.3 in F sharp minor (1st mvt: Drammatico)
Performer: Dmitri Alexeev
00:14
Jimmy McHugh
I Must Have that Man
Singer: Billie Holiday
00:20
Der Lindenbaum (Winterreise)
Singer: Mark Padmore
Performer: Paul Lewis
00:34
Voi che Sapete (Le Nozze di Figaro)
Singer: Joyce DiDonato
Orchestra: Lyon Opera Orchestra
Conductor: Kazushi Ono
00:41
Symphony No.1 in C major (1st mvt)
Orchestra: Staatskapelle Dresden
Conductor: Sir Colin Davis
00:48
Flute Concerto No.1 in G major (2nd mvt: Adagio)
Performer: Jean‐Pierre Rampal
Orchestra: Wiener Symphoniker
Conductor: Theodor Guschlbauer
00:55
John Lennon and Paul McCartney
She's Leaving Home
Ensemble: The Beatles
Words and Music
A sequence of music interspersed with well-loved and less familiar poems and prose read by leading actors
http://www.bbc.co.uk/programmes/b006x35f
Sun 16 Jul 2017
18:00
BBC Radio 3
http://www.bbc.co.uk/programmes/b08xywcf
Fiona Shaw and Jamie Glover with poetry, prose and music exploring the vision of Arcadia and harmony with nature across the centuries from the pastoral visions of the Ancient Greeks Virgil and Theocritus to the anxieties of the American environmentalist Rachel Carson in 'Silent Spring', Stephen Spender's exploration of technology coming to an English landscape largely unchanged in centuries and Robinson Jeffers's 'Carmel Point' in which he imagines a time when nature and man can live in harmony. Arcadia includes work by Vaughan Williams, Aaron Copland, Howard Hanson, Virgil Thomson, Debussy, Wordsworth, Emily Dickinson, Thoreau, Evelyn Waugh, Willa Cather and John Clare.
Producer's Note
This week we visit the pastoral landscape of Arcadia, words and music of the countryside under the summer sun with the sound of insects and birds, the perfume of grass and flowers. Writers and composers over the last two centuries have explored the idea that our modern lives are oppressive and that a return to the pastoral life offers us a chance to be where our natural needs are met. Arcadia begins with Virgil and Theocritus, Theocritus in the 3rd century BC remembering the shepherds from his young days in Sicily and Virgil setting his rural poems in the idealised Arcadia in rural Greece. Debussy's 'La Flûte de Pan' sung by Véronique Gens tells the story of Pan teaching how to play as night falls in Arcadia.
The links between Arcadia and the American Dream are heard in John Muir's passionate account of the forests and National Parks and the attempt to rebuild the rural landscape heard with Fauré's 'Après un Rêve' imagining an escape from the world.
Wordsworth's life in 'The Prelude' and Owen Leech's 'When the Moon Rises……' explore the idyllic English landscape alongside Ralph Vaughan Williams' setting of the perfect life at the Water Mill and John Clare's life of the shepherd 'Farmer's Boy'.
We move back to America with Henry David Thoreau's 'Walden', the account of his two years living in the woods on the shore of Walden Pond and exploring his worries that we are losing our relationship with nature. Virgil Thomson's 'Louisiana Story – Arcadian Songs and Dances' was his award-winning film score exploring man's battle with nature and the impact of coming industrialisation on a young boy's life heard alongside a passage from Willa Cather's 'My Antonia' describing the 'great black figure' of the plough magnified on the horizon as the sun goes down. Twentieth century Arcadian Ecology appears in Rachel Carson's classic 'Silent Spring' and Joni Mitchell's 'Big Yellow Taxi'.
The anxieties felt as time goes on are told in Stephen Spender's 'The Pylons' and Robinson Jeffers' 'Carmel Point' heard with Howard Hanson's Second Symphony. We end with a return to England and Arcadia with Richard Jefferies' loving memories of his early farm life in Wiltshire and Ralph Vaughan Williams' 'The Lark Ascending'. Almost always invoked in a time of its leaving or loss the dream of Arcadia remains with us.
Producer: Fiona McLean
Music Played
00:00
Benedetto Marcello
Quando penso agl'affanni
Performer: Accademia Bizantia directed by Ottavio Dantone
Decca 4702962 Tr.4
Virgil and Cecil Day-Lewis
Georgics I read by Fiona Shaw
00:02
Antonín Dvořák
Symphony no 8 – Allegretto grazioso
Performer: Symphoniorchester des Bayerischen Rundfunks conducted by Rafael Kubelik
Orfeo C595031 Tr.7
Theocritus and Thelma Sargent
Idyll 7 read by Jamie Glover
Virgil and Cecil Day-Lewis
Georgics 3 read by Fiona Shaw
00:10
Chansons de Bilitis – La flute de Pan
Performer: Veronique Gens and Roger Vignoles
Virgin Classics VC5453602 Tr.9
00:13
Aaron Copland
Down a Country Lane
Performer: The Saint Paul Chamber Orchestra conducted by Hugh Wolff
Teldec 9031773102 Tr.11
John Muir
from Our Forests and National Parks read by Jamie Glover
00:16
Gabriel Fauré
Après un rêve
Performer: Nicola Benedetti and Alexi Grynyuk
Deutsche Grammophon 4763399 Tr.8
00:19
Daphnis et Chloé
Performer: Florian Uhlig
Hanssler CD93318 Tr.8
Emily Dickinson
Summer Shower read by Fiona Shaw
00:22
Olivier Messiaen
Catalogue d'oiseaux
Performer: Martin Zehn
Arte Nova 74321721222 Tr.3
William Wordsworth
from The Prelude read by Jamie Glover
00:24
Owen Leech
When the moon rises…..
Performer: The Schubert Ensemble
NMC NMCD075 Tr.13
00:28
The Water Mill
Performer: Anthony Rolfe Johnson and The Duke Quartet
Collins Classics 14882 Tr.4
John Clare
Farmer's Boy read by Fiona Shaw
from Walden read by Jamie Glover
00:33
Virgil Thomson
Louisiana Story
Performer: The New London Orchestra conducted by Ronald Corp
Helios CDH55169 Tr.7
Willa Cather
from My Antonia read by Fiona Shaw
Rachel Carson
from Silent Spring read by Fiona Shaw
00:41
Big Yellow Taxi
Performer: Joni Mitchell
Reprise K244085 Tr.10
Evelyn Waugh
from Brideshead Revisited read by Jamie Glover
00:45
Sonate - Pastorale
Performer: Aurèle Nicolet, Nobuko Imai and Naoko Yoshino
Philips 4420122 Tr.7
Stephen Spender
The Pylons read by Fiona Shaw
00:53
Toru Takemitsu
Toward the Sea – The Night
Performer: Aureole
Koch 374492 Tr.7
Robinson Jeffers
Carmel Point read by Fiona Shaw
00:57
Howard Hanson
Symphony no 2
Performer: Seattle Symphony conducted by Gerard Schwarz
Delos DCD3073 Tr.6
Richard Jeffries
from The Amateur Poacher read by Jamie Glover
01:04
The Lark Ascending
Performer: London Symphony Orchestra with Michael Davis conducted by Richard Hickox
Chandos CHAN6611 Tr.1