10:09
ウィークエンドサンシャイン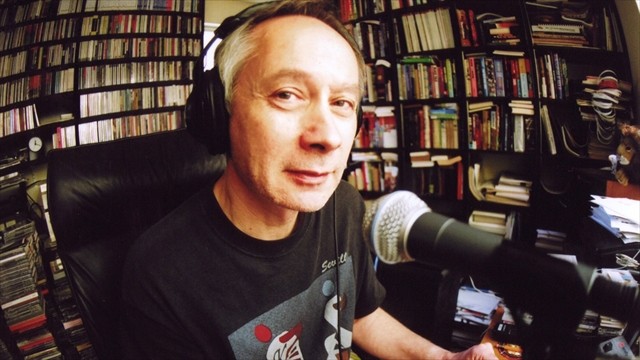 ブロードキャスター、ピーター・バラカンのナビゲートで送るウィークエンド・ミュージックマガジン。独特の嗅覚とこだわりの哲学でセレクトしたグッド・サウンドと、ワールドワイドな音楽情報を伝える。
http://www4.nhk.or.jp/sunshine/
放送時間: 午前7:20〜午前9:00(100分)
THIS WEEK'S PLAYLIST
http://www4.nhk.or.jp/sunshine/66/
(曲名 / アーティスト名 // アルバム名)バム名)
01. Maple Leaf Rag / Scott Joplin // The Greatest Ragtime Of The Century
02. Let Me Love You Baby / Buddy Guy // My Chess Box
03. The Same Love That Made Me Laugh / Robert Cray & Hi Rhythm // Robert Cray & Hi Rhythm
04. The Way We Are / Robert Cray & Hi Rhythm // Robert Cray & Hi Rhythm
05. Lay Lady Lay / Jack DeJohnettte/Larry Grenadier/John Medeski/John Scofield // Hudson
06. Castles Made Of Sand / Jack DeJohnettte/Larry Grenadier/John Medeski/John Scofield // Hudson
07. Voodoo Child (Hendrix AfRab cover) / Quarter To Africa // The Layback
08. Drop your fears (radio edit) / Quarter To Africa // The Layback
09. Black Dream / Omar Sosa & Seckou Keita // Transparent Water
10. Mining-Nah / Omar Sosa & Seckou Keita // Transparent Water
11. Fandango: Prueba de Fuego / The Cristina Pato Quartet // Latina
12. Mariam (Featuring Idan Raichel) / Vieux Farka Tour? // Samba
13. Fikera / Dereb The Ambassador // Volume II
14. So It Is / Preservation Hall Jazz Band // So It Is
15. Higher Ground (Live) / Preservation Hall Jazz Band // So It Is
世界の快適音楽セレクション
"快適音楽"を求めるギターデュオのゴンチチによる、ノンジャンル・ミュージック番組。
http://www4.nhk.or.jp/kaiteki/
放送時間: 午前9:00〜午前11:00(120分)
− ?(はてな)の音楽 −
楽曲
「見知らぬ人」
(2分47秒)
<SONY MUSIC LABELS ESCL30013,30014>
「96ティアーズ」
?(クエスチョンマーク)&ザ・ミステリアンズ
(2分58秒)
<ABKCO MUSIC&REC. 001877192322>
「アイム・ドリーミング・オブ・ユア・ディマイス」
メアリー・フラワー
(4分05秒)
<BSMF REC. BSMF-2246>
「ホワット・ドゥー・ユー・ウォント?」
(5分22秒)
<WARNER BROS. 947632-2>
(作曲)モーツァルト
(指揮)クラウディオ・アバド
(2分27秒)
<UNIVERSAL UCCD-9800/1>
「クエスチョンズ」
バッファロー・スプリングフィールド
(2分54秒)
<ATLANTIC REC. ATCO90393-2>
「ホワット・イズ・ディス?」
(4分44秒)
<WEAミュージック WMC5-513>
「フリーキー」
ドン・ヴォーゲリ
(1分00秒)
<UNIVERSITY OF WISCONSIN EXTENSION NO NUMBER>
「怪盗ナゾラーを追え!」
(1分38秒)
<MERCURY PPD-3068>
「君は私に何をした?」
エウセビオ・デルフィーン
(2分59秒)
<OFFICE SAMBINHA RICE ASR-422>
「その女に何をもらったの?」
グティ・カルデナスとナンシー
(3分15秒)
<OFFICE SAMBINHA RICE ASR-418>
「クエスチョンズ」
アネット・ピーコック
(2分54秒)
<AURA REC. ARC-7179>
「相槌」
松井文
(3分36秒)
<のろしレコード DQC-1567/NORO-004>
「どこ?」
ヘティ・クース・エンダン
(5分00秒)
<BOMBA REC. BOM2035>
「ホワット・ドゥー・ユー・リアリー・スタンド・フォー?」
ジャン・ポール・ブレリー
(4分59秒)
<POLYDOR K.K. POCP-1178>
「リメンバー(ウォーキン・イン・ザ・サンド)」
(2分41秒)
<CHERRY RED REC. RPM506>
「私が何をしたのでしょう?」
園まり
(3分16秒)
ジョージ・ゲスノン
(2分46秒)
<AMERICAN AMCD-138>
「ハブ・ユー・メット・ミス・ジョーンズ?」
エンリケ・イバルグレン・トリオ
(6分02秒)
<WHAT MUSIC WMCD-0049>
「回る男」
(2分44秒)
<ポニーキャニオン PCCA-01512>
「ザ・クエスチョン・オブ・ユー」
プリンス
(3分20秒)
<WARNER BROS. 927493-2>
「膝頭の住人」
(4分42秒)
<METROTRON REC. NOTERON-1009>
Jazz records from across the genre, played in special sequences to highlight the wonders of jazz history. All pieces have been specifically requested by Radio 3 listeners
http://www.bbc.co.uk/programmes/b006tnn9
Sat 22 Jul 2017
16:00
BBC Radio 3
http://www.bbc.co.uk/programmes/b08yrd0w
Alyn Shipton's selection from listeners' requests for music in all styles and periods of jazz includes West Coast Jazz from trumpeter Shorty Rogers and his Giants.
Music Played
01. Infinity Promenade
Shorty Rogers
Composer: Rogers
Performers: Shorty Rogers, Conrad Gozzo, Maynard Ferguson, Tom Reeves, John Howell, t; Milt Bernhardt, John Halliburton, Harry Betts, tb; John Graas, frh; Gene Englund, tu; Art Pepper, Bud Shank, Jimmy Giuffre, Bob Cooper, reeds; Marty Paich, p; Curtis Counce, b; Shelly Manne, d.
26 March 1953
Four Classic Albums
Avid AMSC 1041 CD1 Tr.4
02. Lennie's Pennies
Composers: Bauer/ Tristano
Performers: Lee Konitz, as; Warne Marsh, ts; Lennie Tristano, p; Peter Ind, b; Al Levitt, d.
17 July 1952
Live in Toronto 1952
Jazz Records JR5 Tr.1
03. Criss Cross
Composer: Monk
Performers: Thelonious Monk, p; Al McKibbon, b; Art Blakey, d.
Nov 1971
London Recordings Vol.2
Black Lion 60016 Side B Tr.1
04. King Porter Stomp
Dizzy Gillespie (with Teddy Hill)
Composer: Morton
Performers: Dizzy Gillespie, Shad Collins, Bill Dillard, t; Dicky Wells, tb; Russell Procope, Howard Johnson, Bob Carroll, Teddy Hill, reeds; Sam Allen, p; John Smith, g; Richard Fullbright, b; Bill Beason, d.
Dizzy Gillespie Vol.1 1937-1940
Media 7 MJCD31 Tr.1
05. Blue Reverie
Composers: Ellington/ Carney
Performers: Cootie Williams, t; Vernon Brown, tb; Benny Goodman, cl; Johnny Hodges, ss; Harry Carney, bs; Jess Stacy, p; Allen Reuss, g; Harry Goodman, b; Gene Krupa, d.
The 1938 Carnegie Hall Concert
Phoenix 131592 CD1 Tr.8
06. Clementine (From New Orleans)
The Goofus Five
Performers: Chelsea Quealey, Al Philburn, t; Bobby Davis, Sam Ruby, reeds; Adrian Rollini, goofus, bs; Jack Russin, p; Tommy Fellini, bj; Herb Weil d, Beth Challis, v.
10 Aug 1927
Clementine (From New Orleams)
Okeh 40886 Side A Tr.1
07. Shades of Blue
Don Rendell & Ian Carr Quintet
Composer: Ardley
Performers: Don Rendell, ts; Ian Carr, t; Colin Purbrook, p; Dave Green, b; Trevor Tomkins, d.
Oct 1964
Shades of Blue/ Disk Fire
BGO 615 CD1 Tr.7
UZEB
Composers: Caron/ Cusson/ Brochu
Performers: Alain Caron, b; Michel Cusson, g; Paul Brochu, d.
1996
Entre Terre et Ciel
Cream 390-2 Tr.5
09. Enchanted Lady
Milt Jackson & Ray Brown Big Band
Composer: Jackson, arr. Brown
Performers: Al Aarons, t; Teddy Edwards, ts; Milt Jackson, vib; Joe Sample, p; Howard Roberts, g; Ray Brown, Wilton Felder, b; Paul Humphries, d; Victor Feldman, perc.
10 Oct 1969
Memphis Jackson
Impulse 9193 Side B Tr.3
10. La Rotta Della Manfredina
Respectable Groove
Performers: Evelyn Nallen, recorders, David Gordon, hpcd; Richard Jeffries, b; Ichiro Tatsuhra, perc.
2000
Mysterious Barracudas
Mister Sam Tr.1
11. Oh Come Oh Come Emmanuel (Part 1)
Geri Allen
Composer: trad
Performer: Geri Allen, p, kb.
2011
A Child Is Born
Motema MTM 69 Tr.4