08:02
ウィークエンドサンシャイン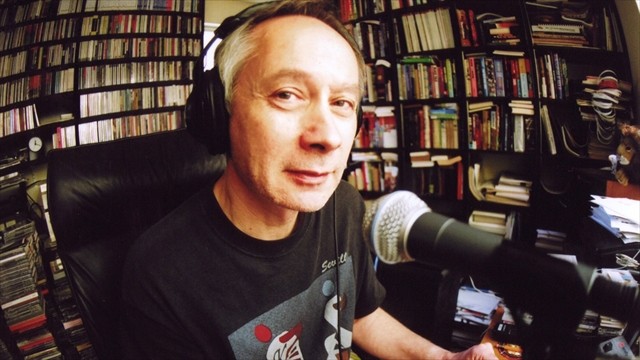 ブロードキャスター、ピーター・バラカンのナビゲートで送るウィークエンド・ミュージックマガジン。独特の嗅覚とこだわりの哲学でセレクトしたグッド・サウンドと、ワールドワイドな音楽情報を伝える。
http://www4.nhk.or.jp/sunshine/
放送日: 2017年 9月 9日(土)
放送時間: 午前7:20〜午前9:00(100分)
THIS WEEK'S PLAYLIST
http://www4.nhk.or.jp/sunshine/66/
(曲名 / アーティスト名 // アルバム名)
01. Rikki Don't Lose That Number / Steely Dan // Pretzel Logic
02. Black Man Ray / China Crisis // Flaunt The Imperfection
03. Satellites / Rickie Lee Jones // Flying Cowboys
04. Show Biz Kids / Rickie Lee Jones // It's Like This
05. Pearl Of The Quarter / Boz Scaggs // Memphis
06. Your Gold Teeth / Steely Dan // Countdown To Ecstasy
07. Do It Again / Terry Callier // Turn You To Love
08. Trans-Island Skyway / Donald Fagen // Kamakiriad
09. Book Of Liars / Walter Becker // 11 Tracks Of Whack
10. Reelin' In The Years / Steely Dan // Alive In America
11. Cousin Dupree / Steely Dan // Two Against Nature
12. Were You Blind That Day / Luciana Souza // The New Bossa Nova
13. I'm All Right / Madeleine Peyroux // Half The Perfect World
14. Bob Is Not Your Uncle Anymore / Walter Becker // Circus Money
15. Slang Of Ages / Steely Dan // Everything Must Go
世界の快適音楽セレクション
"快適音楽"を求めるギターデュオのゴンチチによる、ノンジャンル・ミュージック番組。
http://www4.nhk.or.jp/kaiteki/
放送日: 2017年 9月 9日(土)
放送時間: 午前9:00〜午前11:00(120分)
− 腕の音楽 −
楽曲
(1分46秒)
「ジーズ・アームズ・オブ・マイン」
(2分28秒)
<WEA 35XD-649>
「リンガー・イン・マイ・アームズ・ア・リトル・ロンガー・ベイビー」
ザ・フォンテーン・シスターズ
(2分59秒)
<FUTURE NOISE MUSIC FVDD094>
「ホエン・ライツ・アー・ロウ、リンガー・イン・マイ・アームズ」
(4分22秒)
<キングレコード KICJ526>
(作曲)
(バイオリン)サイモン・スタンデイジ
(バイオリン)ジョン・ホロウェイ
(3分36秒)
<ポリドール POCL-3300>
「腕を貸して」
アマリア・ロドリゲス
(2分25秒)
<SOM LIVRE/EVC VSL-1136-2>
「心の腕」
ボニー・プリンス・ビリー
(3分27秒)
<PALACE REC. PCD24220>
「ブギー・ムギー」
ジャンピエーロ・ボネスキー
(3分03秒)
<配信 NO NUMBER>
「恋人の腕」
フィンランド カレリア地方の現地録音
(1分39秒)
<ポリグラム POCL-4473>
「金の腕輪」
レ・アンバサドゥール・ドゥ・モテール・ド・バマコ
(4分56秒)
<STERNS AFRICA STCD3065>
「あなたの腕に包まれて」
チーデム・アスラン
(3分43秒)
<ASPHAIT TANGO REC. CD-ATR4313>
「ユー・キャント・プット・ユア・アームズ・アラウンド・ア・メモリー」
サラ・ジェーン・モリス
(3分15秒)
<VICTOR VICP-62412>
「ビーズと腕輪」
(3分07秒)
<WARNER BROS. WPCR-27927>
「キャリーズ・トランス」
(5分18秒)
<SONY MUSIC THCD-236>
「細うで繁盛記」
(語り)新珠三千代
(3分16秒)
<コロムビアミュージック COCP-32213>
「私の腕の中に」
シャルル・アズナヴール
(3分45秒)
<東芝EMI TOCP-65120>
「腕をゆらゆら」
(2分04秒)
<東芝EMI TOCP-65765>
「「鉄腕アトム」テーマソング、アトム登場、エレクトリックサウンド「アトムのBGM」A」
『鉄腕アトム・音の世界』から
(3分55秒)
<日本伝統文化振興財団 VZCG-712>
「バック・イン・ベイビーズ・アームズ」
パッツィー・クライン
(2分04秒)
<MCA B0001791-02>
「バンブー・チェアー」
(4分15秒)
「イン・マイ・ライフ」
ボーイズ・ツー・メン
(2分32秒)
<ACE CDCHD1483>
「トラ」
ガトー・リブレ
(5分09秒)
<LIBRA REC. 103-040>
Jazz records from across the genre, played in special sequences to highlight the wonders of jazz history. All pieces have been specifically requested by Radio 3 listeners
http://www.bbc.co.uk/programmes/b006tnn9
Sat 9 Sep 2017
16:00
BBC Radio 3
http://www.bbc.co.uk/programmes/b0948frr
In today's selection from listeners' emails and letters, Alyn Shipton picks music from across all styles and periods of jazz, including a memory of the singer Little Jimmy Scott, who was one of the few jazz vocalists to have a countertenor range, and who died in 2014.
Music Played
01. Dans Les Ruse D'Antibes
Olivier Franc & Rene Franc
Composer: Sidney Bechet
Performers: Oliver Franc, Rene Franc, ss; Philippe Bas, p; unknown, b and d.
1994
Hommage à Sidney Bechet
Rene and Olivier Franc Tr.12
02. The Basin Street Blues
Composer: Williams
Performers: Louis Armstrong, t, v; Barney Bigard, cl; Trummy Young, tb; Bud Freeman, ts; Billy Kyle, p; Arvell Shaw, b; Kenny John, d.
1954
Glenn Miller Original Soundtrack
Coral 1008 Side A Tr.5
03. Down The Road A-Piece
Freddie Slack
Composer: Raye
Performers: Freddie Slack, p; Doc Golderg, b; Ray McKinley, d; Don Raye, v.
1940
Down The Road A-Piece
Fantastic Voyage, Tr.6
04. Single Petal of a Rose
Joe Temperley
Composer: Ellington
Performers: Joe Temperley, bs; Brian Lemon, p; Dave Green, b; Martin Drew, d.
Concerto For Joe
Hep 2062 Tr.6
05. Misterioso
Composer: Monk
Performers: Sonny Rollins, ts; J J Johnson, tb; Thelonious Monk, Horace Silver, p; Paul Chambers, b; Art Blakey. d.
14 April 1957
The Best of Sonny Rollins
Blue Note 7 93203 2 Tr.4
06. Jean De Fleur
Composer: Green
Performers: Grant Green, g; Joe Henderson, ts; Bobby Hutcherson, vib; Duke Pearson, p; Bob Cranshaw, b; Al Harewood, d.
Idle Moments
Blue Note 24349 90032 Tr.2
07. I'll Be Around
Barry Green & Dave Green
Composer: Wilder
Performers: Barry Green, p; Dave Green, b.
2010
Turn Left At Monday
Moletone 002735 Tr.1
08. Collaboration
Stan Kenton
Composers: Rugolo/ Kenton
Performers: Ed Leddy, Maynard Ferguson, Pete Candoli, Sam Noto, Don Paladino, t; Bob Fitzpatrick, Milt Bernhardt, Carl Fontana, Kent Larsen, tb; Don Kelly, btb; Lennie Niehaus, Skeets Hurfurt, Vido Musso, Bill Perkins, Spencer Sinatra, Jack Nimitz, reeds; Stan Kenton, p; Ralph Blaze, g; Don Bagkeym, b; Mel Lewis, d.
Artistry In Rhythm
Avid 912 CD Tr.5
09. I Wish I Knew
Jimmy Scott
Composers: Gordon/ Warren
Performers: Jimmy Scott, v; David Newman, ts; Junior Mance, p; Billy Butler, Eric Gale, g; Ron Carter, b; Bruno Carr, d.
1970
The Source
Atlantic 8242 Side 1 Tr.4
10. Storyville Blues
Chris Barber
Composer: Pinkard
Performers: Pat Halcox, t; Monty Sunshine, cl; Chris Barber, tb; Lonnie Donegan, bj; Jim Bray, b; Ron Bowden, d.
The Complete Decca Sessions 1954/55
Lake 141/2 CD2 Tr.5
11. I'll Be Seeing You
Composers: Kahal/ Fain
Performers: Billie Holiday, v; Doc Cheatham, t; Vic Dickenson, tb; Lem Davis, as; Eddie Heywood, p; Teddy Walters, g; John Simmons, b; Sid Catlett, d.
April 1944
The Billie Holiday Story
Proper Properbox 26 CD3 Tr.25
Words and Music
A sequence of music interspersed with well-loved and less familiar poems and prose read by leading actors
http://www.bbc.co.uk/programmes/b006x35f
The Great Escape
Sun 10 Sep 2017
17:30
BBC Radio 3
http://www.bbc.co.uk/programmes/b094k54g
Words and Music on the theme of The Great Escape with readers Adrian Dunbar and Jade Anouka. The idea of escape is explored in poetry and prose, from the terror of a monstrous battle in Seamus Heaney's Beowulf, to the thrilling Prisoner of War break-out in Paul Brickhill's novel The Great Escape. But there's also the more existential desire to escape one's gender or relationship, dealt with by the likes of Christina Rossetti, Sylvia Plath and Ted Hughes. Then there's the escape we find in sleep and eventually death, explored by Shakespeare and Yeats. Mirroring the mood of our escapees is a soundtrack which features everything from Dowland to Ligeti, Elena Kaats-Chernin to Vaughan Williams.
Producer's Note
When I made this programme the summer holidays were almost upon us and the thought of escape was much on my mind. In this edition I've tried to explore how the idea of escape frames many of our relationships and fears – as well as our hopes. From Emily Dickinson's " flying attitude" at the very mention of escape to Paul Brickhill's thrilling description of one of the most daring escapes of the second world war; from the claustrophobic relationship described in Sylvia Plath's The Rabbit Catcher to Margaret Attwood's sinister The Landlady. Mussorgsky's Night on a Bald Mountain accompanies two tales of escape from sinister forces: Roald Dahl's depiction of a boy fleeing the Grand High Witch and Seamus Heaney's Beowolf escaping the grip of the monster Grendel. Siegfried Sassoon brings a note of euphoria with his description of battle-wearied soldiers escaping the misery of war through song, musically matched by Vaughan Williams' soaring Let all the world in every corner sing. Lucy Honeychurch from E.M Forster's Room With a View also uses music as a means of escape, playing Beethoven lifts her out of the polite and constricted society she inhabits. Christina Rossetti and Nina Simone explore the desire to escape the constraints of gender and race while Robert Service takes a rye stance on escaping his offspring during the holidays. Sleep as a means of escape is masterfully dealt with by Shakespeare in Henry IV Part 2 and by Dowland in his song Come Heavy Sleep. The final section of the programme explores the idea of the ultimate escape: from this life into the next, from the bodily life to the spiritual. Larkin's melancholy reflection on the inevitability of death in Aubade is followed by one of his own Desert Island Discs choices, Bessy Smith's I'm Down In The Dumps. We finish with Sara Teasdale finding liberation in the escape death provides: "Life is my lover—I shall leave the dead If there is any way to baffle death." That vital, affirmatory vision finds musical expression in John Adams' On The Dominant Divide from Grand Pianola Music.
Music Played
00:00
Elena Kaats-Chernin
Butterflying
Performer: Sarah Nicolls (piano), Nicola Sweeney (violin)
SIGNUM SIGCD058 Tr.13
Emily Dicksinson
I Never Hear The Word 'Escape' read by Jade Anouka
Paul Brickhill
Extract from The Great Escape read by Adrian Dunbar
00:00
Aaron Copland
Billy the Kid - suite, no.5; Gun battle
Performer: New York Philharmonic, Leonard Bernstein (conductor)
SONY SMK63082 Tr.17
00:00
Drifter's Escape
Performer: Bob Dylan
THIS CAME FROM DESKTOP JUKEBOX!!
Extract from The Witches read by Jade Anouka
00:00
Modest Mussorgsky
Extract from Night on a Bald Mountain
Performer: Mariinsky Orchestra, Valery Gergiev (conductor)
MARIINSKY MAR 0553 Tr.20
Seamus Heaney
Beowulf
Siegfried Sasson
Everyone Sang read by Adrian Dunbar
00:00
5 Mystical songs, no.5; Antiphon (Let all the world)
Performer: Corydon Singers, English Chamber Orchestra, Matthew Best
HYPERION CDS44322 Tr.6
E. M Forster
Extract from A Room With A View read by Jade Anouka
00:00
Sonata for piano no.32 (Op.111) in C minor, 1st mvt; Maestoso - allegro...
Performer: Eric Heidsieck (piano)
EMI 387757-2 Tr.9
00:00
Dark Pastoral for cello and orchestra (final section)
Performer: Guy Johnston (cello), Royal Scottish National Orchestra, Martin Yates (conductor)
DUTTON CDLX7289 Tr.10
Sylvia Plath
The Rabbit Catcher read by Sylvia Plath
D.H Lawrence
Escape read by Jade Anouka
00:00
How I Wish I Knew How it Would Feel to be Free
Performer: GOT THIS FROM DESKTOP JUKE BOX
Christina Rossetti
00:00
Clara Schumann
Piano Trio in G minor, last Mvt
Performer: Antje Weithaas (violin), Tanja Tetzlaff (cello), Gunilla Sussmann (piano)
AVI MUSIC AVI8553294 Tr.2
00:00
Purcell
Extract from Fantasia in G minor in 7 parts 'In Nomine'
Performer: Fretwork
MARMONIA MUNDI HMU907502 Tr.15
Extract from Henry V read by Adrian Dunbar
00:00
John Dowland
Come Heavy Sleep
Performer: Iestyn Davies (countertenor), Thomas Dunford (lute)
HYPERION CDA68007 Tr.19
Margaret Attwood
The Landlady
00:00
György Ligeti
L'escalier du diable
Performer: Jeremy Denk (piano)
NONESUCH 7559-79621-9 Tr.15
Robert Service
My Holiday read by Adrian Dunbar
00:00
Cliff Richard
Summer Holiday
Performer: GOT THIS FROM DESKTOP JUKE BOX
00:00
Francis Poulenc
Aubade: (vii) Conclusion. Adagio
Performer: Louis Lortie (piano), BBC Philharmonic, Edward Gardner (conductor)
CHANDOS CHAN 10875 Tr.10
Philip Larkin
Aubade read by Jade Anouka
00:01
Bessy Smith
Down in the Dumps
Performer: GOT THIS FROM DESKTOP JUKE BOX
Sailing to Byzantium read by Adrian Dunbar
Sara Teasdale
Since There Is No Escape read by Jade Anouka
00:01
John Adams
Extract from Grand Pianola Music (Part II 'On the dominant divide')
Performer: San Francisco Symphony Orchestra, Michael Tilson Thomas (conductor)
SAN FRANCISCO SYMPHONY SFS 21938 0063-2 Tr.9