06:46
ウィークエンドサンシャイン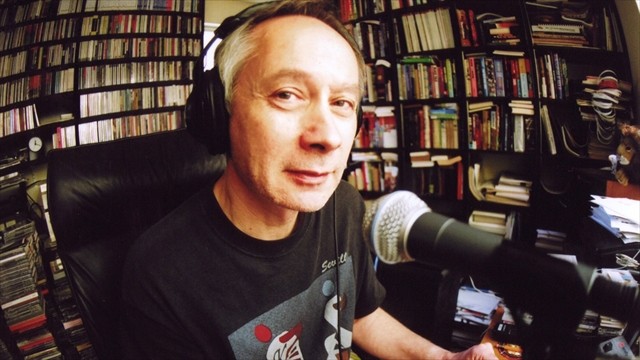 ブロードキャスター、ピーター・バラカンのナビゲートで送るウィークエンド・ミュージックマガジン。独特の嗅覚とこだわりの哲学でセレクトしたグッド・サウンドと、ワールドワイドな音楽情報を伝える。
http://www4.nhk.or.jp/sunshine/
放送日: 2017年11月 4日(土)
放送時間: 午前7:20〜午前9:00(100分)
THIS WEEK'S PLAYLIST
http://www4.nhk.or.jp/sunshine/66/
(曲名 / アーティスト名 // アルバム名)
01. I'm Walkin / Tom Petty & The Heartbreakers // Goin' Home: A Tribute to Fats Domino
02. Ain't It A Shame / Fats Domino // Fats Rocks
03. The Fat Man / Fats Domino // Fats Rocks
04. Detroit City Blues / Fats Domino // Crescent City Soul: The Sound Of New Orleans 1947-1974
05. Blueberry Hill / Fats Domino // Fats Rocks
06. Blue Monday / Fats Domino // Fats Rocks
07. Sick & Tired / Fats Domino // Fats Rocks
08. I'm In Love Again / Fats Domino // Fats Rocks
09. My Girl Josephine / Fats Domino // Fats Rocks
10. Be My Guest / Fats Domino // Fats Rocks
11. Walking To New Orleans / Fats Domino // Fats Rocks
12. Valley Of Tears / Fats Domino // They Call Me The Fat Man: The Legendary Imperial Recordings
13. Don't Leave Me This Way / Dr. John // Goin' Home: A Tribute to Fats Domino
14. My Blue Heaven / Norah Jones // Goin' Home: A Tribute to Fats Domino
15. Before I Grow Too Old / Fats Domino
16. Bone Collector / Julian Lage & Chris Eldridge // Mount Royal
17. Witchi-Tai-To / Jan Garbarek-Bobo Stenson Quartet // Rarum VIII
18. The Lonely One / Gregory Porter // Nat "King" Cole & Me
19. Morning Time / Gregory Porter // Nat "King" Cole & Me
20. Yes, I'm Ready / Dee Dee Bridgewater // Memphis ...Yes, I'm Ready
21. The Thrill is Gone / Dee Dee Bridgewater // Memphis ...Yes, I'm Ready
世界の快適音楽セレクション
"快適音楽"を求めるギターデュオのゴンチチによる、ノンジャンル・ミュージック番組。
http://www4.nhk.or.jp/kaiteki/
放送日: 2017年11月 4日(土)
放送時間: 午前9:00〜午前11:00(120分)
藤川パパQ
− 話の音楽 −
楽曲
「君住む街角」
(3分07秒)
<ポニーキャニオン PCCA-01792>
(4分16秒)
<PRESTIGE PRCD-24155-2>
「森で聞いた話」
駒沢裕城
(5分29秒)
<自主制作 NO NUMBER>
「神とお話」
(2分42秒)
<POLYDOR POCT-1927,1928>
「ユア・フィーツ・トゥー・ビッグ」
(5分45秒)
<CONCORD REC. CCD2-2157-2>
「ゆんたくたくたく」
(2分47秒)
「「おとぎ話」から第2楽章」
(作曲)ヤナーチェク
(チェロ)ボリス・ベルガメンシコフ
(3分59秒)
<ポリドール POCL-1374>
「おしゃべりカーティス」
カーティス・ブロウ
(7分42秒)
<UNIVERSAL UICY-15319>
「フォー・ノー・リーズン」
ジャンピエーロ・ボネスキー
(3分07秒)
<NO INFORMATION NO INFORMATION>
「スピーク・ロウ」
ウテ・レンパー
(4分08秒)
<ポリドール F29L-20501>
「バーでの会話」
(4分20秒)
<WARNER MUSIC WPCR-17257>
「デイ・オー〜リンステッド・マーケット」
ザ・リグラーズ
(3分00秒)
<ビーンズレコード BNSCD-7737>
「もう話したくない」
(4分49秒)
<WARNER BROS. 18P2-2975>
「ストーリー・オブ・フォレスト」
マサヨシ・フジタ
(5分58秒)
<FLAU FLAU31>
(5分22秒)
<コロムビア COCX-39821>
「クローズド・ブック」
(6分28秒)
<EPIC ESCB1901>
「リベルタンゴ」
タンゴ・ジャック
(4分13秒)
<PROJECT LOCO-1702>
「君が好き」
ルベン・ラダ
(3分31秒)
<ビーンズレコード BNSCD-7739>
Jazz records from across the genre, played in special sequences to highlight the wonders of jazz history. All pieces have been specifically requested by Radio 3 listeners
http://www.bbc.co.uk/programmes/b006tnn9
Sat 4 Nov 2017
16:00
BBC Radio 3
http://www.bbc.co.uk/programmes/b09cz438
Dipping into this week's postbag and emails of listeners' requests, Alyn Shipton plays a selection of music from all styles and periods of jazz including a track by the great trumpeter Clifford Brown.
Music Played
01. Liza
Ruby Braff & George Barnes Quartet
Composer: Gershwin
Performers: Ruby Braff, c; George Barnes, Wayne Wright, g; Michael Moore, b.
1974
Live at the New School: The Complete Concert
Chiaroscuro CR 126-A Tr.13
02. The Song Is You
Composers: Kern/ Hammerstein
Performers: Clifford Brown, t; Henri Renaud, p; Pierre Michelot, b; Benny Bennett, d.
Oct 1953
Clifford Brown: Complete Metronome and Vogue Master Takes
Definitive 11246 CD2 Tr.12
03. The Avengers Theme
John Dankworth
Composer: Dankworth
Performers: Dickie Hawdon, Kenny Wheeler, Gus Galbraith, t; Tony Russell, Eddie Harvey, Ian McDougall, tb; Ron Snyder, tu; Johnny Scott, f, pic; Johnny Dankworth, Peter King, as; Danny Moss, Art Ellefson, ts; Ronnie Ross, bs; Alan Branscombe, p; Spike Heatley, b; Ronnie Stephenson, d.
1960
The Best of John Dankworth
Redial 5461-352
04. My One and Only Love
John Coltrane & Johnny Hartman
Composers: Wood/ Mellin
Performers: John Coltrane, ts; McCoy Tyner, p; Jimmy Garrison, b; Elvin Jones, d; Johnny Hartman, v.
1963
John Coltrane and Johnny Hartman
Impulse GRD-157
05. Snake Rag
King Oliver
Composers: Oliver/ Piron
Performers: King Oliver, Louis Armstrong, c; Johnny Dodds, cl; Honore Dutrey, tb; Lil Hardin, p; Bud Scott, bj; Baby Dodds, d.
Integrale Louis Armstrong, Vol.1
Fremeaux 1351 CD1 Tr.10
06. Wang Wang Blues
Butch Thompson
Composers: Busse/ Mueller/ Johnson/ Wood
Performers: Charlie DeVore, Cuff Billett, t; Pete Dyer, tb; Teddy Layton, cl; Butch Thompson, p; Malcolm Horne, bj; Alyn Shipton, b; Dave Evans, d.
13 July 1988
Butch Thompson's King Oliver Centennial Band
GHB BCD202 Tr.7
Harry Hayes
Composer: Ellington
Performers: Kenny Baker, t; George Chisholm, tb; Harry Hayes, as; Bill Lewington, bs; Norman Stenfalt, p; Archie Slavin, g; Tommy Bromley, b; George Fierstone, d.
7 Feb 1945
Kenny Baker - Birth of a Legend 41-46 Vol.1
Hep HCD58 Tr.19
08. When Things Go Wrong
Chris Barber & Ottilie Patterson
Composer: Jack Dupree
Performers: Pat Halcox, t; Monty Sunshine, cl; Chris Barber, tb; Eddie Smith, bj; Dick Smith, b; Graham Burbidge, d; Ottilie Patterson, v, kb.
That Patterson Girl
Lake CD244 Tr.14
09. Walkin'
Composer: Carpenter
Performers: Art Farmer, Ernie Royal, Bernie Glow, Joe Wilder, t; Jimmy Cleveland, Urbie Green, Frank Rehak, tb; Phil Wods, Bunny Bardoch, Lucky Thompson, Jerome Richardson, Jack Nimitz, reeds; Hank Jones, p; Paul Chambers, b; Charlie Persip, d.
Four Classic Albums Plus
Avid 1107 CD1 Tr.1
10. Lonlon - Ravel's Bolero
Angélique Kidjo & Branford Marsalis
Composer: Ravel
Performers: Angelique Kidjo, v; Branford Marsais, ss; unknown accompaniment
2012
Spirit Rising
Razor and Tie 83306 Tr.13
11. Peace Piece
Composer: Evans
Performer: Bill Evans, p.
Everybody Digs Bill Evans
Not Now CD 912 CD2 Tr.7
12. Move
Composer: Denzil Best
Performers: Miles Davis, t; Kai Winding, tb; Junior Collins, fh; John Barber, tu; Lee Konitz, as; Gerry Mulligan, bs; Al Haig, p; Jope Schulman, b; Max Roach d.
21 Jan 1949
Birth of the Cool
Dream Covers 6096 Tr.2
Private Passions
Guests from all walks of life discuss their musical loves and hates.
http://www.bbc.co.uk/programmes/b006tnv3
Ronan Bennett
Sun 5 Nov 2017
12:00
BBC Radio 3
http://www.bbc.co.uk/programmes/b09czx11
Ronan Bennett is a novelist and screenwriter whose latest drama series on the BBC, "Gunpowder", dramatizes the story of Guy Fawkes from the point of view of the Catholics, who were persecuted in England at the time. All through his substantial body of work Ronan Bennett has explored the roots of violence and terrorism, something he knows about from personal experience, having grown up as a Catholic in Northern Ireland in the 1970s. He was imprisoned twice as a young man, accused of IRA terrorist offences, but was acquitted both times, not before spending a total of almost three years in prison, sometimes in solitary confinement.
After he came out of prison for the second time, Ronan Bennett made the decision to study history at King's College London, and went on to do a PhD on crime and law enforcement in 17th-century England. In Private Passions he talks about how studying history is a way of trying to make sense of his own painful experience. He looks back on his childhood and chooses Berlioz's opera "The Trojans" for his mother; he includes, too, choices for his own children, who have widened his musical tastes, with Chopin and the grime artist Kano. He talks movingly about the death of his wife, the journalist Georgina Henry, and about the music which he listened to as she died - and which then gave him hope.
Musical choices include Thomas Tallis, the Chieftains, Jessye Norman singing from Strauss's "Four Last Songs", and Bon Iver.
A Loftus production for BBC Radio 3
Produced by Elizabeth Burke
Music Played
00:07
Thomas Tallis
If Ye Love Me
Choir: The Tallis Scholars
00:13
Beim Schlafengehen (4 Last Songs)
Singer: Jessye Norman
Orchestra: Leipzig Gewandhaus Orchestra
00:20
Traditional
Women of Ireland
Ensemble: The Chieftains
00:25
Frédéric Chopin
Nocturne in C sharp minor
Performer: Vladimir Ashkenazy
00:33
Kano
Little Sis
Performer: Kano
00:39
Hector Berlioz
Nuit d'Ivresse (Les Troyens)
Singer: Angela Gheorghiu
Singer: Roberto Alagna
Orchestra: Orchestra of the Royal Opera House, Covent Garden
Conductor: Richard Armstrong
00:51
Hans Zimmer
You're so Cool
Performer: Soundtrack
00:58
Justin Burnham
Skinny Love
Ensemble: Bon Iver
Words and Music
A sequence of music interspersed with well-loved and less familiar poems and prose read by leading actors
http://www.bbc.co.uk/programmes/b006x35f
Russia after the Revolution
Sun 5 Nov 2017
17:30
BBC Radio 3
http://www.bbc.co.uk/programmes/b09czx17
A sequence of readings and music from Russia in the century since the revolution, ranging from writings banned in the early Soviet years (Bulgakov's surreal novel The Master and Marguerita) to the futuristic post-Soviet writing of Vladimir Sorokin. Music includes the two titans of the Stalin era, Prokofiev and Shostakovich, as well as the polystylistic blendings of light and serious music by Alfred Schnittke.
Readings by Henry Goodman and Dolya Gavanski.
Part of Radio 3's season Breaking Free: A Century of Russian Culture.
Producer's Note
A selection of stories and episodes from life in Russia since the 1917 Revolution, ranging from the optimism of Mikhail Zoshchenko's story of how rail travel has improved in the 1920s, to the bleak surrealism of Victor Pelevin's story of a cosmonaut in training, whose equipment is clearly not up to spec for space travel. Teffi's narrator remembers, as a privileged young girl, admiring the peasant women who worked as gardeners; while a tougher life is described by a hunter who lived near Vladivostock in the far East , where tigers were hunted and shot for sale to Chinese apothecaries.
Solzhenitsyn's novel of life in a "special prison" (for highly qualified political prisoners) The First Circle, provides a discussion of the legendary Russian hero, Prince Igor, who is found guilty of treason by the prisoners in a satirical mock trial. Borodin's majestic Polovtsian Dances from his opera Prince Igor sound rather different in this light.
Yevtushenko's Ballad About Drinking is a rollicking tale of what happens when a ship's crew come ashore only to find that the vodka shop is closed; and a scene from Yuri Olesha's quirky novel about an ambitious mass-catering manager sees him being ignominiously repelled from a workers' kitchen.
One of the most famous Russian novels of the 20th century is Bulgakov's satire The Master And Margarita (written in the 1930s but not published in Russia until the 1960s, and in a censored form).
The Devil is abroad in Moscow, and his sidekick Behemoth makes a businessman invisible (but his suit carries on working).
The fantastical vein continues in scenes from two recent novels – in Ekaterina Sedia's The Secret History of Moscow, where the narrator is pulled under the ice of the Moscow River by water spirits; and in the dystopian future Russia depicted by Vladimir Sorokhin in his Day of the Oprichnik – the Oprichnik being a sort of official gangster force serving "His Majesty" - the Czar.
The music ranges from the revolutionary fervour of Gliere's 1927 ballet The Red Poppy to the more ambiguous zaniness of Shostakovich's first symphony and Prokofiev's Cinderella. Alfred Schnittke's polka has a desperate stop-start jollity; while darker moods are invoked by Guyvoronsky's smoky Blues for trumpet, and Tariverdiev's chilly Moscow Morning.
Producer: Philip Tagney
Music Played
00:00
Alfred Schnittke
Polka (from Revis Fairy Tale)
Performer: Ksenija Siderova (accordion)
Champs Hill CHRCD019 Tr.10
Mikhail Zoshchenko
The Hat, read by Henry Goodman
00:00
Sergei Prokofiev
Repentance (from Summer Day, children's suite Op.65a)
Performer: New London Orchestra conducted by Ronald Corp
Hyperion CDA66499 Tr.12
Teffi (Nadezhda Aleksandrovna Lokhvitskaya)
Ganka the peasant girl (from Love), read by Dolya Gavanski
00:00
Trad
Djelem
Performer: Loyko
Rough Guide RGNET 1107 Tr.4
Yevgeny Yevtushenko, transl. by James Dickey with Anthony Kahn
Ballad About Drinking, read by Henry Goodman
00:00
Dance of the Soviet sailors from SS Apple (from The Red Poppy)
Performer: Bolshoi Theatre Orchestra conducted by Yuri Fayer
Olympia OCD202 Tr.4
Yuri Olesha
the cooking commissar visits a workers' kitchen (Envy, Chapter 2) read by Dolya Gavanski
00:00
Dmitri Shostakovich
String Quartet no.1 Op.49, 1st movement
Performer: Brodsky Quartet
Chandos CHAN109176 CD1 Tr.1
00:00
Lev Knipper
Song of the Plains
Performer: Red Army Ensemble
EMI 3920312 Tr.15
John Vaillant
tiger hunting in Eastern Russia (from The Tiger) read by Henry Goodman
00:00
Sergei Prokofiev
The Quarrel (from Cinderella Suite no.1, Op.107)
Performer: Royal Scottish National Orchestra conducted by Neeme Jarvi
Chandos CHAN7076 Tr.12
00:00
Alfred Schnittke
Love (from The Commissar)
Performer: Berlin Radio Symphony Orchestra conducted by Frank Strobel
Capriccio C7196 CD1 Tr.12
Mikhail Bulgakov (transl. Michael Glenny)
the talking suit (from The Master And Margarita) read by Dolya Gavanski
00:00
Dmitri Shostakovich
Symphony no.1 in F minor, Op.10, 2nd movement
Performer: Netherlands Radio Philharmonic Orchestra conducted by Mark Wigglesworth
Alexander Solzhenitsyn (transl. Max Hayward, Manya Harari & Michael Glenny)
the mock trial of Prince Igor (from The First Circle), read by Henry Goodman
00:00
Alexander Borodin
Polovtsian Dances (from Prince Igor)
Performer: Bavarian Radio Symphony Orchestra conducted by Esa-Pekka Salonen
Philips 412552-2 Tr.4
Marina Tsvetaeva (transl. Elaine Feinstein)
My Desk, read by Dolya Gavanski
00:00
Vyacheslav Guyvoronsky
Blues in C major
Performer: Vyacheslav Guyvoronsky (trumpet) and Vladimir Volkov (bass)
Golden Years GY401404 CD1 Tr.9
Yevgeny Yevtushenko, transl. by James Dickey with Anthony Kahn
Pitching and Reeling, read by Henry Goodman
00:00
Mikael Tariverdiev
Nocturne (from Olga Sergeevna)
Performer: Mikael Tariverdiev (piano)
Earth Records EARTHCD020 Tr.12
Ekaterina Sedia
the Rusalki scene (from The Secret History of Moscow) read by Dolya Gavanski
00:01
Myaskovsky
Symphony no.7 in B minor Op.24
Performer: USSR Radio Symphony Orchestra conducted by Leo Ginsburg
Olympia OCD163 Tr.6
00:01
Mikael Tariverdiev
Moscow Morning ((from Olga Sergeevna)
Performer: Mikael Tariverdiev (piano) and studio ensemble
Earth Records EARTHCD020 Tr.14
Victor Pelevin, transl. Andrew Bromfield
trainee cosmonaut learns to use a moonwalker (from Omon Ra) read by Henry Goodman
00:01
Vangelis
Deckard and Roy's Duel (from Bladerunner)
Performer: Vangelis
UMe B0010558-02 CD2 Tr.7
Vladimir Sorokin, transl. Jamey Gambrell
Moscow, 2028 – the Oprichnik buys cigarettes (from Day of the Oprichnik) read by Henry Goodman