17:03
ウィークエンドサンシャイン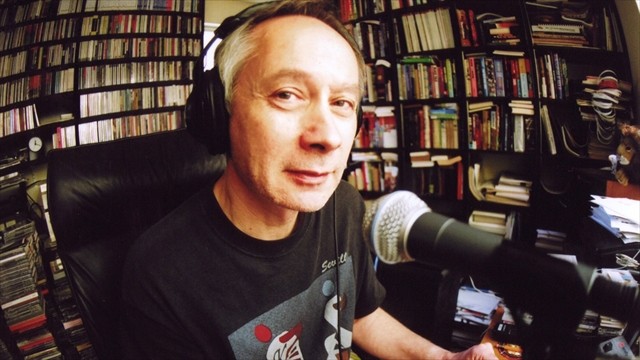 ブロードキャスター、ピーター・バラカンのナビゲートで送るウィークエンド・ミュージックマガジン。独特の嗅覚とこだわりの哲学でセレクトしたグッド・サウンドと、ワールドワイドな音楽情報を伝える。
http://www4.nhk.or.jp/sunshine/
放送日: 2018年 1月 6日(土)
放送時間: 午前7:20〜午前11:50(270分)
ウィークエンドサンシャイン ウインター・スペシャル
THIS WEEK'S PLAYLIST
http://www4.nhk.or.jp/sunshine/66/
(曲名 / アーティスト名 // アルバム名)
(Part 1:Best of 2017)
01. Wake Up / Eddie Bo & Chris Barber // The 1991 Sea-Saint Sessions
02. Woulinewa / Orchestra Baobab // Tribute To Ndiouga Dieng
03. Tita / Trio Da Kali & Kronos Quartet // Ladilikan
04. We Could Fly / Rhiannon Giddens // Freedom Highway
05. Woodstock / Jack DeJohnettte/Larry Grenadier/John Medeski/John Scofield // Hudson
06. Don't Think Twice It's Alright / Chris Thile & Brad Mehldau // Chris Thile & Brad Mehldau
07. I Don't Care Anymore / Rodney Crowell // Close Ties
08. Going Going Gone / Gregg Allman // Southern Blood
09. Black Muddy River / Gregg Allman // Southern Blood
10.They Love Each Other / Grateful Dead // Get Shown the Light: 1977.05.08 Barton Hall, Cornell University, Ithaca, NY
11. Walking In The Wind / Steve Winwood // Greatest Hits Live
(Part 2:日本の響)
12. 琵琶行 / 野坂操壽
14. Spain / 藤原道山
20. 椰子の実 / ヒダノ修一 EnTRANS
21. 竹田の子守歌 / ヒダノ修一 EnTRANS
22. ソーラン節 / 出演者全員
(Part 3:Live Magic)
23. Teach Your Children / Playing For Change
25. Use Me / The New Stew
26. Hope She'll Be Happier / The New Stew
27. Revolution / Soulive
28. Fatiliku / Omar Sosa & Seckou Keita featuring Gustavo Ovalles
29. Nariyama Ayagu / Myahk Song Book
30. Tennessee Waltz / 濱口祐自
31. Get On Board / We Banjo 3
32. Catch Me Falling / Steve McQueens
33. Drop Your Fears / Quarter To Africa
Bob Harris Country
Country music news, reviews and interviews, with Bob Harris
http://www.bbc.co.uk/programmes/b006x527
A preview of 2018 in the country world
Thu 4 Jan 2018
19:00
BBC Radio 2
http://www.bbc.co.uk/programmes/b09jv57f
Wondering what to look out for in the coming year? Bob has the answers with a look at forthcoming tours, albums and studio sessions.
Music Played
01. Night On Our Side
Little Big Town
The Breaker, Tr.2
Capitol Nashville
02. Three Chords & The Truth
Chase Rice
Lambs & Lions, Tr.8
Broken Bow
03. God Bless This Mess
Jillian Jacqueline
Jillian Jacqueline, Tr.3
Big Loud
04. Legends
Kelsea Ballerini
Unapologetically
05. This Old Heart
Midland
On The Rocks, Tr.10
Big Machine
06. A Mansion On The HIll
Hank Williams
Hank Williams- The Original Singles Collection Plus, Tr.22
Polydor/Polygram
07. Fool Me Once
Lukas Nelson
Lukas Nelson & Promise Of The Real, Tr.3
Universal International Music Bv
08. Cadillac
Gwen Sebastian
Download single
Flying Island Entertainment
09. Bullet Holes in The Sky
Mary Gauthier
Rifles and Rosary Beads, Tr.5
Proper Records
10. Old Church Hymns & Nursery Rhymes
Beth Nielsen Chapman
Hearts Of Glass, Tr.2
BNC/Proper Records
11. Waiting On You
Lindsay Ell
The Project, Tr.1
PROMO
12. If My Name Was Whiskey
Carly Pearce
Every Little Thing, Tr.6
Big Machine
13. Record Year
Eric Church
Mr Misunderstood, Tr.9
EMI Nashville
Jazz records from across the genre, played in special sequences to highlight the wonders of jazz history. All pieces have been specifically requested by Radio 3 listeners
http://www.bbc.co.uk/programmes/b006tnn9
Sat 6 Jan 2018
16:00
BBC Radio 3
http://www.bbc.co.uk/programmes/b09l21cb
This week's postbag and emails contain requests from across the spectrum of jazz. Alyn Shipton's selection includes Duke Ellington's famous version of Creole Love Call with vocalist Adelaide Hall.
Music Played
01. Stoona
Duke Ellington with Alice Babs
Composer: Ellington
Performers: Alice Babs, v; Duke Ellington, p; Gilbert Rovere, b; Christain Garros, d; 4 anonymous French horn players
Paris, 1 Mar 1963
Serenade to Sweden
Telestar TRS 11100 Side 1 Tr.3
02. Swingin' the Blues
Kenny Baker
Composers: Basie/ Durham
Performers: Kenny Baker, Derek Healey, Bruce Adams, Simon Gardner, t; Don Lusher, Bill Galdard, Richard Edwards, tb; Roy Willox, Alan Barnes, Vic Ash, Dave Willis, Eddie Mordue, reeds; Brian Dee, p; Dave Green, b; Ralph Salmins d.
Sep 1993
The Boss Is Home
Big Bear 224 Tr.1
03. The Thrill Is Gone
Composers: Brown/ Henderson
Performers: Stan Getz, ts; Jan Johansson, p; Dan Jordan, b; William Schiopffe, d.
Jan 1960
Stan Getz Quartet at Large – Complete Sessions
Essential Jazz Classics 55651 CD2 Tr.5
04. Le Souk
Dave Brubeck
Composers: Brubeck/ Desmond
Performers: Paul Desmond, as; Dave Brubeck, p; Bob Bates, b; Joe Dodge, d.
Mar 1954 Oberlin College
Time Was
Proper Properbox 90 CD4 Tr.5
05. Jazz Me Blues
Kenny Davern
Composers: Clarence and Spencer Williams
Performers: Bernie Privin, t; Lou McGarity, tb; Kenny Davern, cl; Dill Jones, p; Eddie Condon, g; Jack Lesberg, b; Cliff Leeman, d.
30 Apr 1971
A Night With Eddie Condon
Arbors ARCD 19238 Tr.5
06. After You've Gone
Composers: Layton/ Creamer
Performers: Roy Eldridge, Yank Lawson, Mickey McMickle, t; Ward Silloway, Vernon Brown, tb; Benny Goodman, cl; Hymie Schertzer, Reggie Merrill, Art Rollini, Ernie Caceres, Wolff Tayne, reeds; Teddy Wilson, p; Tommy Kay, g; Gene Traxler, b; Specs Powell, d.
1944
Benny Goodman and His Orchestra 1944-1945
Classics 1345 Tr.1
07. Criss Cross
Joey Alexander
Composer: Monk
Performers: Joey Alexander, p; Larry Grenadier, b; Ulysses Owens, Jr. d.
2016
Countdown
Motema 234279 Tr.6
08. Whistman's Wood
Composer: Surman
Performer: John Surman, bcl, bs, ss, kb, syn.
2012
Saltash Bells
ECM 279 8108 Tr.1
09. Friday Night at the Cadillac Club
Bob Berg
Composer: Berg
Performers: Bob Berg, ts; Mike Stern, g; Don Grolnick, kb; Will Lee, b; Peter Erskine, d.
Mar 1987
Short Stories
Denon CY1768 Tr.1
10. Creole Love Call
Composer: Ellington
Performers: Cootie Williams, Arthur Whetsol, Freddie Jenkins, t; Joe Nanton, Lawrence Brown, Juan Tizol, tb; Barney Bigard, cl; Johnny Hodges, as; Harry Carney, bs; Duke Ellington, p; Fred Guy, bj; Wellman Braud, b; Sonny Greer, d; Adelaide Hall, v.
11 Feb 1932
Masterpieces 1926-1949
Proper Properbox 25 CD1 Tr.20
Words and Music
A sequence of music interspersed with well-loved and less familiar poems and prose read by leading actors
http://www.bbc.co.uk/programmes/b006x35f
Plague, Pox and Pestilence
Sun 7 Jan 2018
17:30
BBC Radio 3
http://www.bbc.co.uk/programmes/b09l22n7
Daniel Defoe to W B Yeats, Koechlin to Cole Porter, Fanny Burney to Mrs Beeton. Music, poetry and prose on the subject of disease. This edition pops a thermometer under the tongue and examines for buboes, sores and carbuncles. The readers are Michael Fenton Stevens and Josette Simons.
Producer's Notes
Don't panic – if the subject matter itself is not exactly uplifting, authors and composers down the ages have often responded to the pain and indignity of disease with honesty, compassion and sometimes even a certain black humour.
We start in the 17th Century which had a very direct and earthy attitude towards disease and death. Purcell's Music for the Funeral of Queen Mary sets the timeless poetry of the Book of Common Prayer with a powerful simplicity which reminds us that "Man that is born of woman hath but a short time to live, and is full of misery". Daniel Defoe's "Journal of the Plague Year" is an account of one man's experiences of the year 1665, in which the Great Plague struck the city of London – an event that would still have been very fresh to Purcell's contemporaries.
To lighten the mood we pause for the first of Mrs Beeton's no-nonsense cures. In the words of historian Graham Nown, Isabella Beeton was "a singular and remarkable woman, praised in her lifetime and later forgotten and ignored when a pride in light pastry were no longer considered prerequisites for womanhood. Yet in her lively, progressive way, she helped many women to overcome the loneliness of marriage and gave the family the importance it deserved. In the climate of her time she was brave, strong-minded and a tireless champion of her sisters everywhere."
The connection between love, sickness and death came to haunt the imagination of many artists in the Nineteenth Century when syphilis, or "the great pox", was largely incurable.
Against Nature is a "decadent" novel by the French writer Joris-Karl Huysmans which deals with the inner life of an eccentric aesthete who retreats into an ideal artistic world of his own creation. In this surreal scene he visualises the figure of syphilis as a frightening but fascinating creature that transforms from a phallic woman into something darkly rapacious and vaguely floral. It's like a nightmare version of the Flowermaidens in Wagner's Parsifal.
Fanny Burney was a successful novelist in her day, and her diaries still fizz with the gossip and scandals of literary London in the late 18th century. But her most powerful piece of writing is the letter she wrote to her sister, Esther describing her breast cancer and mastectomy without modern anesthetic. It is a harrowing account, through which her bravery and strength shine out.
After that, only Beethoven can take over where words leave off. His late A minor string quartet was written after recovering from a serious illness and the third movement is headed with the words "Holy song of thanksgiving of a convalescent to the Deity, in the Lydian Mode".
No meditation on sickness and disease would be complete without an extract from the disease-obsessed Thomas Mann who said "Disease, and most specially opprobrious, suppressed, secret disease, creates a certain critical opposition to the world, to mediocre life, disposes a man to be obstinate and ironical toward civil order, so that he seeks refuge in free thought, in books, in study."
The passage from Mann's "Death in Venice" describes the relentless journey of the Indian cholera which eventually kills the protagonist of the novella. "Born in the sultry swamps of the Ganges delta, ascended with the mephitic odour of that unrestrained and unfit wasteland, that wilderness avoided by men, in the bamboo thickets in which the tiger is crouching, the epidemic had spread to Hindustan, to China, to Afghanistan and Persia and even to Moscow." This atmospheric passage is underscored with a movement from Koechlin's Persian Hours describing a caravan, or group of travellers on a long slow journey.
A brief glance back at the 17th Century with the dyspeptic and flatulent belchings listed in Robert Burton's Anatomy of Melancholy before a final visit to matron in the company of the permanently unmarried Adelaide who complains that "just from waiting around for that plain little band of gold, a person can develop a cold."
Producer: Clive Portbury
Music Played
00:00
Henry Purcell
March Z.860
Performer: Orchestre du Collegium Vocale, Philippe Herreweghe (conductor)
Harmonia Mundi 941462 Tr.6
Daniel Defoe
A Journal of the Plague Year (Extract) read by Michael Fenton Stevens
00:00
Henry Purcell
Man that is born of woman and Canzona Z860
Performer: Choeur et Orchestre du Collegium Vocale, Philippe Herreweghe (conductor)
Harmonia Mundi 941462 Tr.6
Daniel Defoe
A Journal of the Plague Year (Extract) read by Josette Simons
00:00
Henry Purcell
In the midst of life we are in death
Performer: Choeur et Orchestre du Collegium Vocale, Philippe Herreweghe (conductor)
Harmonia Mundi 941462 Tr.6
Thomas Nashe
A Litany in Time of Plague read by Michael Fenton Stevens
00:00
Constant Lambert
King Pest (from Summer's Last Will and testament) (extract)
Performer: English Northern Philharmonia, David Lloyd-Jones (conductor)
Hyperion CDA66565 Tr.8
Mrs Beeton
A Cure for Warts (from The Book of Household Management) read by Josette Simons
00:00
The Physician (from Nymph Errant)
Performer: Lisa Kirk (soprano), Orchestra, Donald Pippin (conductor)
EMI 7540792 Tr.11
Ben Johnson
To Sickness read by Michael Fenton Stevens
00:00
Richard Wagner (arr. Henk de Vlieger)
Parsifal, an Orchestral Quest (Flowermaidens) (extract)
Performer: Royal Scottish National Orchestra, Neeme Jarvi (conductor)
Chandos 5077 Tr.4
William Shakespeare
Sonnet 118 read by Josette Simons
Joris-Karl Huysmans
Against Nature (extract) read by Michael Fenton Stevens
00:00
Benjamin Britten
Elegy from Serenade for Tenor, Horn and Strings (extract)
Performer: Peter Pears (tenor), Barry Tuckwell (horn); LSO, Benjamin Britten (conductor)
Decca 4363952 Tr.4
Mrs Beeton
A Cure for Toothache (from The Book of Household Management) read by Josette Simons
Ogden Nash
This Is Going To Hurt Just A Little Bit read by Michael Fenton Stevens
00:00
Fossils from Carnival of the Animals
Performer: Pittsburgh SO, Andre Previn (conductor)
Philips 4426092 Tr.15
00:00
Giuseppe Verdi
Prelude from La Traviata (extract)
Performer: LSO, Carlo Rizzi (conductor)
Teldec 9031763482 Tr.1
W B Yeats
Upon a Dying Lady read by Josette Simons
00:00
Hildegard von Bingen
Ave generosa
Performer: Margaret Philpot (contralto)
Hyperion 44251 Tr.2
Fanny Burney
Account from Paris of a Terrible Operation—1812 (extract) read by Josette Simon
00:00
Ludwig van Beethoven
String Quartet No.15 in A minor, op.132, 3rd mvt (extract)
Performer: Mosaiques Quartet
Naïve 5445 Tr.3
00:00
Charles Koechlin
La Caravane from Les Heures persanes (extract)
Performer: Michael Korstick (piano)
SWR Music 19047 Tr.2
Thomas Mann (Translated by Martin C. Doege)
Death in Venice (extract) read by Michael Fenton Stevens
Mrs Beeton
A Cure for Palpitation of the heart (from The Book of Household Management) read by Josette Simons
00:01
John Dowland
Lachrimae Tristes (extract)
Performer: Phantasm, Elizabeth Kenny (lute)
Linn 527 Tr.4
Robert Burton
Anatomy of Melancholy (extract) read by Michael Fenton Stevens
Mrs Beeton
A Cure for A Cold on the Chest (from The Book of Household Management) read by Josette Simons
00:01
Frank Loesser
Adelaide's Lament from Guys and Dolls
Performer: Nathan Lane, Faith Prince, Orchestra, Edward Strauss (conductor)
RCA 09026 613172 Tr.7