11:06
ウィークエンドサンシャイン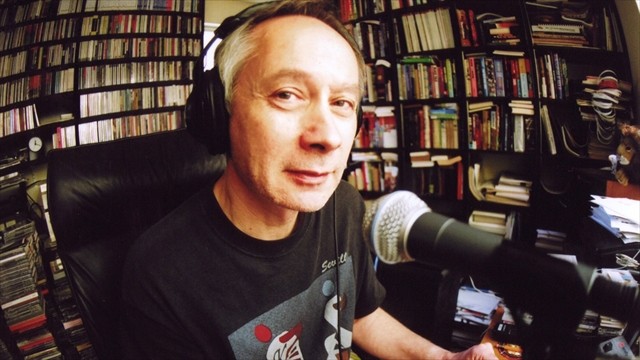 ブロードキャスター、ピーター・バラカンのナビゲートで送るウィークエンド・ミュージックマガジン。独特の嗅覚とこだわりの哲学でセレクトしたグッド・サウンドと、ワールドワイドな音楽情報を伝える。
http://www4.nhk.or.jp/sunshine/
放送日: 2018年 1月13日(土)
放送時間: 午前7:20〜午前9:00(100分)
THIS WEEK'S PLAYLIST
http://www4.nhk.or.jp/sunshine/66/
(曲名 / アーティスト名 // アルバム名)
01. Goin' To Chicago / Van Morrison // Roll With The Punches
02. A Cheat / 細野晴臣 // Vu Ja De
03. Hungry / Joe Henry // Thrum
04. On A Distant Shore / Leon Russell // On A Distant Shore
05. I Am A Patriot / Jackson Browne // The Road East - Live In Japan
06. Brothers / Randy Newman // Dark Matter
07. Home Again / Carole King // Tapestry: Live In Hyde Park
08. Ain't No Man Righteous, No Not One (Live Nov. 16, 1979) / Bob Dylan // Trouble No More: The Bootleg Series, Vol. 13 / 1979-1981 (Deluxe Edition)
09. Don't Give Up On Love / Don Bryant // Don't Give Up On Love
10. Who Told You That / Mavis Staples // If All I Was Was Black
11. Open Sky / Ruthie Foster // Joy Comes Back
12. Just As Strange / Tedeschi Trucks Band // Live From The Fox Oakland
13. The Great Highway / Ray Davies // Americana
14. Bad Year For Rock And Roll / Chuck Prophet // Bobby Fuller Died For Your Sins
15. Windy City / Alison Krauss // Windy City
16. Call Me / Imelda May // Life. Love. Flesh. Blood
17. With You In Mind / Stanton Moore // With You In Mind
世界の快適音楽セレクション
"快適音楽"を求めるギターデュオのゴンチチによる、ノンジャンル・ミュージック番組。
http://www4.nhk.or.jp/kaiteki/
放送日: 2018年 1月13日(土)
放送時間: 午前9:00〜午前11:00(120分)
渡辺亨
− 勢いのある音楽・穏やかな音楽 −
楽曲
「NDD(1996ライヴ・ヴァージョン)」
(5分50秒)
「フロー」
ヨナス・コルストルプ
(3分09秒)
<なし AROONA2017>
「ゴーン・ウィズ・ザ・ウィンド」
ザ・フランク・ウェス・クァルテット
(5分45秒)
<PRESTIGE REC./MOODSVILLE OJCCD-1103-2>
「テイク・ア・ウォーク・ラウンド・ザ・コーナー」
ジョン・ムーニー
(3分47秒)
<BLIND PIG REC. BP70779>
「「3つの歌(1886年)」から「天使たち」」
(作曲)エリック・サティ
(2分05秒)
<日本コロムビア COCQ-85373>
「イット・クド・ハプン・トゥー・ユー」
ジャッキー・グリーソン
(2分53秒)
<MUSIC FROM EMI TOCJ-50209>
(4分43秒)
<ヴァージン・ジャパン VJCP-23135>
「私の最高の歌」
ホセ・アントニオ・メンデス
(3分20秒)
<ディスコカラムバ CRACD-243>
「ビート・ゴーズ・オン」
アニタ・カー・シンガーズ
(3分02秒)
<WARNER BROS. WPCR-16995>
「ライク・ランニング・ウォーター」
クラレンス・リード
(8分27秒)
<ATLANTIC AMCY-6050>
「ハート・オブ・ザ・カントリー」
ポール・マッカトニー
(2分21秒)
<詳細不明 NO INFORMATION>
「私の孤独」
ジョルジュ・ムスタキ
(3分01秒)
<POLYGRAM POCP-9145>
「スポーツ」
ジャンピエーロ・ボネスキー
(2分24秒)
<詳細不明 NO INFORMATION>
「ダンス・トゥー・ザ・ミュージック」
スライ&ザ・ファミリー・ストーン
(4分30秒)
(4分05秒)
<SONICPIECES SONICPIECES008>
「スピリット・ハード・ノック」
クレイグ・テイボーン
(4分30秒)
「ビューティフル」
ゴードン・ライトフット
(3分23秒)
<TULIP REC. TLIP1001>
「スリーピー・ラクーン」
(2分25秒)
<ポニーキャニオン PCCA-01691>
「イフ・ユー・ハヴント・ゴット・ラヴ」
ザ・ドラマティックス
(3分05秒)
<CAPITOL 5789816>
「サムシング・トゥー・シング・アバウト」
レニー・シンクレア
(2分01秒)
「ビリ」
パブロ・パッシーニ
(4分36秒)
<INDEPENDENT MITO>
Bob Harris Country
Country music news, reviews and interviews, with Bob Harris
http://www.bbc.co.uk/programmes/b006x527
Carly Pearce in Session
Thu 11 Jan 2018
19:00
BBC Radio 2
http://www.bbc.co.uk/programmes/b09kzfhk
US country hit maker Carly Pearce is in session, fresh from the success of her debut single "Every Little Thing", one of Bob's favourite songs of the last year.
Carly plays it live and discusses the remarkable series of events that led to her chart topping success.
Music Played
01. Little Rock
Hayes Carll
Little Rock, Tr.7
Highway 87
02. Beside You Babe
Blake Shelton
Texoma Shore, Tr.1
03. Shoot Me Straight
Brothers Osborne
Download Single
04. Hey Stranger
Mandolin Orange
Blindfaller, Tr.1
Yep Roc Records
05. This Side
Nickel Creek
This Side, Tr.6
Sugar Hill
06. Doin' It Right
Carly Pearce
Bob Harris Country Session 11.01.18
Carly Pearce
Bob Harris Country Session 11.01.18
Carly Pearce
Every Little Thing, Tr.1
Big Machine
09. You're Still Standing There
Steve Earle
I Feel Alright, Tr.12
Jazz records from across the genre, played in special sequences to highlight the wonders of jazz history. All pieces have been specifically requested by Radio 3 listeners
http://www.bbc.co.uk/programmes/b006tnn9
Sat 13 Jan 2018
16:00
BBC Radio 3
http://www.bbc.co.uk/programmes/b09lyjm8
Champion of the little-known C-Melody instrument, saxophonist Frankie Trumbauer, is featured in Alyn Shipton's pick of listeners' requests for music in all styles of jazz.
Music Played
01. Summertime
Sidney Bechet
Composers: Gershwin/ Heywood
Performers: Sidney Bechet, ss; Teddy Bunn, g; Meade Lux Lewis, p; John Williams, b; Sid Catlett, d.
8 Jun 1939
Blues in Thirds
Charly Le Jazz CD30 Tr.2
02. Sweet Sue
Joe Daniels
Composer: Young
Performers: Max Goldberg, t; Freddy Gardner, cl; Monia Liter, p; Archie Slavin, g; Tiny Winters, b; Joe Daniels, d.
28 Jun 1935
St Louis Blues/Sweet Sue
Parlophone F211 Side B
03. Green Country (New England Mood)
Jimmy Giuffre
Composer: Giuffre
Performers: Jimmy Giuffre, cl; Bob Brookmeyer, tb; Jim Hall, g.
1958
Travlin' Light
Atlantic 8122 79625 Tr.3
04. Liza
Alan Barnes
Composers: Gershwin/ Kahn
Performers: Warren Vache, c; Alan Barnes, as; Tony Coe, ss; Roy Williams, tb; Brian Lemon, p; Dave Cliff, Dave Green, g; Clark Tracey, d.
1999
The Pollwinners play Girl Talk
Zephyr ZECD 28 Tr.12
05. Someday You'll Want Me to Want You
Della Reese
Composer: Hodges
Performers: Della Reese and orchestra conducted and arranged by Neal Hefti
1960
Della
RCA 2157 Side B Tr.6
06. Autumn Leaves
Composers: Kosma/ Prevert
Performers: Bill Evans, p; Scott LaFaro, b; Paul Motian, d.
28 Dec 1959
The Riverside Years
Not Now 912 CD3 Tr.2
07. Rosie
Mike Westbrook
Composer: Westbrook
Performers: Mike Westbrook, p; Dave Holdsworth, Kenny Wheeler, t; Mike Gibbs, tb; Tom Bennelik, frh; Martin Fry, tu; John Surman, Mike Osborn, Bernie Living, Alan Skidmore, reeds; Harry Miller, b; Alan Jackson, John Marshall, d.
Marching Song Volumes 1 & 2
Deram 844853-2 CD2 Tr.3
08. Groovin' High
Composer: Gillespie
Performers: Keith Jarrett, p; Gary Peacock, b; Jack DeJohnette, d.
5 Jul 1999
Whisper Not
ECM 543816-2 CD1 Tr.3
The Bad Plus
Composer: Cobain
Performers: Ethan Iverson, p; Reid Anderson, b; Dave King, d.
2001
These are the Vistas
Sony n/a Tr.3
10. If I Had You
Una Mae Carlisle
Composers: King/ Shapiro
Performers: Una Mae Carlisle, v, p; John Hamilton, t; Al Casey, g; Cedric Wallace, b; Slick Jones, d.
2 Aug 1940
n/a
Bluebird 10853 Side A
11. Vous Qui Passez
Composer: Trenet
Performers: Django Reinhardt, g; Stephane Grappelli, vn; Gianni Safred, p; Carlo Pecori, b; Aurelio de Carolis, d.
Django in Rome 1949-1950
JSP B0001AV562 CD1 Tr.6
Private Passions
Guests from all walks of life discuss their musical loves and hates.
http://www.bbc.co.uk/programmes/b006tnv3
Helen Czerski
Sun 14 Jan 2018
12:00
BBC Radio 3
http://www.bbc.co.uk/programmes/b09lym7m
The physicist and broadcaster Helen Czerski talks to Michael Berkeley about her favourite music, inspired by her Polish heritage and her fascination with technology and exploration.
Having gained a wonderfully titled PhD in Experimental and Explosive Physics from Cambridge in 2006, Helen worked in the US and Canada, and is now a Research Fellow at University College London where she specialises in the relationship between waves, weather and climate.
But apart from her academic research and teaching she has another mission - to make physics accessible to us all. She does this by exploring the connections between the way the world works and our everyday experiences - for example weather patterns can be seen in microcosm when you stir milk into your tea. Hence the title of her highly successful book - Storm in a Teacup.
She writes regularly for the Guardian, and has made numerous radio and television programmes about colour, bubbles, the sun, the weather - and the science behind sound and music. Her latest is a three part television series about temperature.
She chooses music by Strauss which reminds her of her Polish heritage; music by Dvorak which evokes the long sea voyages she undertakes for her research into ocean bubbles; music by Verdi which celebrates her fascination with technology and industry. And she gives the definitive, scientific answer to that most vital of questions: what's the best shape for a champagne glass?
Producer: Jane Greenwood
A Loftus production for BBC Radio 3
Music Played
00:04
Donald Swann
First and Second Law
Performer: Michael Flanders
Performer: Donald Swann
00:10
Antonín Dvořák
Symphony No.9 (From the New World) (Finale)
Orchestra: Malaysian Philharmonic Orchestra
Conductor: Claus Peter Flor
00:26
Johann Strauss II
Champagne Polka
Orchestra: Wiener Johann Strauss Orchester
Conductor: Willi Boskovsky
00:32
Concerto in D minor (Adagio)
Ensemble: Jacques Loussier Trio
Music Arranger: Jacques Loussier
00:41
Giuseppe Verdi
Il Trovatore (Anvil Chorus)
Orchestra: London Symphony Orchestra
Conductor: Antonio Pappano
00:49
Barber of Seville (Largo al Factotum)
Singer: Dmitri Hvorostovsky
Orchestra: Philharmonia Orchestra
00:57
Carnival of the Animals (Fossils)
Performer: John Ogdon
Performer: Brenda Lucas
Orchestra: City of Birmingham Symphony Orchestra
Conductor: Louis Frémaux
Words and Music
A sequence of music interspersed with well-loved and less familiar poems and prose read by leading actors
http://www.bbc.co.uk/programmes/b006x35f
The Garden
Sun 14 Jan 2018
17:30
BBC Radio 3
http://www.bbc.co.uk/programmes/b09m4tp2
Jane Eyre is hiding in one, Peter Rabbit is escaping from one, John Tradescant is tending one, and Rebecca de Winter's has been completely taken over by nature. Whether a place to relax, play, be seen or to hide, the garden serves many purposes in literature, as in life. Sally Phillips and Bertie Carvel read poems and texts encompassing public gardens, secret gardens, magical gardens, and paradise gardens. Including music by Mozart, Tchaikovsky, Gubaidulina and Takemitsu.
Producer's Notes
I was struck when making this programme how varied the literary gardens I chose were, and what different purposes they serve. Sometimes they are a haven, away from the hurly-burly of the outside world. Elizabeth Jennings describes building a garden within high walls, the only place an ill woman can escape intrusion, and similarly Tennyson's poetic garden is enhanced by the distant sound of church bells. Sometimes the gardens are enchanted; Alice is in discussion with the flowers in Through the Looking Glass, and enchanted gardens have inspired music from contemporary composers Takemitsu, and Uljas Pulkkis. Sometimes gardens are a backdrop for plotting and scheming; In Philippa Gregory's Earthly Joys, spy-master Robert Cecil uses the garden as a place to quiz his gardener John Tradescant, who's always too busy tending his plants to lie. More intrigue in Mozart's The Marriage of Figaro, where the gardens are full of characters hiding, and in disguise. Jane Eyre is hiding too, after detecting the tell-tale smell of Mr Rochester's cigar in amongst the garden's evening scents.
There are public gardens such as Spring Gardens in Vauxhall, the place to be seen in the mid 18th century, boasting summer concerts and a fine statue of Handel. Oscar Wilde describes Paris's equivalent, the Jardin des Tuileries, a painting of which is included in Musorgsky's Pictures from an Exhibition. Then to some less welcoming gardens. The famous opening of du Maurier's Rebecca describes visiting Manderley in a dream to find that the garden 'had obeyed the jungle law'. But this is nothing compared to the havoc that the plants in Wyndham's Day of the Triffids will cause. And poor Peter Rabbit is desperately trying to escape Mr McGregor's garden, hindered by his large buttons and a gooseberry net. I finish with one of the most evocative gardens, as Mary Lennox finally manages to get into The Secret Garden.
Producer: Ellie Mant
Music Played
00:00
John Pickard
Performer: Eikanger-Bjorsvik Musikklang, Andreas Hanson (conductor)
BIS CD 2061 Tr.1
Anon
Genesis from The Bible (King James Version), read by Sally Phillips
James Merrill
A Vision of the Garden, read by Bertie Carvel
00:03
Bohuslav Martinu
Window onto the Garden; Poco andante
Performer: Radoslav Kvapil (piano)
REGIS RRC4006 Tr.33
Through the Looking Glass, read by Sally Phillips
00:07
Pyotr Ilyich Tchaikovsky
The Nutcracker; Waltz of the Flowers (extract)
Performer: Vienna Philharmonic Orchestra, James Levine (conductor)
DG 4378062 Tr.19
WB Yeats
Down by the Salley Gardens, read by Bertie Carvel
00:13
Rebecca Clarke
Down by the Salley Gardens
Performer: Patricia Wright (soprano), Kathron Sturrock (piano)
GUILD GMCD 7208 Tr.8
00:15
Einojuhani Rautavaara
Autumn Gardens; Tranquillo (extract)
Performer: Helsinki Philharmonic Orchestra, Vladimir Ashkenazy (conductor)
ONDINE ODE 950-2 Tr.5
Elizabeth Jennings
Her Garden, read by Sally Phillips
Philippa Gregory
Earthly Joys, read by Bertie Carvel
00:22
Anon
All in a Garden Green
Performer: The King's Noyse, David Douglass (director)
HMU 907101 Tr.2
Elizabeth Barrett Browning
Beloved, thou has brought me many flowers, read by Sally Phillips
00:25
Lili Boulanger
D'un vieux jardin
Performer: Judith Pfeiffer (piano)
DREYER GAIDO CD21004 Tr.25
Sir John Hawkins
A General History of the Science and Practice of Music, read by Bertie Carvel
00:28
George Frideric Handel
Organ Concerto in B flat major, HWV.290; Allegro
Performer: Daniel Moult (organ), London Early Opera, Bridget Cunningham (conductor)
SIGNUM CLASSICS SIGCD428 Tr.4
Charles Dickens
Nicholas Nickleby, read by Sally Phillips
00:36
Percy Grainger
Country Gardens
Performer: The Bilder Duo (pianos)
GRAND PIANO GP633 Tr.5
Oscar Wilde
Le Jardin des Tuileries, read by Bertie Carvel
00:39
Modest Musogsky
Pictures from an Exhibition; Tuileries
Performer: London Symphony Orchestra, Claudio Abbado (conductor)
DG 423 901-2 Tr.6
00:40
Toru Takemitsu
Spirit Garden (extract)
Performer: Bournemouth Symphony Orchestra, Marin Alsop (conductor)
NAXOS 8.557760 Tr.1
Daphne Du Maurier
Rebecca, read by Sally Phillips
Beatrix Potter
Peter Rabbit, read by Bertie Carvel
00:45
Cab Calloway
Run Little Rabbit (extract)
Performer: Cab Calloway & His Orchestra
CLASSICS629 Tr.8
Charlotte Bronte
Jane Eyre, read by Sally Phillips
00:49
The Marriage of Figaro; Deh, vieni, non tardar
Performer: Marie McLaughlin (Susanna), Orchestra del Maggio Musicale Fiorentino, Zubin Mehta (conductor)
SONY CLASSICAL S3K53286 CD3 Tr.7
00:53
Sofia Gubaidulina
Gardens of Joy and Sadness (extract)
Performer: Irena Grafenauer (flute), Maria Graf (harp), Vladimir Mendelssohn (viola)
PHILIPS 4340412 Tr.1
WH Auden
Their Lonely Betters, read by Bertie Carvel
Edwin Arlington Robinson
The Garden, read by Sally Phillips
00:57
Frank Lambert
God's Garden
Performer: Thomas Allen (baritone), Malcolm Martineau (piano)
HYPERION CDA67290 Tr.20
00:59
Uljas Pulkkis
Enchanted Garden (extract)
Performer: Jaakko Kuusisto (violin), Stavanger Symphony Orchestra, Susanna Mälkki (conductor)
BIS SACD1339 Tr.1
John Wyndham
Day of the Triffids, read by Bertie Carvel
01:03
Joaquín Turina
Jardín de niños: Cloches
Performer: Jordi Masó (piano)
NAXOS 8.570026 Tr.28
Alfred Tennyson
The Gardener's Daughter, read by Sally Phillips
Frances Hodgson Burnett
The Secret Garden, read by Bertie Carvel
01:07
Rued Langgaard
Rose Garden Songs; Behind the wall stand little roses
Performer: Vocal Group Ars Nova, Tamás Vetö (conductor)
DACAPO 8.224058 Tr.5