06:36
ウィークエンドサンシャイン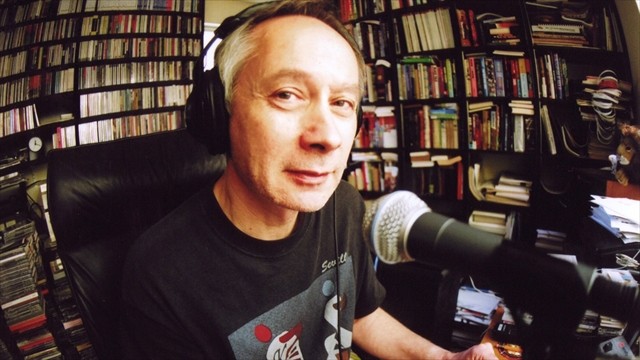 ブロードキャスター、ピーター・バラカンのナビゲートで送るウィークエンド・ミュージックマガジン。独特の嗅覚とこだわりの哲学でセレクトしたグッド・サウンドと、ワールドワイドな音楽情報を伝える。
http://www4.nhk.or.jp/sunshine/
放送日: 2018年 3月 3日(土)
放送時間: 午前7:20〜午前9:00(100分)
THIS WEEK'S PLAYLIST
http://www4.nhk.or.jp/sunshine/66/
(曲名 / アーティスト名 // アルバム名)
01. Crescent City / I'm With Her // See You Around
02. Hundred Miles / I'm With Her // See You Around
03. We'd Be Home / Joan Shelley // Joan Shelley
04. If The Storms Never Came / Joan Shelley // Joan Shelley
05. Time Has Told Me / Joan Shelley // Nick Drake Covered/free with Mojo March 2018
06. Cello Song / Bill MacKay // Nick Drake Covered/free with Mojo March 2018
07. Saturday Sun / Luluc & Lisa Hannigan // Nick Drake Covered/free with Mojo March 2018
08. Magic Christmas Tree / Pilgrims' Way // Red Diesel
09. Reynardine / Anne Briggs // An Introduction to Anne Briggs
10. Go Your Way (My Love) / Anne Briggs // An Introduction to Anne Briggs
11. The Band Played Waltzing Matilda / June Tabor // An Introduction to June Tabor
12. The Dark End of the Street / June Tabor // An Introduction to June Tabor
https://www.amazon.co.uk/dp/B077F9QQQD/
13. Tuiza Naki / Myahk Song Book // Ima
14. Come By Here / Barbara Dane // Hot Jazz, Cool Blues & Hard-Hitting Songs
15. Mother Earth / Barbara Dane // Hot Jazz, Cool Blues & Hard-Hitting Songs
16. Trouble In Mind / Barbara Dane // Hot Jazz, Cool Blues & Hard-Hitting Songs
17. You Don't Know Me/You Don't Know My Mind / Barbara Dane // Hot Jazz, Cool Blues & Hard-Hitting Songs
18. Only A Pawn In Their Game / Barbara Dane // Hot Jazz, Cool Blues & Hard-Hitting Songs
世界の快適音楽セレクション
"快適音楽"を求めるギターデュオのゴンチチによる、ノンジャンル・ミュージック番組。
http://www4.nhk.or.jp/kaiteki/
放送日: 2018年 3月 3日(土)
放送時間: 午前9:00〜午前11:00(120分)
藤川パパQ
− あふれ出る思い・秘めたる思いの音楽 −
楽曲
「テ・キエロ・デ・ヒエステ」
(2分29秒)
<EPIC ESCL30013,30014>
「アイル・フォロー・マイ・シークレット・ハート」
ポール・ウェストン
(2分53秒)
<COLLECTABLES COL-6469>
「すきになると」
(4分03秒)
<FOR LIFE MUSIC FLCF-4509>
「押さえきれない私の心」
アシュクン・ヌル・イェンギ
(3分31秒)
<オルターポップ TKCD-513>
「精霊の出会い」
ジョン・マクラフリン&マハビシュヌ・オーケストラ
(6分49秒)
<SONY MUSIC ENT. SICJ243>
「アイ・ハヴ・ア・ドリーム」
ケンドリック・スコット・オラクル
(5分10秒)
<CONCORD JAZZ 0888072341920>
「想いあふれて」
(5分46秒)
<IMPULSSE! 0602557317947>
「片想い」
(4分30秒)
<リスペクトレコード RES298,299>
(作曲)
(指揮)チョン・ミョンフン
(3分59秒)
<UNIVERSAL CLASSICS&JAZZ UCCG-3099>
「オール・ユア・ラヴ」
オーティス・ラッシュ
(5分35秒)
<P-VINE PVCP-9654,9655>
「デューンズ」
ジャンピエーロ・ボネスキー
(3分00秒)
<NO INFORMATION NO NUMBER>
「秘めた恋」
服部富子
(3分14秒)
<VICTOR VICL-64017>
「アイ・キャント・エクスプレス・マイ・ディープ・ラヴ」
ハウシュカ
(3分31秒)
<P*DIS PDIP-6568>
「秘めたる恋」
(3分37秒)
(5分02秒)
<GEFFEN REC. 0602527779089>
「ア・ポーターズ・ラヴ・ソング・トゥー・ア・チェンバーメイド」
(3分41秒)
<JAZZOLOGY JCD-210>
「マイ・フェイヴァリット・シングス」
(3分53秒)
<IN THE GARDEN XNHL-15004/B>
「アイヴ・ガット・ユー・アンダー・マイ・スキン」
ジョセフィン・ベーカー
(3分07秒)
<東芝EMI EGR-2007>
「アイヴ・ガット・ユー・アンダー・マイ・スキン」
シール
(3分13秒)
<UNIVERSAL 5793528>
「人生よありがとう」
ルス・カサル
(4分19秒)
<リスペクトレコード RES-303>
Jazz records from across the genre, played in special sequences to highlight the wonders of jazz history. All pieces have been specifically requested by Radio 3 listeners
http://www.bbc.co.uk/programmes/b006tnn9
Sat 3 Mar 2018
16:00
BBC Radio 3
http://www.bbc.co.uk/programmes/b09tbzcb
One of the most innovative and influential pianists in jazz, Earl Hines is featured in this week's pick of requests from listeners for all styles of jazz, presented by Alyn Shipton.
Music Played
01. Heimweh
Glen Manby
Composer: Manby
Performers: Glen Manby, as; Steve Waterman, t; Leon Greening, p; Adam KMing, b; Matt Home, d.
2016
Homecoming
Mainstem 0059 Tr.8
02. Seven Seas
Avishai Cohen
Composer: Cohen
Performers: Avishai Cohen, b; Shai Mestro, p; Itmar Doari, per.
2010
Seven Seas
Blue Note 509999495492 0 Tr.3
03. Goin' Up The River
Chris Barber & Jeff Healey's Jazz Wizards
Composer: trad
Performers: Jeff Healey, t, g; Chris Barber, tb, v; Brian Graville, p; Colin Bray, b; Gary Scriven, d.
Memories of My Trip
Proper CD1 Tr.9
04. Rehearsin' for a Nervous Breakdown
John Kirby
Composer: Shavers
Performers: Charlie Shavers, t; Buster Bailey, cl; Russell Procope, as; Billy Kyle, p; John Kirby, b; O'Neil Spencer, d.
1940
John Kirby and His Band 1940
Jazz Anthology 55025 Tr.7
05. Oh You Sweet Thing!
Composers: Razaf/ Waller
Performers: Charlie Allen, George Dixon, Walter Fuller, t; Billy Franklin, Louis Taylor, tb; Omer Simeon, Darnell Howard, Cecil Irwin, reeds; Earl Hines, p; Lawrence Dixon, g; Quinn Wilson, b; Wallace Bishop, d.
14 July 1932
Classic Earl Hines Sessions 1928-1945
Mosaic MD7 254 CD2 Tr.1
06. Ostrich Walk
Composers: La Rocca/ Sheilds
Performers: Bix Beiderbecke, c; Bill Rank, tb; Don Murray, Roc Ryker, Frankie Trumbauer, reeds; Irving Riskin, p; Eddie Lang, g; Chauncey Morehouse, d.
9 May 1927
The Bix Beiderbecke Story
Proper Properbox 66 CD1 Tr.26
07. The Sharp Edge
Howard McGhee
Composer: McGhee
Performers: Howard McGhee, t; Junior Mance, p; Jimmy Tucker, b; Jimmy Cobb, d.
8 Dec 1961
Shades of Blue
Black Lion BL305 Tr.1
08. Sunday Waltz
Joey Alexander
Composer: Alexander
Performers: Joey Alexander, p; Dan Chmielinski, b; Ulysses Owens, Jr. d.
2016
Countdown
Motema 234297 Tr.2
09. Centerpiece
Lambert Hendricks & Ross
Composer: Edison
Performers: Dave Lambert, Jon Hendricks, Annie Ross, v; Harry Sweets Edison, t; Gildo Mahones, p; Ike Isaacs, b; Walter Bolden, d.
1959
Everybody's Boppin'
Columbia/Sony CK45020 Tr.6
10. The Lady Who Swings the Band
Composers: Cahn/ Chaplin
Performers: Harry Lawson, Paul King, Earl Thompson, t; Ted Donnelly, Henry Wells, tb; John Harrington, John Williams, Dick Wilson, reeds; Mary Lou Williams, p; Ted Brinson, g; Booker Collins, b; Ben Thigpen, d. Harry Mills, v.
9 Dec 1936
The First Lady in Jazz
Fremeaux 5449 CD1 Tr.5
11. I'm Not Supposed To Be Blue Blues
Anita O'Day
Composers: Garner/ Russell
Performers: Anita O'Day, v; Lonnie Hewitt, p; Freddie Schreiber, b; Cal Tjader, d.
1962
Time for 2
Essential Jazz Classics 55559 Tr.19
12. Pala
Ivo Neame
Composer: Neame
Performers: George Crowley, reeds; Ivo Neame, p; Tom Farmer, b; James Maddren, d.
2017
Moksha
Edition Tr.3
Private Passions
Guests from all walks of life discuss their musical loves and hates.
http://www.bbc.co.uk/programmes/b006tnv3
Katherine Grainger
Sun 4 Mar 2018
12:00
BBC Radio 3
http://www.bbc.co.uk/programmes/b09tc3vp
In a special edition to mark International Women's Day next week, Michael Berkeley talks to Britain's most decorated female Olympic athlete, the rower Dame Katherine Grainger.
Katherine won a silver medal in Rio in 2016 - at the age of 40. It was her fifth medal from five consecutive Olympic Games, including a gold in the double sculls at London 2012. On her return from Rio, she was voted the Olympians' Olympian by her fellow Team GB athletes. The holder of six World Champion titles, she has an MBE and a CBE, was made a dame in 2017 New Year's Honours list, and, since last summer, has been the Chair of UK Sport.
On top of her huge sporting achievements, Katherine has a PhD in Criminal Law and is Chancellor of Oxford Brookes University.
Katherine tells Michael how music has helped her to cope with the pressure of competing at the highest level, and how music has been an important part of her life since her Scottish childhood. She chooses a Mozart aria to remind her of her grandparents in Aberdeen, and Rachmaninov for her rowing partner Cath Bishop, who is a talented pianist.
In celebration of International Women's Day, all but one of her choices - which include Elgar, Chopin and Bach - are performed or conducted by female musicians.
Producer: Jane Greenwood
A Loftus production for BBC Radio 3
Music Played
00:05
Frédéric Chopin
Nocturne in C sharp minor, Op.posth
Performer: Kathryn Stott
00:12
Symphony No.6 (1st mvt)
Orchestra: Hamburg Philharmonic Orchestra
Conductor: Simone Young
00:25
Giuseppe Verdi
La Donna e mobile (Rigoletto)
Singer: Luciano Pavarotti
Orchestra: London Symphony Orchestra
Conductor: Richard Bonynge
00:30
Sergei Rachmaninov
Piano Concerto no.2 in C minor (2nd mvt)
Performer: Valentina Lisitsa
Orchestra: London Symphony Orchestra
Conductor: Michael Francis
00:39
Voi che sapete (Le Nozze di Figaro)
Singer: Ann Murray
Orchestra: Vienna Philharmonic
Conductor: Riccardo Muti
00:46
Edward Elgar
Softly and Gently (The Dream of Gerontius)
Singer: Janet Baker
Orchestra: Hallé
Conductor: John Barbirolli
00:57
Performer: Alison Balsom
Performer: Colm Carey
Music Arranger: Johann Sebastian Bach
Words and Music
A sequence of music interspersed with well-loved and less familiar poems and prose read by leading actors
http://www.bbc.co.uk/programmes/b006x35f
Mothers and Daughters
Sun 4 Mar 2018
17:30
BBC Radio 3
https://www.bbc.co.uk/programmes/b09tn1hx
As we look ahead to International Women's Day, this edition of Words and Music explores mothers and daughters. The readers are real-life mother and daughter Samantha Bond and Molly Hanson. From Shakespeare's domineering Lady Capulet and bewildered Juliet to Austen's neurotic Mrs Bennet and her brood of daughters, the mother and daughter relationship is one fraught with concern and competition but also - often - full of love. From the adoration of Christina Rosetti in her 'Sonnets are full of love' to the tussle over identity in Gillian Clarke's 'Catrin', this is a journey through one of life's most multi-faceted relationships with music by Ives, Dvorak, Laurie Anderson and Richard Strauss.
PRODUCER'S NOTES: Mother and Daughters
As we approach International Women's Day, this edition of Words and Music explores one of the most complex, loving and sometimes fraught of female relationships: mothers and daughters. It's one that has been much on my mind since I had my own daughter three years ago. Real life mother and daughter Samantha Bond and Molly Hanson read poetry, prose and drama which takes us from the cradle, in Sylvia Plath's Morning Song (underscored by a Cradle Song by Grieg), through the difficulties of adolescence and the shift from a daughter who is very much a child, to one who is becoming a woman. The American poet Anne Sexton explored this relationship perhaps more profoundly than any other. I've placed an extract of a letter Sexton wrote to her daughter Linda Gray, a sort of comforting reminder of her ever-lasting presence as a mother even after death, next to her poem Dreaming the Breasts, where the mother is a far more problematic presence; someone who suffocates but someone who also craves freedom. Laurie Taylor placed the contradiction of the mother figure at the heart of her electronic masterpiece O Superman, a disembodied, robotic voice says: 'This is your mother…you don't know me, but I know you.' The fight for separation, bubbling away beneath the closeness of this relationship is also at the heart of Gillian Clarke's Catrin, but Sophocles' Elektra shows us just how bleak things can get when the darkness takes over. Alongside those dark portrayals, I've placed some light-infused ones: Lola Ridge's poem depicts her mother's presence as a luminescence, similarly Carol Ann Duffy in The Light Gatherer portrays a daughter who catches the light wherever she goes. We hear the voices of Eliza Carthy and her mother Norma Waterson and Martha Wainwright sings the heart breaking Proserpina, the last song written for her by her mother Kate McGarrigle. I chose to end the programme on a sentimental note (and one that very much resonates with me), a daughter who now has 'silver threads' in her hair longing to be taken back into her mother's arms 'just for tonight'.
Music Played
00:00
Grieg
Lyric pieces - book 2 for piano (Op.38); no.1; Vuggevise [Cradle song]
Performer: James Rhodes (piano)
Warner 5249835832 Tr.3
Sylvia Plath
Morning Song, read by Samantha Bond
Christina Rossetti
Sonnets are full of love, and this my tome, read by Molly Hanson
00:00
Ives
Songs My Mother Taught Me
Performer: Roberta Alexander (soprano), Tan Crone (piano)
Etcetera KTC 1020
00:00
Pyotr Ilyich Tchaikovsky
Extract from Romeo and Juliet, Fantasy Overture after Shakespeare
Performer: Czech Philharmonic Orchestra, Semyon Bychkov (conductor)
Decca 4830656 Tr.5
Extract from Romeo and Juliet Act One, Scene 3, read by Samantha Bond and Molly Hanson
00:00
Sergei Prokofiev
Romeo and Juliet - Juliet refuses to marry Paris
Performer: LSO, Valery Gergiev (conductor)
LSO LIVE LSO0682
Angela Carter
Extract from The Bloody Chamber, read by Molly Hanson
00:00
Trad
Shallow Brown
Performer: Eliza Carthy and Norma Waterson
Topic TSCD579
Anne Sexton
Extract from letter by Anne Sexton, read by Samantha Bond
Anne Sexton
Dreaming The Breasts, read by Molly Hanson
00:00
Laurie Anderson
O Superman (For Massenet)
Performer: Laurie Anderson
Warner USWB10101173
00:00
Joseph Haydn
Sonata in E flat major H.16.28 for piano; Menuet and Trio
Performer: Ronald Brautigam (Fortepiano)
BIS BISCD1093
Jane Austen
Extract from Pride and Prejudice, read by Molly Hanson and Samantha Bond
Gilian Clarke
Catrin, read by Samantha Bond
00:00
Grace Williams
Extract from Fantasia on Welsh Nursey Tunes
Performer: Royal Ballet Sinfonia, Andrew Penny (conductor)
Marco Polo 8225048
Erica Jong
Extract from Mother read by Molly Hanson
00:00
Kate McGarrigle
Proserpina
Performer: Martha Wainwright
V2 Music Ltd 338626-4
00:00
Richard Strauss/Manfred Honeck/Tomas Ille
Elektra Suite
Performer: Pittsburgh Symphony Orchestra, Manfred Honeck (conductor)
Reference Recordings FR-722SACD Tr.1
Sophocles translated by Anne Carson
Extract from Elektra, read by Samantha Bond and Molly Hanson
00:00
George Frideric Handel
First perish thou from Jephtha
Performer: Anne Sofie von Otter (contralto)
Philips 4223512 Tr.11
00:00
Gustav Holst
Nocturne, A Moorside Suite
Performer: Grimethorpe Colliery Band
BELART 450 043 3 Tr.11
Jeanette Winterson
Extract from Oranges Are Not the Only Fruit, read by Samantha Bond
Louisa M Alcott
Extract from Little Women, read by Molly Hanson and Samantha Bond
00:00
Ives
The Alcotts - third movement of Concord Sonata (Piano Sonata No 2)
Performer: Jeremy Denk (piano)
Think Denk Media TDM2567 Tr.10
Lola Ridge
00:00
Claudio Monteverdi
Vespro della Beata Vergine 1610 (Hymnus - Ave maris stella)
Performer: Emma Kirkby (soprano), Taverner Choir & Consort, Andrew Parrott (director)
EMI CDS7470788 Tr.5
00:01
David Lang
Light Moving
Performer: Hilary Hahn (violin), Cory Smythe (piano)
DG 4791725 Tr.4
The Light Gatherer, read by Samantha Bond
Extract from Walt Disney's Snow White and the Seven Dwarfs
Narration read by Adriana Caelotti
Dodi Smith
Extract from I Capture the Castle, read by Molly Hanson
00:01
Anon
Italiana for lute
Performer: Paul O'Dette
Helios CDH55146 Tr.6
Elizabeth Akers Allen
Extract from Rock Me to Sleep, read by Samantha Bond
00:01
Lasst mich allein, Op.82; Songs my mother taught me, Op.55 No.4
Performer: Alisa Weilersteion (cello), Anna Polonsky (piano)
Decca 4785705