08:51
ウィークエンドサンシャイン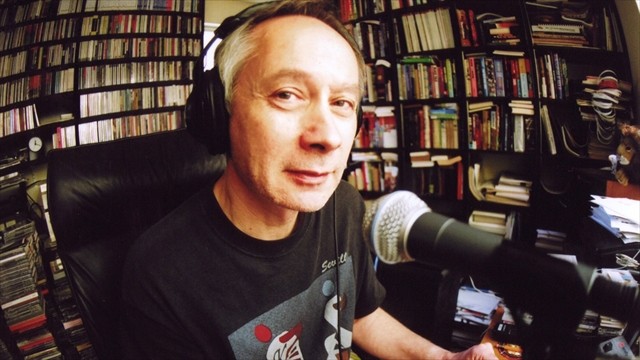 ブロードキャスター、ピーター・バラカンのナビゲートで送るウィークエンド・ミュージックマガジン。独特の嗅覚とこだわりの哲学でセレクトしたグッド・サウンドと、ワールドワイドな音楽情報を伝える。
http://www4.nhk.or.jp/sunshine/
放送日: 2018年 3月10日(土)
放送時間: 午前7:20〜午前9:00(100分)
THIS WEEK'S PLAYLIST
http://www4.nhk.or.jp/sunshine/66/
(曲名 / アーティスト名 // アルバム名)
01. Living In The Past / Jethro Tull // The Very Best Of
02. Whatever It Takes / The James Hunter Six // Whatever It Takes
03. Blisters / The James Hunter Six // Whatever It Takes
04. My Head Is My Only House Unless It Rains / Nona Hendryx And Gary Lucas // The World of Captain Beefheart
05. Tropical Hot Dog Night / Nona Hendryx And Gary Lucas // The World of Captain Beefheart
06. ヨロコビのうた / Sandii // Hula Dub
07. Row Row Row / Sandii // Hula Dub
08. Trouble / Inara George // Rock And Roll Doctor - A Tribute To Lowell George
09. Young Adult / Inara George // Dearest Everybody
10. Somewhere New / Inara George // Dearest Everybody
11. Made For Us / Dave Sinclair // The Little Things
12. Day Is Done / Nick Drake // Five Leaves Left
13. Day Is Done / Brad Mehldau Trio // Day Is Done
14. Mule Walk (Stomp) / James P. Johnson // All God's Children Got Piano
15. 2300 Skidoo / Herbie Nichols // All God's Children Got Piano
16. Monk's Dream / Robert Glasper // All God's Children Got Piano
17. Late Lament / Keith Jarrett, Gary Peacock & Jack DeJohnette // After The Fall
世界の快適音楽セレクション
"快適音楽"を求めるギターデュオのゴンチチによる、ノンジャンル・ミュージック番組。
http://www4.nhk.or.jp/kaiteki/
放送日: 2018年 3月10日(土)
放送時間: 午前9:00〜午前11:00(120分)
藤川パパQ
− 風景の音楽 −
楽曲
「ランドスケープ」
(3分23秒)
<(株)フライングドッグ VTCL-60434>
「オータム・イン・ニューヨーク」
(2分52秒)
<SPECTRUM MUSIC/UMC 0600753166062>
「ありがとうの風景」
野川算海
(3分43秒)
<BORROWED TUNE MUSIC NO NUMBER>
(3分29秒)
<VICTOR VICP-61061>
「ランドスケープ」
サトシ・トミイエ
(6分37秒)
<P-VINE PCD93897>
「エラスティック」
ジャンピエーロ・ボネスキー
(2分48秒)
<NO INFORMATION NO NUMBER>
「無意味な風景」
(4分38秒)
<HEADS UP HUI-32372-02>
「組曲「大峡谷」から
日の出」
(作曲)グローフェ
(指揮)アルトゥーロ・トスカニーニ
(5分04秒)
<BMGジャパン BVCC-9936>
「前奏曲集第2巻から
ヒースの茂る荒れ地」
(作曲)ドビュッシー
(ピアノ)ミシェル・ベロフ
(2分20秒)
<東芝EMI TOCE-7081>
「雨の降るキューバの風景」
(6分55秒)
<TELARC CD-80593>
「ターン・アウト・ザ・スターズ」
ステファン・D・アンダーソン
(3分40秒)
<ART OF LIFE AL1022-2>
「ある風景の中で」
ウィリアム・オービット
(2分56秒)
<WARNER MUSIC 3984-28957-5>
「ドン・イズ」
ボビー・ハッチャーソン
(5分04秒)
<BLUE NOTE REC. 0602537654482>
「光る波」
高良仁美
(2分26秒)
<リスペクトレコード RES-161>
「アイム・イン・ラヴ・ウィズ・ユー」
(4分05秒)
<東芝EMI TOCT-8882>
「南部の夕暮れ」
ロイド・エリス
(6分43秒)
<JAZZ BANK INC. MTCJ-1068>
「夏夢薄暮」
(4分39秒)
<IN THE GARDEN XNHL-11001>
「レッツ・ゲット・ロスト」
シリル・エイメー
(2分33秒)
<MACK AVENNE REC. MAC1097>
「レッツ・ゲット・ロスト」
(3分34秒)
<CAROLINE INTERNATIONAL HSUY-10170>
「プリマベーラ」
キャシー・クラレ
(3分21秒)
<リスペクトレコード RES-295>
「コンドルは飛んで行く」
(4分18秒)
<ビーンズレコード BNSCD934>
Jazz records from across the genre, played in special sequences to highlight the wonders of jazz history. All pieces have been specifically requested by Radio 3 listeners
http://www.bbc.co.uk/programmes/b006tnn9
Jazz Record Requests at Free Thinking
Sat 10 Mar 2018
16:00
BBC Radio 3
http://www.bbc.co.uk/programmes/b09v5b37
This week's programme comes live from Sage Gateshead and Alyn Shipton is joined for live music and requests by violinist Emma Fisk and guitarist James Birkett
New Generation thinkers also appear with requests and, among this week's requests from regular listeners for all styles of jazz including tracks by Erroll Garner, Django Reinhardt and Ella Fitzgerald, Alyn also plays music to mark the 90th birthday this week of American saxophonist Bob Wilber, who has made his home in Britain for many years, and become a national jazz treasure. A pupil of Sidney Bechet, and a player who first visited the UK with Eddie Condon's band, Wilber also co-led Soprano Summit and directed the Ellingtonian soundtrack music for Francis Ford Coppola's film "Cotton Club".
Music Played
01. Cheese and Crackers
Composer: Joe Venuti & Eddie Lang
Performers: Emma Fisk, vn; James Birkett, g; Alyn Shipton, b.
02. Gee Baby Ain't I Good To You
Composer: Razaf/ Redman
Performers: Ella Fitzgerald, v; Joe Pass, g.
1973
Take Love Easy
Pablo 20031 Tr.7
03. Time's a Wastin'
Composer: Duke and Mercer Ellington, Don George
Performers: Rex Stewart, Cat Anderson, Shelton Hemphill, Taft Jordan, Ray Nance, t; Joe Nanton, Claude Jones, Lawrence Brown, tb; Jimmy Hamilton, Johnny Hodges, Otto Hardwicke, Al Sears, Harry Carney, reeds; Duke Ellington, Billy Strayhorn, p; Fred Guy, g; Junior Raglin, b; Sonny Greer, d.
Time's a Wastin'
Naxos 8 120811 Tr.1
04. S'wonderful
Composer: Gershwin
Performers: Erroll Garner, p; Eddie Calhoun, b; Denzil Best, d.
19 Sep 1955
The Complete Concert By The Sea
Columbia Legacy 88875120842 CD2 Tr.4
05. Polka Dot Stomp
Sidney Bechet with Bob Wilber's Wildcats
Composer: Sissle/ Bechet/ Tolliver
Performers: Johnny Glasel, t; Bob Mielke, tb; Bob Wilber, cl; Sidney Bechet, ss; Dick Wellstood, p; Charlie Traeger, b; Denny Strong d.
14 Jul 1947
Shake Em Up
Avid AMSCD 694 CD2 Tr.19
06. Fine and Mellow
Composer: Holiday
Performers: Doc Cheatham, t; Vic Dickenson, tb; Lester Young, Ben Webster, Coleman Hawkins, ts; Mal Waldron, p; Danny Barker, g; Jim Atlas, b; Jo Jones, d.
Dec 1957
Billie Holiday/ Lester Young Complete Studio Sessions
Essential Jazz Classics 55683 CD3 Tr.25
07. Invitation
Michael Brecker & UMO Jazz Orchestra
Composer: Bronislaw Kaper
Performers: Michael Brecker and UMO Jazz Orchestra
Live in Helsinki 1995
Random Act 1018 Tr.1
08. Touch Her Soft Lips and Part
Norma Winstone
Performers: Norma Winstone, v; Glauco Venier, p; Klaus Gesing, bcl; Mario Brunello, vc; Helge Andreas Norbakken, per.
Mar 2017
Descansado – Songs for Films
ECM 578 6989 Tr.10
09. Charleston
Django Reinhardt & Stéphane Grappelli
Composer: Johnson
Performers: Stephane Grappelli, vn; Django Reinhardt, Pierre Ferré, Marcel Bianchi, g; Louis Vola, b.
21 Apr 1937
Complete String Quintet
Label Ouest 304031 2 CD3 Tr.14
10. Let There Be Love
Nicola Farnon
Composer: Rand/ Grant
Performers: Nicola Farnon, b, v; Piero Tucci, p; Phil Johnson, d.
Nicola Farnon Trio Live – A Day at the Market
Nicolafarnnonmusic.com Tr.1
11. Straight No Chaser
Composer: Parker
Performers: Miles Davis, t; Cannonball Adderley, as; John Coltrane, ts; Bill Evans, p; Paul Chambers, b; Jimmy Cobb, d.
3 Jul 1958
At Newport 1955-75
Columbia 88875081952 CD1 Tr.7
12. Sunday
Composer: Conn/ Styne/ Krueger/ Miller
Performers: Emma Fisk, vn; James Birkett, g; Alyn Shipton, b.
Private Passions
Guests from all walks of life discuss their musical loves and hates.
http://www.bbc.co.uk/programmes/b006tnv3
Richard Flanagan
Sun 11 Mar 2018
12:00
BBC Radio 3
http://www.bbc.co.uk/programmes/b09v5j7f
Richard Flanagan first came to worldwide attention in 2001 with one of the most original titles ever: "Gould's Book of Fish, a Novel in Twelve Fish". It was his third novel, the story of a 19th-century forger sentenced to hard labour off the coast of Van Diemen's Land. Van Diemen's Land, or Tasmania as it's now called, is where Flanagan was brought up, and still lives and writes, publishing every few years a novel that is extraordinarily thought-provoking and original - and very different from all the books before.
His last novel, The Narrow Road to the Deep North, about the Death Railway in Burma, won the Booker Prize. Four years on, his new novel First Person is the story of a conman, and it's based on an extraordinary experience of his own. Flanagan dreamed of being a writer but was working as a builder's labourer when he suddenly got a commission: to write the life story of a notorious conman who was facing jail. They spent three weeks together shut up in a publisher's office, and it was frightening to be incarcerated with such a violent murderer. After three weeks the man shot himself, but for Flanagan that trauma was just the beginning of the story - he then had to recreate the criminal's life on the page, making it all up.
Flanagan talks to Michael Berkeley about a life lived on the edge, in the wild beauty of Tasmania, and about his admiration for those who live outside the cultural mainstream, often lone voices of dissent. His music choices reflect this: the Polish Australian composer Cezary Skubiszewski, Arvo Part, John Field, Von Westoff, and Jane Birkin.
Produced by Elizabeth Burke
A Loftus production for BBC Radio 3
Music Played
00:09
Johann Paul Westhoff
Violin Sonata no.3
Performer: Daniel Hope
Music Arranger: Christian Badzura
Orchestra: Kammerorchester Berlin
Conductor: Simon Halsey
00:17
Valse de Melodie
Singer: Jane Birkin
00:24
John Field
Nocturne no.6 in F
Performer: Benjamin Frith
00:30
Frédéric Chopin
Nocturne in F minor, Op.55 no.1
Performer: Chad Lawson
Music Arranger: Chad Lawson
00:39
Mikis Theodorakis
Hassapiko Dance (Zorbas)
Choir: Montreal Symphony Chorus
Orchestra: Orchestre symphonique de Montréal
Conductor: Charles Dutoit
00:46
Cezary Skubiszewski
For There is This (The Sound of One Hand Clapping)
Orchestra: Victorian Philharmonic Orchestra
Conductor: Cezary Skubiszewski
00:50
Arvo Pärt
Vater Unser
Singer: Heldur Harry Põlda
Performer: Arvo Pärt
00:57
Aria (Goldberg Variations)
Performer: Glenn Gould
Words and Music
A sequence of music interspersed with well-loved and less familiar poems and prose read by leading actors
http://www.bbc.co.uk/programmes/b006x35f
The One and the Many
Sun 11 Mar 2018
17:30
BBC Radio 3
https://www.bbc.co.uk/programmes/b09v5j7s
A special edition of Words and Music, recorded earlier today in the Glass Box at Sage Gateshead as part of the Free Thinking Festival. Carolyn Pickles and Jonathan Keeble read poetry and prose on the festival's theme of 'The One and the Many'. The programme will explore literary and real people who have thought or acted differently from the crowd - and the crowd's attitude to them. Including texts by George Orwell, Albert Camus and Elizabeth Jennings, and music by Benjamin Britten, Bohuslav Martinu and Igor Stravinsky.
Producer's Note
The programme begins with a character who really does stand out from the crowd – Hans Christian Andersen's Emperor, who proudly parades his non-existent new clothes until a child points out that he's naked. For me this extract exemplifies the theme of The One and the Many: Someone who thinks or acts differently to the crowd, and the crowd's attitude towards them. Kierkegaard explores the idea that the truth always rests with the minority, as the majority is formed by people with no opinion of their own, and Elizabeth Jennings describes the feeling of being an outsider in world created by somebody else. Another famous outsider is Camus' anti-hero Meursault, who refuses to conform to social norms, instead living by his own set of truths. And then to one of the most impressive displays of crowd behaviour – a murmuration, described in a poem by Katharine Towers.
I wanted to include some real-life individuals whose thoughts and deeds went against the prevailing view. Oskar Schindler rescued over a thousand Jews from the clutches of the Nazis by employing them in his factories during the 2nd World War. Centuries earlier, Copernicus' theory on the movement of planets around the sun was perplexing to many, including 16th Century astronomer Thomas Hill who couldn't understand how the earth could turn quickly without everything falling off it.
Billy Collins' The Parade describes the exhilaration of marching with a crowd, while also lost in a private dream. And private thoughts are crucial to Winston Smith who is trying to hold out against the tyranny of the Thought Police in Orwell's 1984. Mob rule comes to the fore in Dickens' A Tale of Two Cities, which describes the lynching of a prisoner during the French Revolution. I've paired this musically with The Borough rising up against outsider Peter Grimes in Britten's opera. Robert Ardrey explains how far from being chaotic, a mob is actually a very orderly phenomenon; the music I've chosen for that is an extract from Busoni's eccentric piano concerto, where the soloist really has to fight to be heard above the massed orchestra. Then two more characters who are persecuted for being different: Houseman's Young Sinner and Brontë's Jane Eyre.
Siegfried Sassoon's poem Concert Interpretation interested me because it shows how a group mentality can change over time - Stravinsky's Rite of Spring which caused a riot at its premiere is met with genteel applause just a few years later. Nick Hornby describes the anger and disappointment of a football crowd (followed by the only piece of classical music I know that's about football!), and then a poem about another accidental group of people, this time rail commuters.
Fleur Adcock describes the lonely experience of being an immigrant in a new country, followed by a poem by William Blake; something of an outsider himself - Oh why was I born with a different face? The programme ends with a solitary solo violin.
Producer: Ellie Mant
Music Played
00:00
Herbert Howells
Procession (extract)
Performer: London Symphony Orchestra, Richard Hickox (conductor)
CHANDOS CHAN24120 CD1 Tr.6
Hans Christian Andersen
The Emperor's New Clothes, read by Carolyn Pickles
Soren Kierkegaard
The Diary of Soren Kierkegaard, read by Jonathan Keeble
00:03
Dobrinka Tabakova
Such Different Paths (extract)
Performer: Janine Jansen, Julia-Maria Kretz (violins), Amihai Grosz, Maxim Rysanov (violas), Torleif Thedeen, Boris Andrianov (cellos), Stacey Watton (double bass)
ECM 4764826 Tr.9
Elizabeth Jennings
World I have not Made, read by Carolyn Pickles
00:06
Darius Milhaud
La Création du Monde (extract)
Performer: Orchestre national de Lille-Region Nord/Pas de Calais,Jean-Claude Casadesus (conductor)
NAXOS 8 557287 Tr.1
Albert Camus, trans Joseph Laredo
The Outsider, read by Jonathan Keeble
00:12
William Lawes
When man for sin thy judgment feels (extract)
Performer: Robin Blaze (countertenor), Elizabeth Kenny (lute)
HYPERION CDA67589 Tr.26
Katharine Towers
Murmuration, read by Carolyn Pickles
00:16
P?teris Vasks
Flying birds music (extract)
Performer: Moscow Contemporary Music Ensemble
OLYMPIA OCD282 Tr.3
Edgar Allan Poe
Alone, read by Jonathan Keeble
00:20
Germaine Tailleferre
Partita for Piano: Perpetuum mobile
Performer: Cristina Ariagno (piano)
TIMPANI 1C10741 Tr.25
00:23
Ernest Bloch
From Jewish Life; Prayer (extract)
Performer: Steven Isserlis (cello), Moscow Virtuosi, Vladimir Spivakov (conductor)
RCA 09026 619662 Tr.6
Thomas Keneally
Schindler's Ark, read by Carolyn Pickles
Thomas Hill
The Schoole of Skil, read by Jonathan Keeble
00:27
Etude no.1
Performer: Philip Glass (piano)
ORANGE MOUNTAIN OMM0009 Tr.1
Billy Collins
The Parade, read by Carolyn Pickles
00:31
Charles Ives
Walking
Performer: Gerald Finley (baritone), Julius Drake (piano)
HYPERION CDA67516 Tr.18
00:34
Zoltán Kodály
Sonata for solo cello; Adagio (extract)
Performer: Truls Mørk (cello)
SIMAX PSC1023 Tr.7
1984, read by Jonathan Keeble
Charles Dickens
A Tale of Two Cities, read by Carolyn Pickles
00:37
Benjamin Britten
Peter Grimes; Who holds himself apart, lets his pride rise (extract)
Performer: Chorus and Orchestra of the Royal Opera House Covent Garden, Bernard Haitink (conductor)
EMI CDS7548322 CD2 Tr.17
O Solitude, read by Jonathan Keeble
00:41
Charles Koechlin
Sonata for 2 flutes, Op.75; Allegro
Performer: Fenwick Smith and Leone Buyse (flutes)
HYPERION CDA CDH55107 Tr.17
Robert Ardrey
The Social Contract, read by Carolyn Pickles
00:45
Ferruccio Busoni
Piano Concerto; Pezzo giocoso (extract)
Performer: Marc-Andre Hamelin (piano), The City of Birmingham Symphony Orchestra, Mark Elder (conductor)
HYPERION CDA67143 Tr.2
AE Houseman
Oh Who is that Young Sinner, read by Jonathan Keeble
00:49
Gabriel Fauré
Prison
Performer: Philippe Jaroussky (countertenor), Jerome Ducros (piano)
ERATO 2564616695 CD1 Tr.16
00:51
Modest Mussorgsky
Reminiscence of Childhood (extract)
Performer: Viktoria Postnikova (piano)
OLYMPIA OCD117 Tr.18
Charlotte Brontë
Jane Eyre, read by Carolyn Pickles
00:54
The Rite of Spring (extract)
Performer: City of Birmingham Symphony Orchestra, Simon Rattle (conductor)
EMI CDC7496362 Tr.11
Siegfried Sassoon
Concert Interpretation, read by Jonathan Keeble
Fleur Adcock
Immigrant, read by Carolyn Pickles
01:00
John Ireland
Ballade of London nights (extract)
Performer: John Lenehan (piano)
NAXOS 8 570461 Tr.18
Nick Hornby
Fever Pitch, read by Jonathan Keeble
01:03
Bohusav Martinu
Half Time (extract)
Performer: Brno State Philharmonic Orchestra, Petr Vronsky (conductor)
SUPRAPHON CO1669 Tr.1
Harold Monro
Journey, read by Carolyn Pickles
01:07
MGV: 1st Region (extract)
Performer: Michael Nyman Band, Michael Nyman (conductor)
ARGO 4433822 Tr.5
William Blake
Oh why was I born with a different face?, read by Jonathan Keeble
01:11
Violin Sonata no.1 in G minor, BWV.1001: Adagio (extract)
Performer: Julia Fischer (violin)
PENTATONE PTC5186072 Tr.1