07:05
ウィークエンドサンシャイン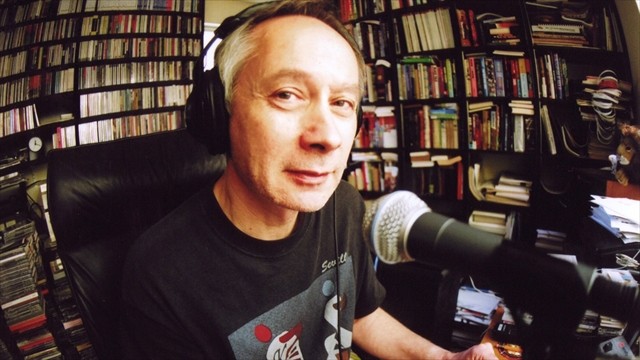 ブロードキャスター、ピーター・バラカンのナビゲートで送るウィークエンド・ミュージックマガジン。独特の嗅覚とこだわりの哲学でセレクトしたグッド・サウンドと、ワールドワイドな音楽情報を伝える。
http://www4.nhk.or.jp/sunshine/
放送日: 2018年10月 6日(土)
放送時間: 午前7:20〜午前9:00(100分)
THIS WEEK'S PLAYLIST
http://www4.nhk.or.jp/sunshine/66/
(曲名 / アーティスト名 // アルバム名)
01. Diving Duck Blues / Taj Mahal // Taj Mahal
02. 21st Century Gypsy Singing Lovin Man / Taj Mahal // Senor Blues
03. All Good Things / Jon Cleary // Dyna-Mite
04. Hit Git Quit Split / Jon Cleary // Dyna-Mite
05. Pump It Up / Jon Cleary // Live At Chickie Wah Wah
06. Ethiopia / Dereb The Ambassador // Ethiopia
07. Mouse Jigs / Flook // Haven
08. Rising (solo) / 久保田リョウヘイ // Rising
09. Let Your Soul Be Free / Brandon 'Taz' Niederauer
10. Leninagone / Tigran Hamasyan Trio
11. Don't Play That Song (You Lied) / Aretha Franklin // Spirit In The Dark
12. The Thrill Is Gone (From Yesterday's Kiss) / Aretha Franklin // Spirit In The Dark
13. Spirit In The Dark / Aretha Franklin // Spirit In The Dark
世界の快適音楽セレクション
"快適音楽"を求めるギターデュオのゴンチチによる、ノンジャンル・ミュージック番組。
http://www4.nhk.or.jp/kaiteki/
放送日: 2018年10月 6日(土)
放送時間: 午前9:00〜午前11:00(120分)
− 煙突の音楽 −
楽曲
「チムニーソング」
(3分16秒)
<EPIC ESCL2552>
「映画『煙突の見える場所』テーマ」
映画『煙突の見える場所』オリジナル・サウンドトラック
(1分53秒)
<TOHO MUSIC PSCR-5819>
「Green Chimneys」
Roy Haynes Trio、Danilo Perez&John Patitucci
(12分01秒)
<VERVE 543534-2>
「機関車」
(2分32秒)
<EPIC ESCL-2280>
「歌劇「煙突掃除人」からレチタティーボ「十分です、あなたの勝ちです」、アリア「ああ、私を捨てないで」」
(指揮)ジェレミー・ローラー
(2分58秒)
<EMIミュージック・ジャパン TOCE-56104>
「ラドン家の煙突」
Catriona Mckay
(4分29秒)
<プランクトン VIVO-244>
「C'est Magnifique」
Mantovani and His Orchestra
(2分46秒)
<Spectrum Music SPECSIG2046>
「煙突さん」
芙蓉軒愛花
(2分49秒)
<MISORA REC. MR-1002>
「タンゴ・オペリータ「ブエノスアイレスのマリア」から「街路樹と煙突への手紙」」
(歌)アメリータ・バルタール
(3分17秒)
「偽お化け煙突」
(2分26秒)
<SONY MUSIC DIRECT MHCL10089>
「妖精の煙突」
(7分34秒)
<OFFICE ZAHA ZHT-004>
「Teens」
Giampiero Boneschi
(2分32秒)
<NO INFORMATION NO NUMBER>
「ノーチョサン節」
(3分15秒)
<コロムビア AX-7072>
「「幼年期の印象」から 子守唄,コオロギ,窓ガラス越しの月光,煙突の空気の流れ,夜中、外は嵐」
(作曲)
(バイオリン)パトリック・ビスミュート
(ピアノ)アンヌ・ガエルス
(7分17秒)
<NAXOS ZZT010801>
「Motoc」
Loscil
(6分27秒)
<KRANKY KRANK 096>
「九ちゃんの炭坑節」
(2分32秒)
<東芝EMI TOCT-0251,0252>
「チョコレート粉砕工場」
(3分31秒)
<SONY MUSIC LABELS? ESCL30013,30014>
「I Shall Be Released」
(3分05秒)
<CAPITOL 0602567480525?>
「終わる。」
油屋訓辞
(4分56秒)
<OZ disc OZD-1001>
Words and Music
A sequence of music interspersed with well-loved and less familiar poems and prose read by leading actors
https://www.bbc.co.uk/programmes/b006x35f
Deception
Sun 7 Oct 2018
17:30
BBC Radio 3
https://www.bbc.co.uk/programmes/m0000nkl
Can you trust your ears? Can you trust your eyes? How often do you tell lies? Watch out for fraudsters here, for cheats, charlatans and spies. Nothing is what it seems. William Wordsworth sees an island that he knows isn't there. Musical mirages are conjured by Shulamit Ran and Kaija Saariaho. Saariaho's mirage contains a Mexican shaman bursting free from the deception of 'reality' to a greater truth beyond.
There are lovers too. Many lovers. Vernon Scannell's furtive adulterers. Tony and Maria from West Side Story sharing a delusion that there's a place for them (there's not). Meanwhile in the shadowy world of espionage, John Hollander's undercover operative has a crisis of confidence, Joseph Conrad's secret agent not only misleads his associates but betrays his wife in a terrible way and, as the Rhinemaidens sing in a performance of Wagner's Gotterdammerung at the Bayreuth festival in 1942, none of the Nazi officials watching suspects that one of them – contralto Margery Booth – is a British spy.
What of the tricksters? The west African spider god Anansi fools stronger, fiercer animals into parting with gold and even their lives, while the 'sandy-whiskered gentleman' lulls Jemima Puddle-Duck into a false sense of security. Sometimes we can't help being deceived and there are examples here – in the opening poem by Walter Savage Landor and the closing sonnet by Shakespeare – where deception in love is positively welcomed.
But make no mistake: deceiving other people is rarely a good thing, so heed the words in Yevgeny Yevtushenko's Lies and extract the appropriate moral lesson from Pete Seeger singing Oh How He Lied.
The readers are Sheila Atim and Guy Masterson.
Producer: Torquil MacLeod
Music Played
00:00
Shulamit Ran
Mirage (1990) for five players
Performer: Mary Stolper (flute), Cliff Colnot (conductor)
ERATO 0630127872 Tr.1
Walter Savage Landor
You Smiled, You Spoke and I Believed
Reader: Guy Masterson
00:02
Pyotr Ilyich Tchaikovsky
Six French Songs Op.65: Deception
Performer: Ljuba Kazarnovskaya (soprano), Ljuba Orfenova (piano)
NAXOS 8570438 Tr.3
Yevgeny Yevtushenko
Lies
Reader: Sheila Atim
00:05
Salma Al Assal
El Ghaddara Deema - Life, The All Time Deceiver
Performer: Salma Al Assal
ARC Music EUCD 1945 Tr.1
Vernon Scannell
Taken in Adultery
Reader: Guy Masterson
00:11
Giuseppe Verdi
Era la notte, Cassio dormia
Performer: Sergei Leiferkus (baritone - Iago), Orchestre de l'Opéra Bastille, Myung-Whun Chung (conductor)
DEUTSCHE GRAMMOPHON 4398052 CD1 Tr.21
00:14
Giuseppe Verdi
Oh! mostruosa colpa!
Performer: Placido Domingo (tenor - Otello), Sergei Leiferkus (baritone - Iago), Orchestre de l'Opéra Bastille, Myung-Whun Chung (conductor)
DEUTSCHE GRAMMOPHON 4398052 CD1 Tr.22
Beatrix Potter
The Tale of Jemima Puddle-Duck
Reader: Sheila Atim
00:18
Edvard Grieg
Piano Concerto in A minor, Op.16 - 2. Adagio
Performer: Stephen Bishop Kovacevich (piano), BBC Symphony Orchestra, Sir Colin Davis (conductor)
PHILIPS 4129232 Tr.2
Walt Whitman
Of the Terrible Doubt of Appearances
Reader: Sheila Atim
00:25
Kaija Saariaho
Mirage (2007; Text: Maria Sabina)
Performer: Karita Mattila (soprano), Anssi Karttunen (cello), Orchestre de Paris, Christoph Eschenbach (conductor)
ONDINE ODE11302 Tr.9
William Wordsworth
Lays and Legends of the English Lake Country
Reader: Guy Masterson
00:33
Somewhere
Performer: Jim Bryant, Marni Nixon
Sony Masterworks SK 48211 Tr.14
Virgil, translated by C. Day Lewis
Aeneid
Reader: Sheila Atim
00:36
John Barry
The Ipcress File
Performer: John Barry
Echo ECHCD 54A Tr.5
John Hollander
Reflections on Espionage
Reader: Guy Masterson
00:41
Richard Wagner
Frau Sonne sendet lichte Strahlen
Performer: Hilde Scheppan (soprano), Irmgard Langhammer (mezzo-soprano), Margery Booth (contralto), Chorus and Orchestra of Bayreuther Festspiele 1942, Karl Elmendorff (conductor)
PREISER 90164 CD4 Tr.1
Joseph Conrad
The Secret Agent
Reader: Sheila Atim
00:45
Gustav Holst
Uranus, the Magician
Performer: BBC Symphony Orchestra, Andrew Davis (conductor)
TELDEC 4509945412 Tr.6
Robert Browning
Mr Sludge, The Medium
Reader: Guy Masterson
00:53
Gaetano Donizetti
Ardir! Ha forse il cielo mandato
Performer: Luciano Pavarotti (Nemorino – tenor), Enzo Dara (Dr Dulcamara – basso buffo), The Metropolitan Opera Orchestra, James Levine (conductor)
DEUTSCHE GRAMMOPHON 4297442 CD1 Tr.11
00:00
Gaetano Donizetti
Voglio dire, lo stupendo elisir
Performer: Luciano Pavarotti (Nemorino – tenor), Enzo Dara (Dr Dulcamara – basso buffo), The Metropolitan Opera Orchestra, James Levine (conductor)
DEUTSCHE GRAMMOPHON 4297442 CD1 Tr.12
Kwame A. Insaidoo
How Anansi Survived the Great Famine
Reader: Sheila Atim
01:03
Ludwig van Beethoven
Piano Sonata No.26, op.81A – Les adieux: Adagio, Allegro
Performer: Arthur Rubinstein (piano)
RCA 09026630562 Tr.10
William Shakespeare
Sonnet 138 - When my love swears that she is made of truth
Reader: Guy Masterson
01:11
Pete Seeger
Oh How He Lied
Performer: Pete Seeger
SMITHSONIAN FOLKWAYS SFWCD40155 CD4 Tr.7