01:13
不定休日があります。予定はこのページでお知らせしますので必ず確認してください。
We have irregular closed days, please check our schedule in this page.
不定休日の予定はありません(定休日は月曜日です)。
We are closed from December 22
January 1〜8(closed just on monday)



All of our foods are VEGETARIANS.
Some of the beverages (drink menu) may contain dairy and/or honey.


We have English/Chinese(Taiwanese) menu.

I am cooking and serving you alone, therefore, I cannot handle many guests. Also, the seats are very limited. I cannot handle more than 4 guests. I am sorry.

I cannot speak English or Chinese, when you have an inquiry, please call me with someone who can speak Japanese.

I only accept reservation or inquiry by website form. I cannot reply you in my business hours. Please make a reservation by 17:00 pm for that night.
http://a-ju.org/info/contact.html


When you make an inquiry in English or Chinese, please use easy and simple words, I'll use google translator to reply you.

When you cancel or late for more than 30 min. please send me an e-mail to a-ju@org or send me inquiry form of my website.


「Lunch Time」
We sell delicious lunch Tue. to Sun. 12:00-15:30pm
Our menu is ALL vegetarian.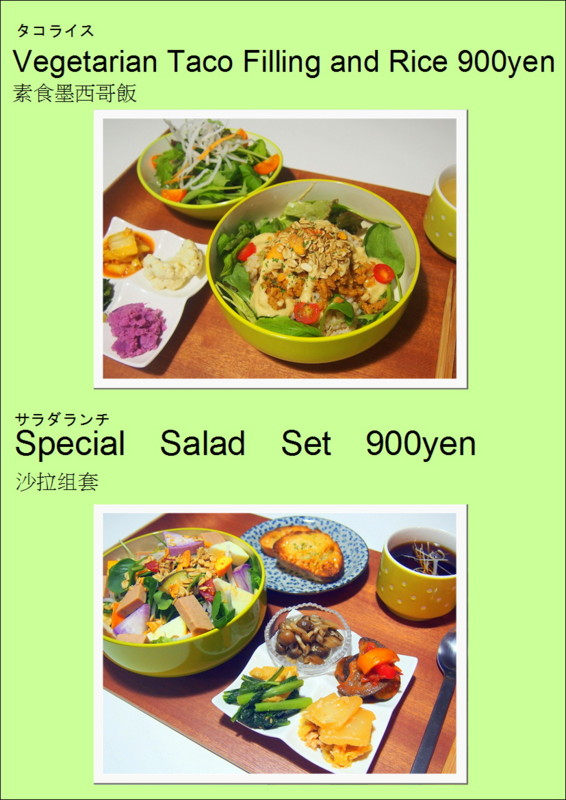 「Vegetable Kitchen BAR あじゅ(aju)」

〒530-0016
大阪府大阪市北区中崎1-10-14
1-10-14
Nakazaki, Kita-ku
Osaka, Japan 530-0016

TEL 06-6375-7791

Open Tue-Sun 6pm-22:30pm

How to get there, go to subway Tanimachi station(T19), exit no.1
go inside the arcade (shotengai) walk about 100m
until you see the nail/cell phone decoration (with swalovski stones) salon
then turn left for about 40m. and you will see a small signboard says
"あじゅ" should be 5 min. from the station.


View Larger Map


Dinner menu

〜前菜〜