Shinbiyo | 17:23
I wrote the essay for "Shinbiyo"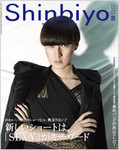 Online shop
http://www.shinbiyo.com/catalog/product_info.php?products_id=655
If you like, you can buy it.
11:41
1992 / America
Director Clint Eastwood
I watched "Unforgiven".
This is a western movie.
One day, a prostitute' face was cut by a cowboy. The police didn't arrest a cowboy
or his friend. The other prostitute set a price on the cowboy's head for revenge.
Bill used to be a bad gunman. Now, he changed into a good farmer for his wife.
His wife died. And he has two children.
One day. Young man asked Bill to kill the cowboys with him.
Bill, his friend and the young man went to kill the cowboys.
They killed the cowboys and they get the money.
But, Bill's friend was killed by the police. His friend was innocent.
Bill came back for revenge. A police and a lot of people died.
My favorite point of tihe films.
Bill and his friends shoot a person with ambiralence
They shot a person with ambivalence.
After bill shot a cowboy, he asked someone to give him some water.
His friend tried to shot a cowboy, but he could not shot.
After the young man shot a cowboy, he did not want to have a gun again.
I like this movie.
16:41
I went to 21-21 Design Sight gallery in Roppongi.
The producer was Issay Miyake.
The display designer was Tadao Andou.
The Artist were Lucie Rie,Jennifer Lee and Ernst Ganperl.
I liked Ernst Ganperl's works.
He made containers from driftwood and fallentrees.
His containers shapes were sinple.
I likes Ando Tadao's desplay design.
I recomend thie exhibition, because the display and the art are very good.
url:http://www.2121designsight.jp/index-e.html
21-21 DESIGN SIGHT
9-7-6 MINATOKU TOKYO JAPAN
16:31
I went to The Kaleidoscopic Eye exhibition in Mori Art Museum.
I enjoyed this exhibition.
My fevorite work was "To Tach".
This works artist was Genet Cardiff.
When i touched the table in a dark room I heard peoples voices,metal sounds or sighs coming from different places.
The table was very old.
I had never seen it before.But I felt many emotion when I touched it.
I liked this work.
Mori Art Museum