The Maxisys Elite Data Manager application is used to store, print, and review the saved files. Most operations are controlled through the toolbar. Selecting the Data Manager application opens the file system menu. Different file types are sorted separately under different options, there are six types of information files to be viewed or played back.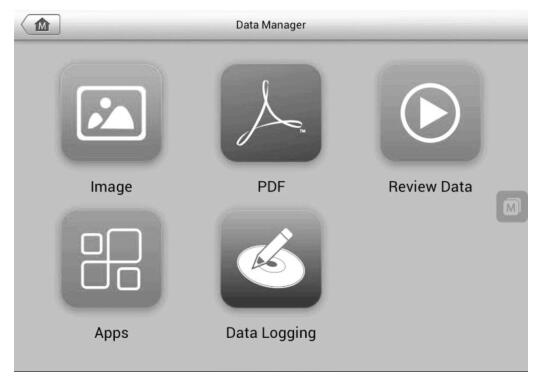 Operations
The OBD-II scan tool Data Manager Operations are based on toolbar controls, details are explained in the following sections.
Image Files
The Image section is a JPG database containing all captured screenshot images.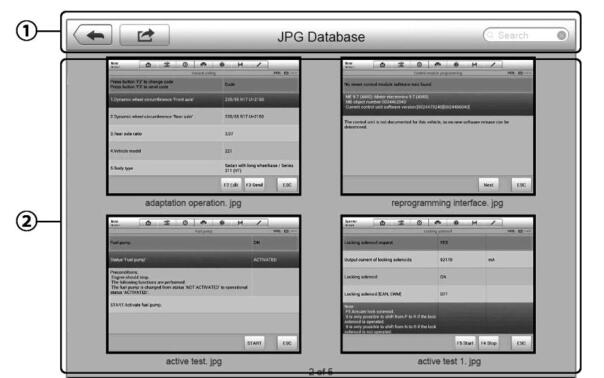 1. Toolbar Buttons – used to edit, print and delete the image files. See Table 5-1 Toolbar Buttons in JPG Database on page 64 for detailed information.
2. Main Section – displays the stored images.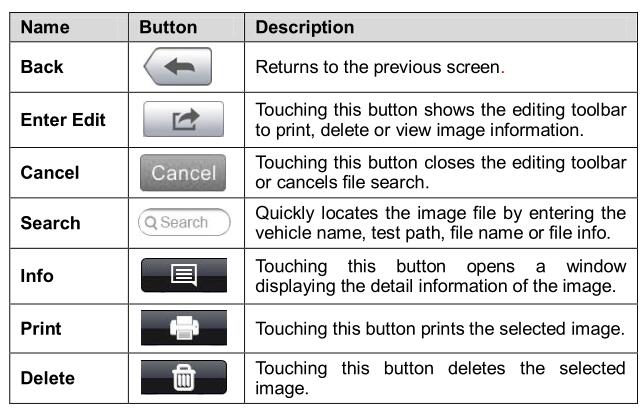 To edit image information
1. Select Data Manager application from the MaxiSys Job Menu.
2. Select Image to access the JPG database.
3. Select an image to display it in full screen.
4. Tapping the screen once displays the editing toolbar.
5. Tap the Info button to open a window displaying the image information.
6. Tap the Edit button on the top right corner of the window. The editing screen displays.
7. Edit the image information by entering the new file name, and file information.
8. Tap Done to save the information and exit, or tap Cancel to exit without saving.
To delete selected images
1. Select Data Manager application from the Autel Scanner MaxiSys Job Menu.
2. Select Image to access the JPG database.
3. Tap the Enter Edit button to display the editing toolbar.
4. Select the images that need to be deleted by tapping the thumbnail images, the selected thumbnail displays a tick icon at the bottom right corner.
5. Tap the Delete button, and then Delete Selected, now the selected images are deleted.