STOP! SodaStream National Campaign ★ 5 Day Christmas Action
A product made in an illegal Israeli settlement is no gift for your loved ones!

■December 20-24, 2013

※日本語の案内はこちら

SodaStream produces its home soda makers in a factory in Mishor Adumim, an Israeli-controlled industrial zone in an illegal settlement in the West Bank.

These Israeli settlements on occupied Palestinian land are in clear violation of international law, including the Geneva Convention. Despite the clear and continued denouncement by the international community, the International Court of Justice, and the UN, settlers and companies like SodaStream continue their profiteering off of the illegal occupation.


SodaStream CEO Daniel Birnbaum claims that their factory on occupied land is justified operation, it is beneficial because both Palestinians and Israelis work in the same factory together. However, some of these Palestinian workers report that SodaStream treats them like slaves, that "We Palestinian workers in this factory always feel like we are enslaved."

SodaStream marketers call these home soda makers environmentally and economically beneficial, but not only does this put the economy and the environment above human rights, the claims are dubious in themselves. The industrial zone produces large quantities of solid waste and industrial wastewater, and the landfill for the illegal Israeli settlement there was cited by the Israeli Ministry of the Environment for polluting the land and water.

We are standing in solidarity with the Palestinian people suffering under this illegal occupation of their land by standing against the purchase and sale of SodaStream goods. We are calling for all of us to boycott SodaStream this Christmas season, and will be conducting actions at retailers across Japan .

■Retailers carrying SodaStream home soda machines

Hankyu Hanshin Department Stores, Takashimaya, Daimaru Matsuzakaya, Kintetsu Department Store, Mitsukoshi Isetan Department Store, Sogo & Seibu, Loft, Tokyu Hands, Ito-Yokado, Bic Camera, Kojima, and others.

※Not all local branches of these stores carry SodaStream. Check SodaStream's store locator on their website for more specific and updated information.

※Ranking of retailers according to their investment in SodaStream machines produced on illegally occupied land (to be updated soon).

■Some examples of what you can do:

★ With One Person
・Write about the problems with SodaStream on your blog, Twitter, FaceBook, or other social media.
・Point out these problems in a customer review comment on Amazon, Rakuten, or other retailer.
・Call the brick and mortar stores, explain these issues, and ask them to stop carrying the product.
・Send "Stop! SodaStream" cards to these retailers.
・Go to the store itself and hand a Stop! SodaStream Pamphlet to the person demonstrating the product and the store manager, ask them to discontinue sales of the product.


★★ With Two People
・Take a picture with someone holding a "Stop! SodaStream" or similar sign in front of the SodaStream display and in front of the department store.
・Explain to the manager or other people in charge about the issues of how this product is produced in violation of human rights, and ask them to discontinue sales of the product.

★★★ With Three or More People
・Distribute the Stop! SodaStream Pamphlet to passersby in front of the store, call for boycott of the product.
・Organize a study group to learn about the Israeli occupation and destruction of Palestinian lives and resources (contact us for help identifying study group leaders in your area).
・Think of other ways we can call for the unjust sales of this product; organize/participate in these actions!

※Please send any photos or video from these actions to palestine.forum [at] gmail.com and let us know if we have your permission to upload it to our blog. If you would like this included in our blog, please feel free to submit at a low resolution or otherwise make sure your identities are protected in this publicly shared video or photos.

※With or without photo or video, we encourage you to submit a short report on your actions on your own blog or again, send it to us at palestine.forum [at] gmail.com

※While generally staff at the store have responded politely, occasionally we have been met with a particularly frosty or rude reception. In any case, from the standpoint of consumers who are conscious of the importance of peace and justice, we believe it is important to ask for the discontinuation of sales of SodaStream products.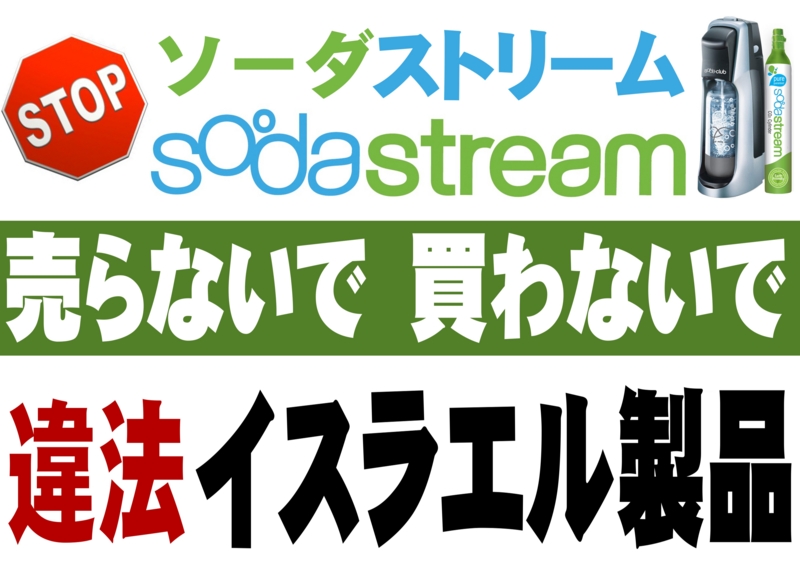 ■Downloadable Action Kits

・Pamphlet (contact us for hard copies)
・Postcards (contact us for hard copies)
・PDF of Sign/Poster (Approximately 2MB)


【Contact Us】
Please do not hesitate to contact us with questions about the Stop! SodaStream campaign.
Email: palestine.forum[at]gmail.com

【Additional Resources】
・(AlJazeera) SodaStream: Building walls, not bridges
・(Interfaith Boycott Coalition) SodaStream Boycott
・(CodePink) Tell Sodastream there is nothing friendly about occupation!
・(Electronic Intifada) Activists burst occupation profiteer SodaStream's "feel-good" bubble"
・(Dr. Mazin Qumsiyeh) "Don't buy SodaStream"