Original Campus Tour 1
We were blessed with sunshine. In the preparation class for this program, I emphasized that it is a rainy season in Oregon. "If the weather is suny, you can see many people wearing T-shirts.
They are so lucky to have such a fine day more than two in a week!
We found a facilities so called "circuit training." The size was designed for American people.
Rihito was curious about baseball field. He compared the size of it with one in Japan. It was as large as Maruyama Baseball Stadium.
We walked and walked. The campus is too large to see in one or two hours. To go back to the place where we often use for meeting(the Westminster House, 23rd Monroe), we walked outside the campus. There were many beautiful houses. We often stopped to take pictures. One of the most attractive things on our way was an alley.See the picture below.
After coffee break, we returned to OSU campus. There was a picture taken from an airplane in 1962. Rihito said,"There were already three baseball fields in those days." We pointed several places such as Whiteside theater, Monroe Street, Corvallis court house and so on.
As I mentioned before, people in Corvallis are basically friendly. Moreover, they are helpful,too. The man in the center helped us for taking out a snack that was caught in the vending machine.
We use the Westminster House every day. It was used to be a church. It has a nice living room. We often meet new people there. Jessica was one of them. She was studying with her books and notebooks spread around the table. Though she was preparing for the next class, she allowed us to ask some questions and shared small talk with students. She is a sophomore students learning statistics.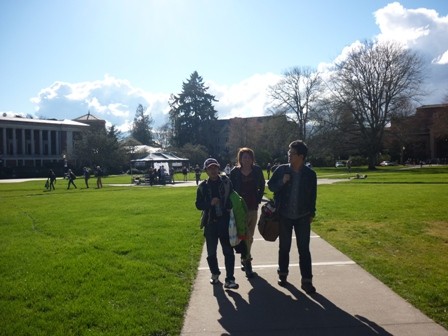 left:Hiro center:Rihito right:Daisuke
Sunshine made everything perfect today.
Today we visited A place where many kinds of culture get together. The name of the place is Corvallis Multicultural Literacy Center. The word "stuff" is the best word for describing what the room was like.
There are so many stuff in every room. Students were so interested in those stuff because they were from all over the world.
The woman who calls herself"Di" explained a lot about the concepts of the center. She spoke rather fast and didn't stop talking. So students had a hard time for asking a question. However,it was a good training for listening because her voice and utterance were so clear.
In the afternoon we had a chance to observe the English class for foreign students at INTO. On Tuesday Hiro gave us a chance to look at its facilities because he had a friend, Carly. Today we could sit in the back of the classroom to see the class from the beginning to the end. The instructor was Sandy Riverman. In the end of her class she made Rihito and Daisuke join the class by letting them perform in front of the class. They got really satisfied with that.
left: a student who were in Sandy's class
While they were waiting for the bus, I asked them how they felt today's activities. Their answer was "It was very international because we met people who have different nationalities."
That's true!
In the morning we visited the Cultural Center. We got a lot of information of different cultures. Especially we listened to the explanation about Native American.
Before noon, we met a Chinese student of OSU, Yang Li. Students talked about college life, economy,job hunting and so on. Especially Daisuke expressed his opinions on Japanese education system.
In Sandy's class we met Saudi Arabian students.