android app | 17:02 |

descriptions
GBookmark is Google Bookmark Client.
If you have been use Google Bookmark(http://www.google.com/bookmark/),download me!
Feature:
Desktop Shortcut
Auto Synchronization.
Add, Edit, Delete Bookmark.
Search bookmark from title,label and note.
Support label separator for tree view.
Support Favicon download.
Support Live Folder.
Implementation Plan:
requirement
history
V0.8.9.0
add Desktop Shortcut support! (Long-press label or bookmark).
bugfix.
V0.8.8.7
V0.8.8.1
add New Option - Show Label Separator.(default: show)
bugfix(item title indicate single line).
V0.8.8.0
add Web Login interface.
add New Option - Default Sort Mode.
bugfix.
V0.8.7.6
add new option. ( enable Incremental Search )
bug fix.
V0.8.7.3
V0.8.7
V0.8.6.2
V0.8.6.1
V0.8.6
V0.8.5
add new auto-complete mode.
V0.8.4
add auto-complete for label editing.
adjust synchronization.
V0.8.2
v0.8.0 release.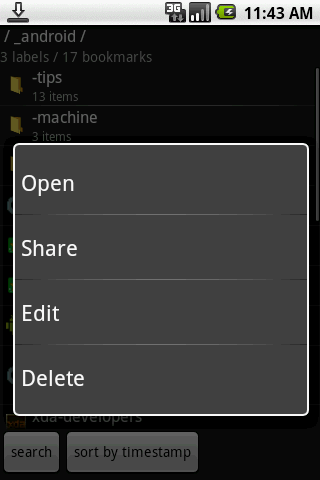 first setup
1. First, you need to enter user name and password for Google Bookmark.
then press "submit" button.
2. If your login is successful, synchronization is automatically started.
Preference
If you want to configure Sync schedule,appearance, and more, press menu key and select preference.